Ancient Greek palaces were built for the gods, goddesses, and wealthy elites. The structures were designed to be seen from a distance and impress with their grandeur. They were adorned with expensive materials, such as marble and gold, and often featured elaborate sculptures and paintings. These palaces promised a life of luxury and comfort, which was something that ordinary people could only dream of.
Today, our fascination with lavish lifestyles has not diminished. If anything, it has only grown stronger. We are still drawn to stories of wealth and power, whether they take place in ancient Greece or modern-day Beverly Hills. We long to see inside the glamorous world of the rich and famous, to catch a glimpse of the opulent lifestyle that seems so out of reach. In many ways, then, little has changed since the days of the Greek palaces. We are still drawn to lives of extravagance and excess.
What is it About Celebrity Homes that Fascinate Us?
The celebrity culture has always been one of fascination. We are curious about the lives of the rich and famous and often feel a sense of envy towards them. With the advent of social media, this curiosity has only grown. We are now able to see into the lives of celebrities like never before. While this can be exciting, it also has its drawbacks.
One of the biggest problems with social media is that it can create a false sense of reality. We see these glamorous lifestyles and sometimes forget that these people are just like us. They have their problems and struggles. The pandemic has been a perfect example of this. We have seen celebrities forced to stay at home just like the rest of us. This has humanized them and made them more relatable.
While social media can be a great way to connect with others, we need to remember that it doesn't always give us an accurate picture of reality. We should enjoy seeing our favorite celebrities' lives, but we should also remember that they are just like us.
As the world went through isolated, stressful times together during COVID-19, many Hollywood celebrities opened up to the public through online videos and zoom calls. These rare views of celebs in their candid shelters and glitter-free routines gave us insight into their everyday lives. As Anne Donahue wrote in Cosmopolitan, "Why wouldn't anyone want to play the latest, greatest, most distracting game on earth amidst these difficult times?"
These recent peeps into celebrities' lives have an undeniable fascination for us. We are inspired by the most coveted houses worldwide as designers and potential home buyers. The hawk-eye view of these homes allows us to see the intricate details we would otherwise miss. From the layout of the rooms to the décor and furniture, we are able to get a sense of the celebrity's style.
We are also able to see how they live day-to-day in their homes. This includes seeing how they cook, what they do for fun, and how they spend their downtime.
Ready to check out 15 of the best celebrity homes in 2022? Inspiration was taken from Architectural Digest.
Tour Model Taylor Hill's Rustic Nashville Retreat
Details: Nashville, Tennessee | Price – Unknown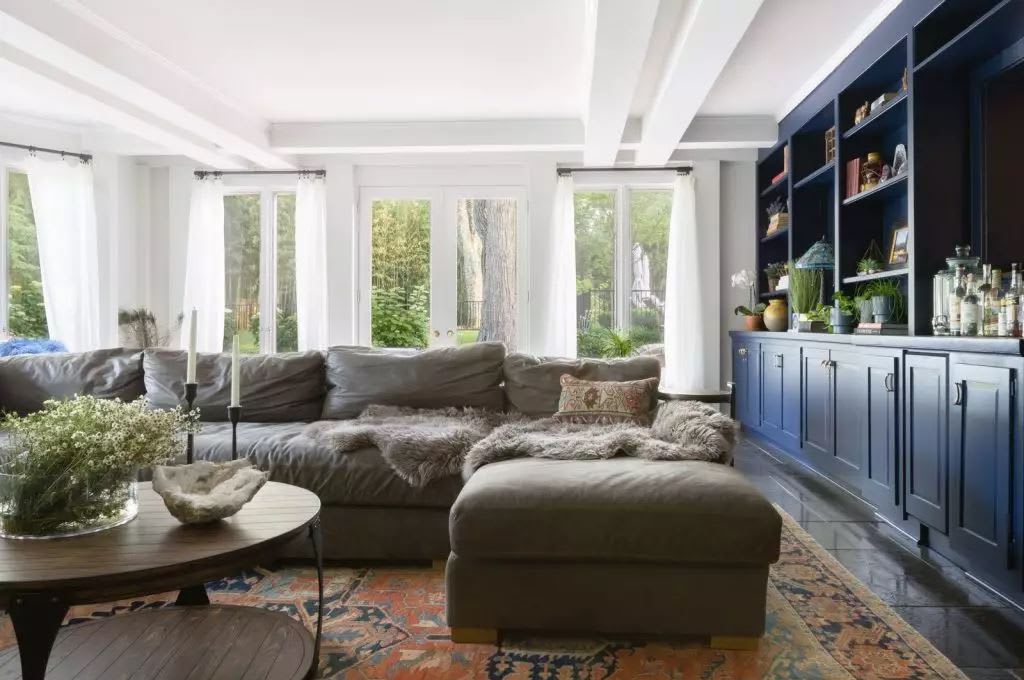 When it comes to cabin construction, the classic style is usually located away from the main street, hidden behind natural features like bamboo groves. This type of construction is often characterized by log-and-mortar walls, stone fireplaces, oak flooring, and '80s additions like giant dens.
This type of construction is ideal for homeowners like Hill, who prefer to keep the home's original bones intact. With very few new buys from high-end brands like Hermès and Pendleton, Hill has filled her cabin with family heirlooms, local art, and handsome flea market finds.
From the mismatched chairs in the family room (courtesy of local antique store Patina + Co.) to the rustic round table in the dining room (from Riverside Franklin), every element of the cabin has been carefully selected by Hill herself. Even the primary bedroom, with its Wayfair bed and Novogratz furniture, reflects Hill's taste. Whether you're looking for a luxurious getaway or a cozy place to call home, classic cabin construction is definitely worth considering.
Take a Look at Ashton Kutcher and Mila Kunis's Sustainable L.A. Farmhouse
Details: L.A., California | Price 8 Million – 14 Million USD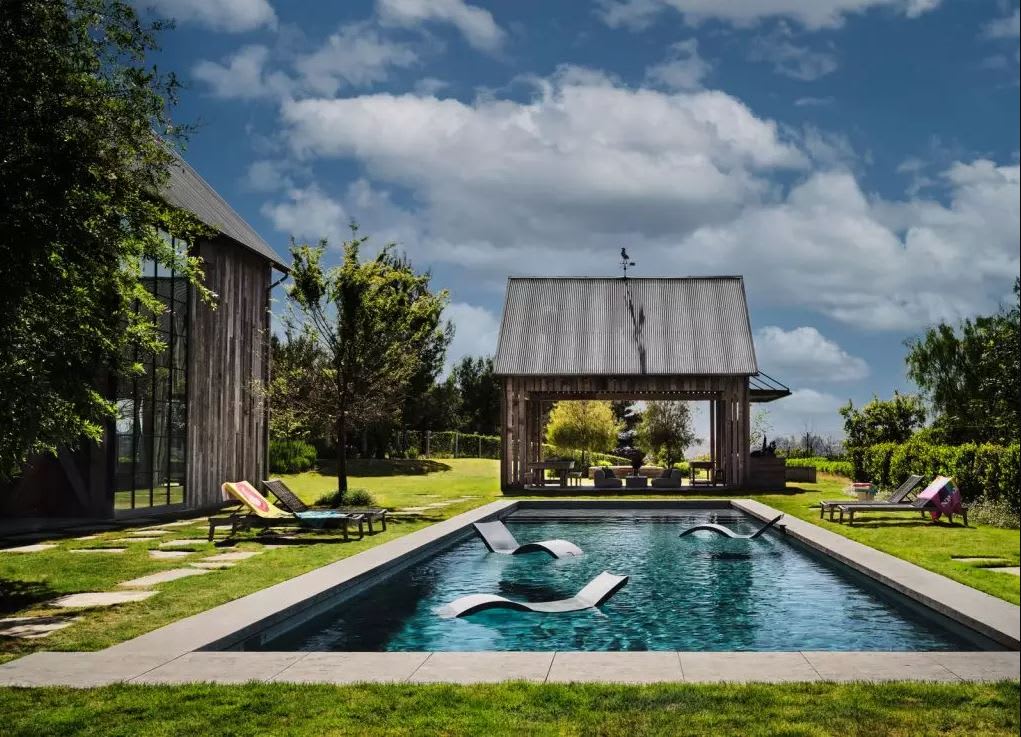 Kunis and Kutcher's home is a beautiful example of modern farmhouse architecture. The main house and barn are interconnected, and the barn has been converted into a guesthouse/entertainment area. The property also has a freestanding barbecue pavilion.
The whole property took five years to build from scratch. Kunis and Kutcher hired Howard Backen of Backen & Gillam Architects to design their home. Backen is known for his ability to create a contemporary farmhouse-chic tone from vernacular forms and rustic materials. The property also includes a well, self-irrigated rolling farms, and a photovoltaic that produces considerably more power than needed. Kunis and Kutcher's home is a beautiful example of modern farmhouse architecture built with sustainability.
Backen, in collaboration with Vicky Charles of Charles & Co., managed the Kunis-Kutcher residency with a combination of reclaimed wood, board-form concrete, and glass to create a holistic haven of timeless rustic splendor luxury sustainability and a living environment that promotes the actors' lifestyle.
The use of sustainable materials was important to the couple, as was maintaining a close connection to nature. The board-form concrete creates a stunning visual effect while also helping to regulate temperature and reduce sound transfer. The glass walls let in an abundance of natural light and blur the lines between indoor and outdoor living.
The reclaimed wood used throughout the residence gives it a warm and inviting feel while also paying homage to the couple's love of travel. Some of the wood was sourced from the couple's properties worldwide.
Next up: Rapper Drake's Manor House in his Hometown Toronto
Details: Toronto, Ontario | Price – 120 Million USD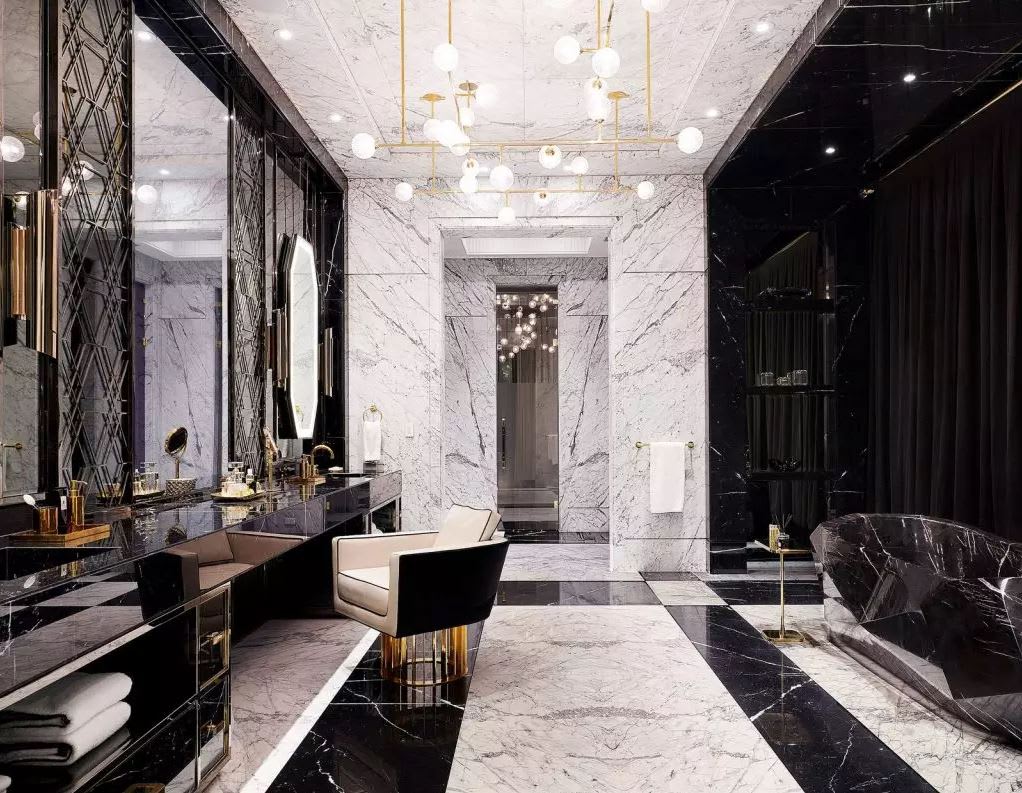 The Embassy is a 50,000-square-foot home designed by Canadian architectural and interior designer Ferris Rafauli. Founded on Beaux-Arts architecture, the home is infused with a contemporary twist inspired by Art-Deco muses.
The mansion is an epitome of extravagance, with opulent features such as the jaw-dropping size of the rooms, ritzy materials, and intricate details. This luxurious estate was designed to be a legacy that would be timeless and classic.
Oprah Winfrey's historic Spanish Revival Home
Details: Montecito, California | Price – 100 Million USD
Oprah Winfrey is known for her many accomplishments, from her 25-year run as a talk show host to her production company and philanthropic work. But she is also known for her impeccable taste, evidenced by her lavish homes. Her newest property, a Spanish-Revival estate in Montecito, California, is no exception.
Spanning 23 acres, the estate is the equivalent of modern farmhouse beauty. It is equipped with a kitchen that professional chefs would drool over and is a culmination of five separate structures: the main house, a guesthouse, a pool house, a carriage house, and a gated equestrian facility with stables. Floor-to-ceiling windows flood the home with sunlight, overlooking the lovely pool and secluded between vast gardens and trees. In other words, it is casual luxury at its finest - exactly what you would expect from Oprah Winfrey.
Step Inside Adam Levine and Behati Prinsloo's Soulful Los Angeles Home
Details: L.A., California | Price – 32 Million USD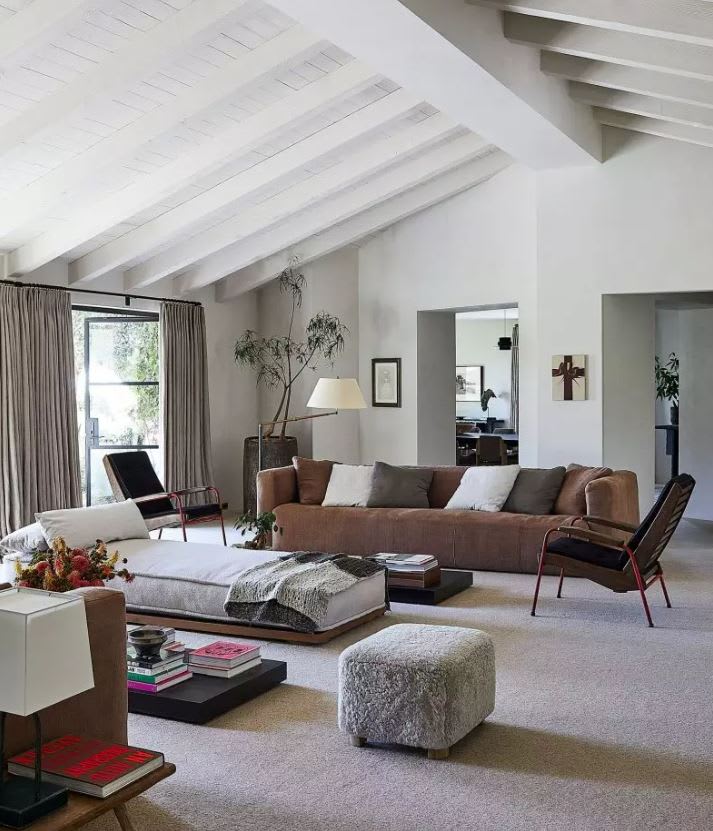 The house by Kathleen and Tommy Clements is set apart from other celebrity houses with its unique vibe of minimalism, an underlying chic tone, and a definitive presence of nature. Every room in the house is made to be lived in covered in humble linens and bouclés.
The Prouvé raw-steel-and-leather chairs, Adnet leather-and-chrome chairs, and Perriand basalt-slab cocktail tables give the humble décor an edge of refinement. The almost floor-level coffee table allows for unobstructed views of the courtyard and swimming pool beyond. The result is a chic but relaxed home that feels more like a private oasis than a public display.
For art lover Adam, it was essential that his house provide the perfect backdrop for displaying his collections. Stripping the house to its bare bones and creating open-air spaces allowed the art to take center stage. The minimal design also encourages lounging and creates a relaxed atmosphere. The results are simply stunning, and the house is now a veritable gallery where Adam can enjoy his collection on a daily basis.
Jennifer Aniston Takes AD Inside Her Dreamy California Home
Details: L.A., California | Price – 21 Million USD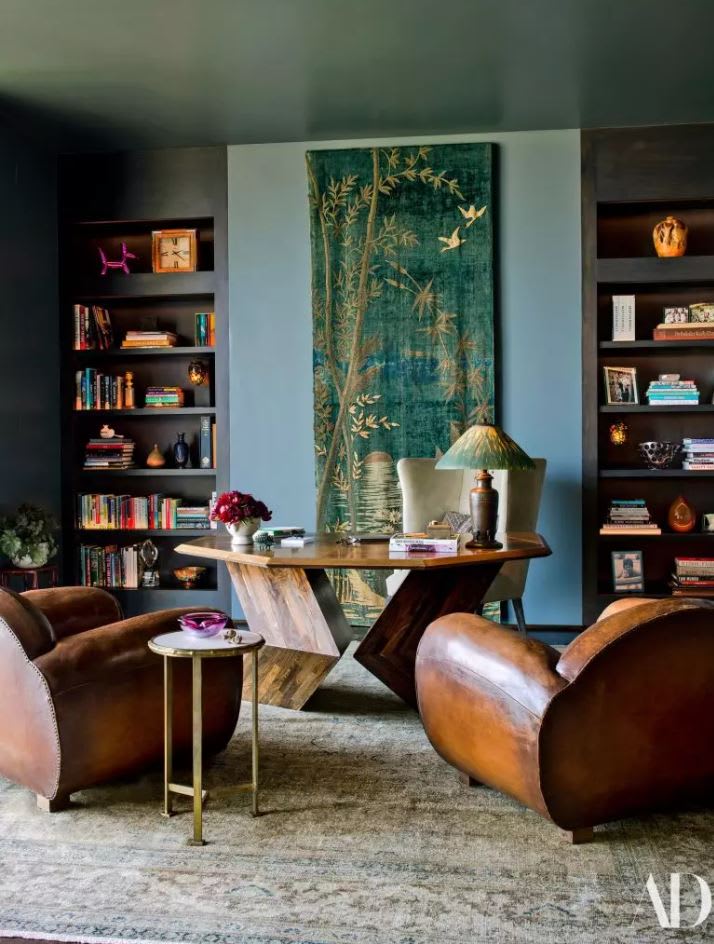 When Jennifer Aniston set out to design her home, she knew she wanted it to be both glamorous and comfortable. To achieve this, she focused on materials that would add some depth and interest to the space. Wood, stone, and bronze were all perfect choices for their ability to add both visual interest and a feeling of warmth.
By using these materials, Aniston was able to create a home that was both inviting and comfortable. The end result is a space that feels like a true retreat from the hustle and bustle of everyday life.
In buffing out the sharp edges of the original structure, Jean Royère's vintage Polar Bear sofa, Jacques Adnet armchairs, and Mies van der Rohe sprinkled around are evidence of her classy taste. With a harmonious mix of mid-century furniture, hand-painted wallpapers, and polished concrete, they made sure every viewport had a story to tell. By interspersing organic and tangible interior finishes and textures, they preserved the modernist character of the building while making it more inviting and comfortable. The result is a space that feels both timeless and contemporary.
See Neil Patrick Harris and David Burtka's House in New York City.
Details: New York City | Price – 7.5 Million USD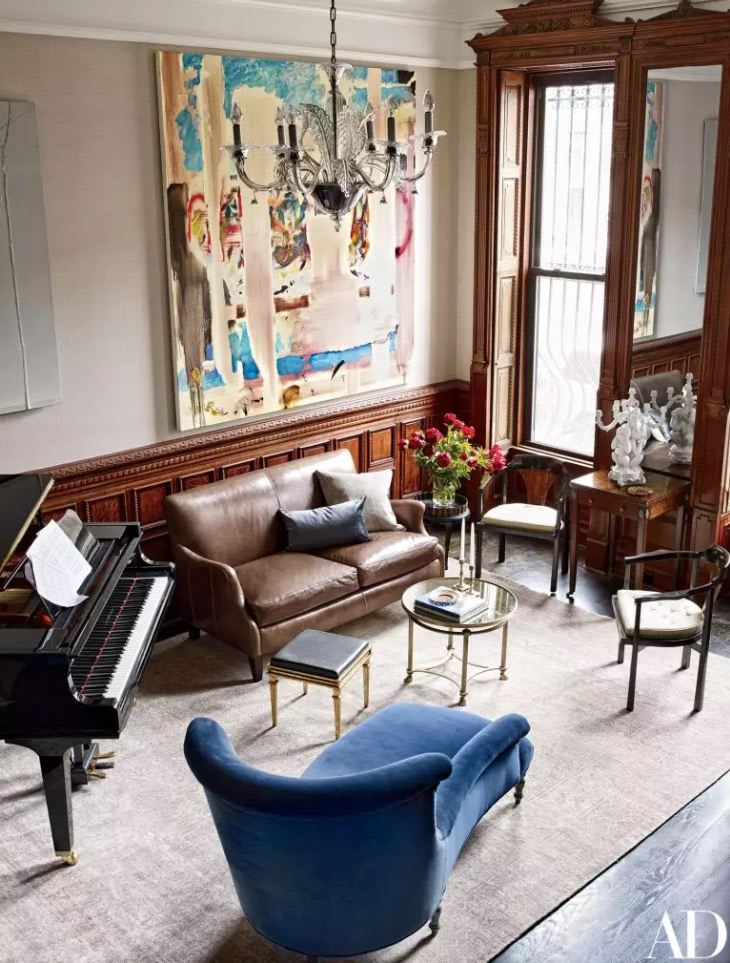 Trace Lehnhoff is an interior designer who, alongside architect Jeffery Povero, worked on the design of a 19th-century townhouse. The townhouse contains a contemporary art collection and various memorabilia items.
The couple also made sure to include features that would help bring the outdoors into the living space, including a backyard garden, an outdoor Jacuzzi attached to the main suite, and an entertaining area for weekend barbeque parties. Consequently, the townhouse provides its occupant's ample opportunities to enjoy indoor and outdoor spaces.
When Neil Patrick Harris and David Burtka bought their Greenwich Village townhouse, they had grand plans for entertaining. The parlor floor was designed with entertaining in mind, with a music room, salon, and bar culled from a dismantled Connecticut hotel.
But the quirkiest allure of the house is on the first floor, where Harris' office is hidden behind a trick door that can only be opened by pressing the eye of a magician in a poster. It's a fun and frolic space that reflects the couple's love of entertaining. And it's just one of the many clever details that make their home so special.
The Razor House — Alicia Keys and Swizz Beatz' Crazy Mansion
Details: New York City | Price – 25 Million USD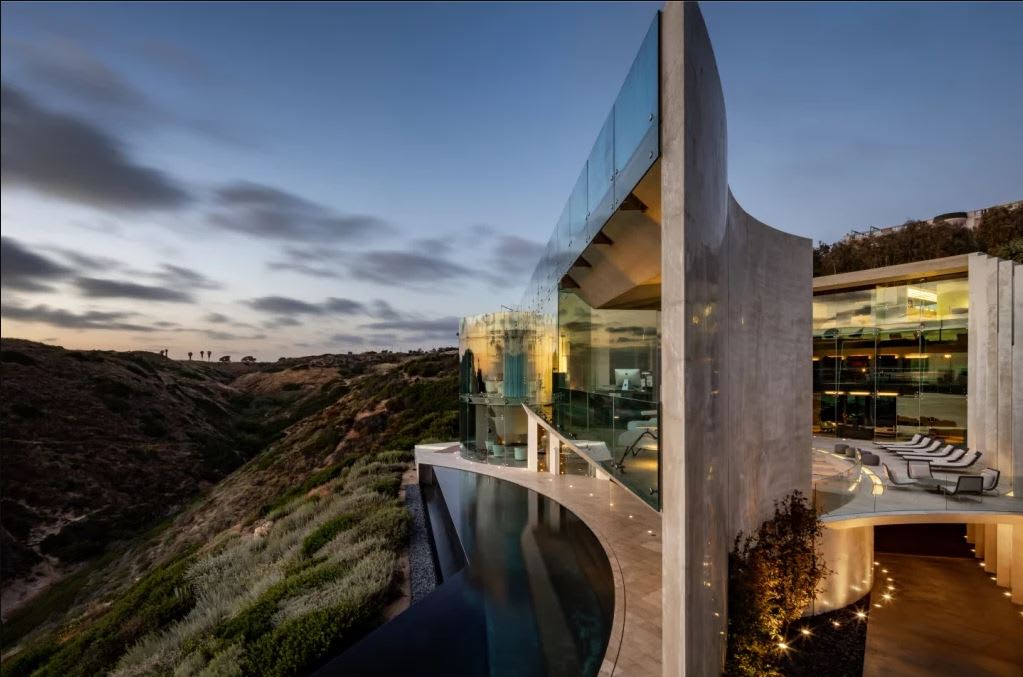 The residence was designed to take in the ocean views from all orifices of the house. It is carefully perched on top of a cliff, giving a monumental air to this luxury abode. The residence houses 11,545 square feet of white concrete, stainless steel, stone, walnut, and glass. Rooftop terraces adorn the top, taking in all the ocean has to offer, and an underground garage prevents unsightly cars from interrupting the view.
The house embodies Brutalist yet airy minimalism, providing a serene and stylish escape from the hustle and bustle of everyday life. Whether basking in the sun on one of the terraces or relaxing in the living room with floor-to-ceiling windows, this home's residents can enjoy uninterrupted ocean views for miles.
Chrissy Teigen and John Legend Beverly Hills home
Details: Beverly Hills, California | Price – 18 Million USD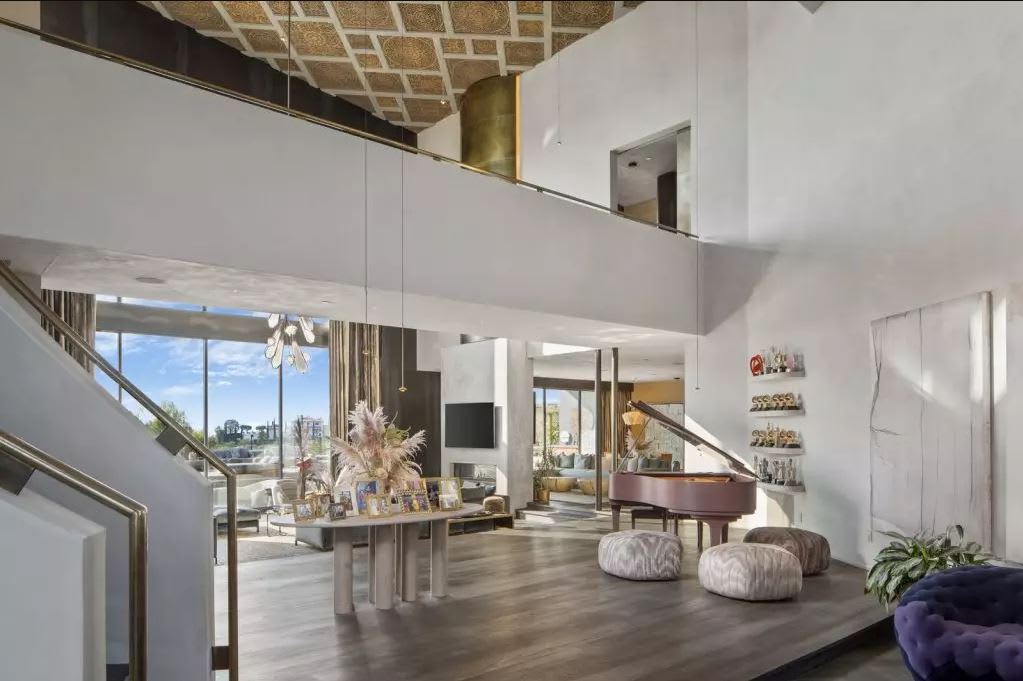 Designing a home is a process that requires careful consideration of many different factors. For designer Don Stewart, one of the most important elements was to ensure that the space reflected the client's Asian heritage. This can be seen in the intricate hand-carving on the ceiling and the minor details that add an Asian flavor to the overall design.
Speaking about their inspiration for being involved in the design process, John feels that he shares the same tastes as Ellen DeGeneres and sees himself in a space decorated by her. By taking the time to understand the client's needs and wishes, Stewart was able to create a truly unique and personal space.
Check Out Naomi Campbell's Sprawling Kenyan Escape
Details: Malindi, Kenya | Price – Unknown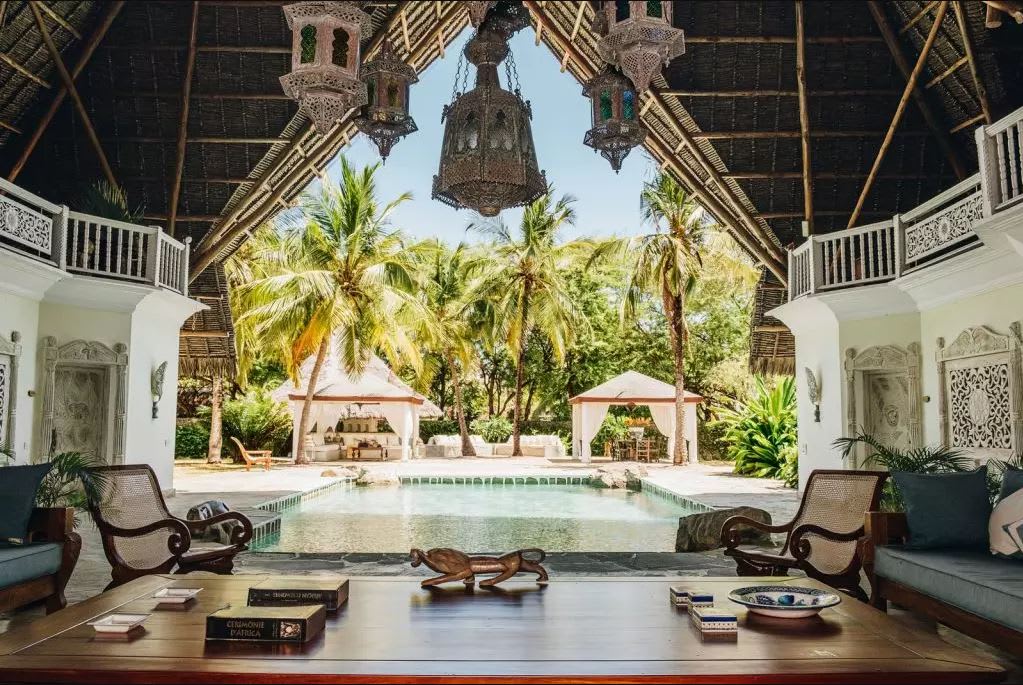 Naomi Campbell is known for her fast-paced lifestyle as one of the world's most successful supermodels. But what many people don't know is that she also has a passion for slow living. In 2017, she bought a sprawling villa on the Kenyan coast, where she enjoys a simpler way of life.
The house is suffused with natural light and decorated with a neutral, earthy palette. It features extensive use of natural materials, including locally sourced furniture, and has a saltwater pool extension that comes right into the living quarters.
Matt Damon's Zen-inspired mansion
Details: Pacific Palisades, L.A. | Price – 21 Million USD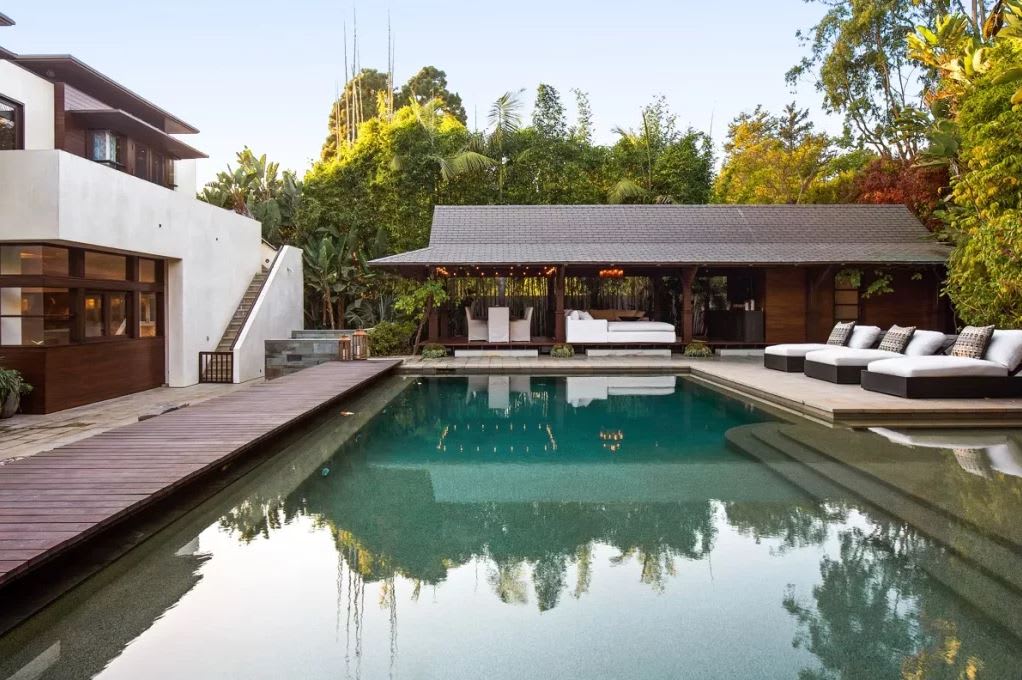 The property is engulfed by trees on all sides, tucking it away from the public eye. The zen-inspired 13,500 sqft palace is a five-bedroom house with two additional bedrooms for guests.
The universal design language house encourages unrestricted use of wood, from its flooring to the furniture. The unique selling point of the house is its 35 ft high atrium that makes way for a dramatic entry. Huge windows on all walls let the splendid west coast sun filter into the house without any obstacle. The property is surely a perfect abode for those who are looking to get away from the hustle and bustle of city life and live in peace and solitude. The combination of nature and modern architecture is sure to offer its residents a one-of-a-kind experience.
Step Inside Hilary Duff's Cheerful Los Angeles Home
Details: L.A., California | Price – Unknown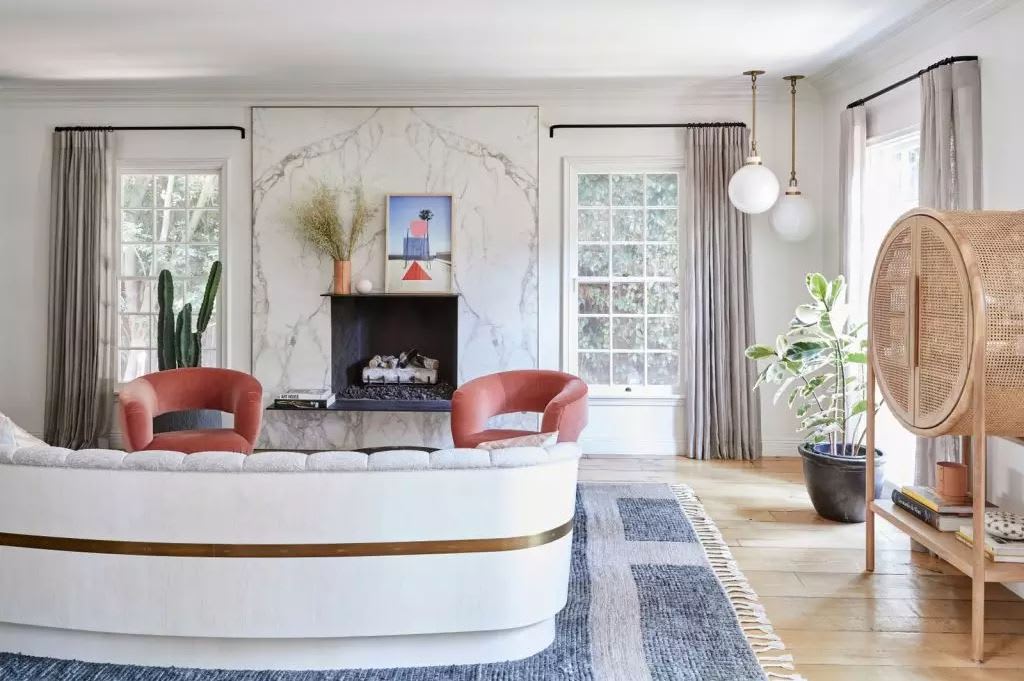 Hillary has overseen two separate refurbishments of the secluded and unassuming house to truly bring out the visual appeal and potential it offers. The first refurbishment focused on brightening up the space and making it more inviting. This was achieved by removing some of the dark tones in the original design, and replacing them with brighter and funkier color shades.
The second refurbishment was more focused on functionality, with an emphasis on making the space more kid-friendly. Hillary wanted a house that could take some beating from her young children without suffering too much damage. As a result, durable materials were used throughout, and clutter-free surfaces were created to make cleaning up a breeze. Thanks to Hillary's vision, the once unassuming house is now a bright and welcoming home that can accommodate her family's active lifestyle.
Next Up, Dita Von Teese's One-of-a-Kind L.A. Home
Details: L.A., California | Price – 3 Million USD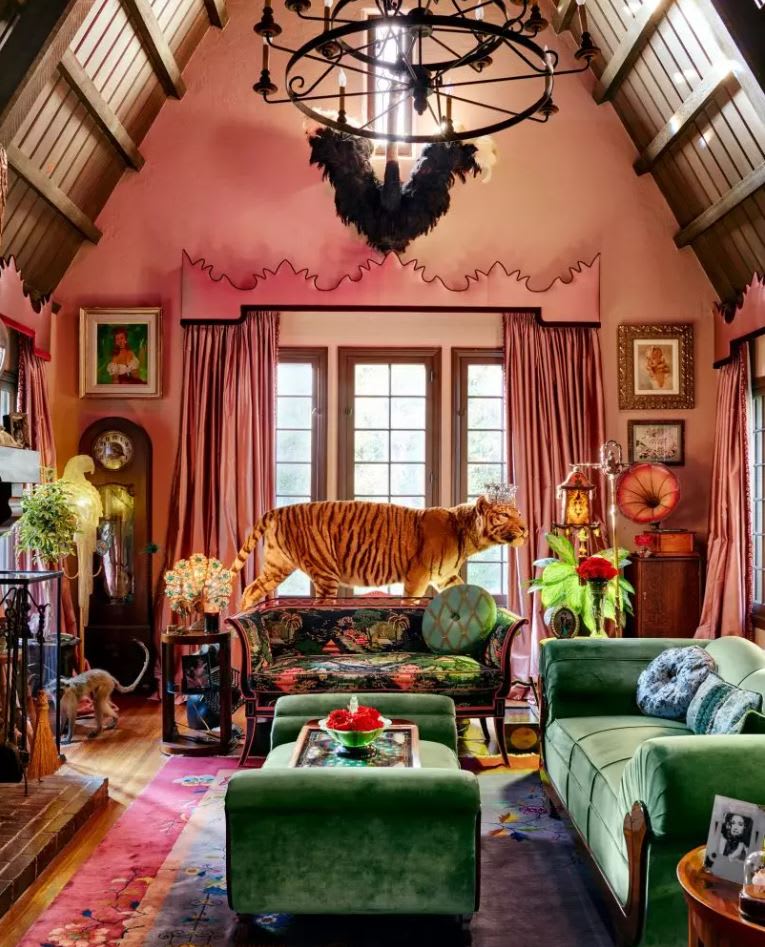 When Dita Von Teese decided to purchase a new home, she knew that she wanted something with character. She didn't want a blank slate that she would have to start from scratch; she wanted a home that already had its unique style. Von Teese is an antique and taxidermy collector, and she was opposed to completely demolishing the existing traditional Tudor Revival-style structure. Instead, she wanted to preserve the character of the house while infusing it with her unique style.
The result is a true one-of-a-kind home that perfectly reflects Von Teese's aesthetic. The back façade houses a roomy pergola-covered balcony, while steps lead to a swimming pool between private and lush landscapes. Inside, the house is filled with Von Teese's collection of antiques, taxidermy, and her personal touches. It's an eclectic mix of old and new, formal and playful, that perfectly embodies Von Teese's maximalist style.
Inside Jesse Tyler Ferguson and Justin Mikita's Sophisticated New York Pied-a-Terre
Details: Manhattan, New York City | Price 4 Million USD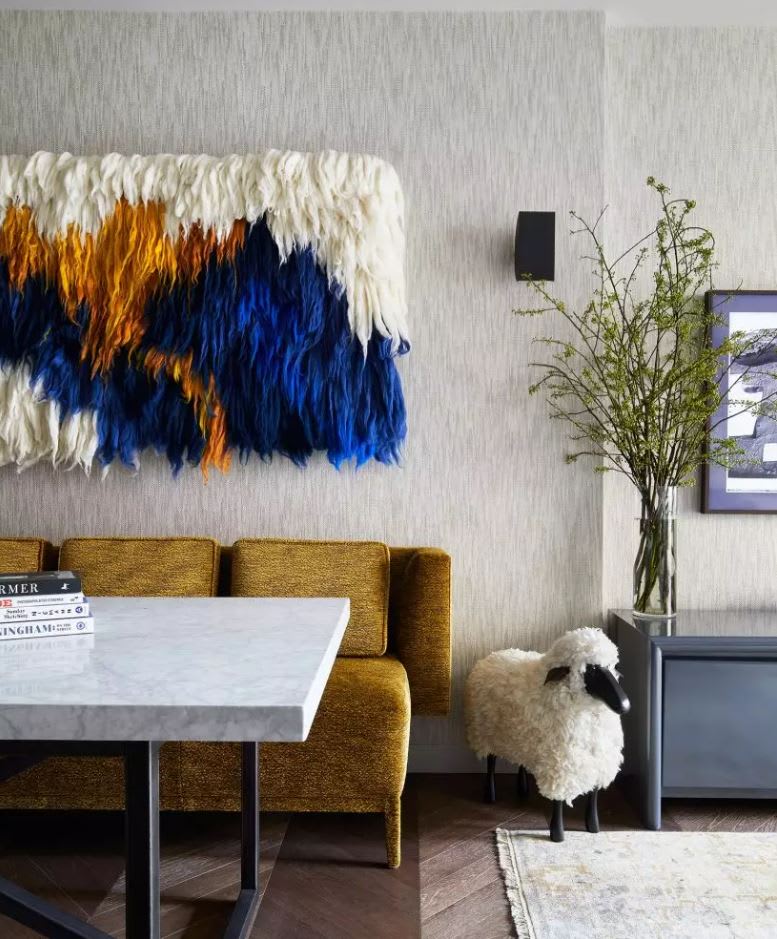 Jesse and Justin were lucky to have the help of their friend, set and interior designer Peter Gurski, when it came to decorating their New York apartment. As Gurski observed, both men are very experimental in their design choices, as evidenced by the custom wall hanging by Meghan Shimek and the custom wallpaper by Donald Robertson from Astek Printing.
Of course, given the limited space in New York apartments, they also had to be mindful of storage. The whole apartment has an open floor plan so that Jesse could cook in the kitchen but still be part of the action in the formal room. This is particularly fun when they entertain guests who chirp. All in all, their apartment is a reflection of their unique personalities and sense of style.
Jason Statham's Malibu Beach House Embodies His Connection to Nature
Details: L.A., California | 8 Million USD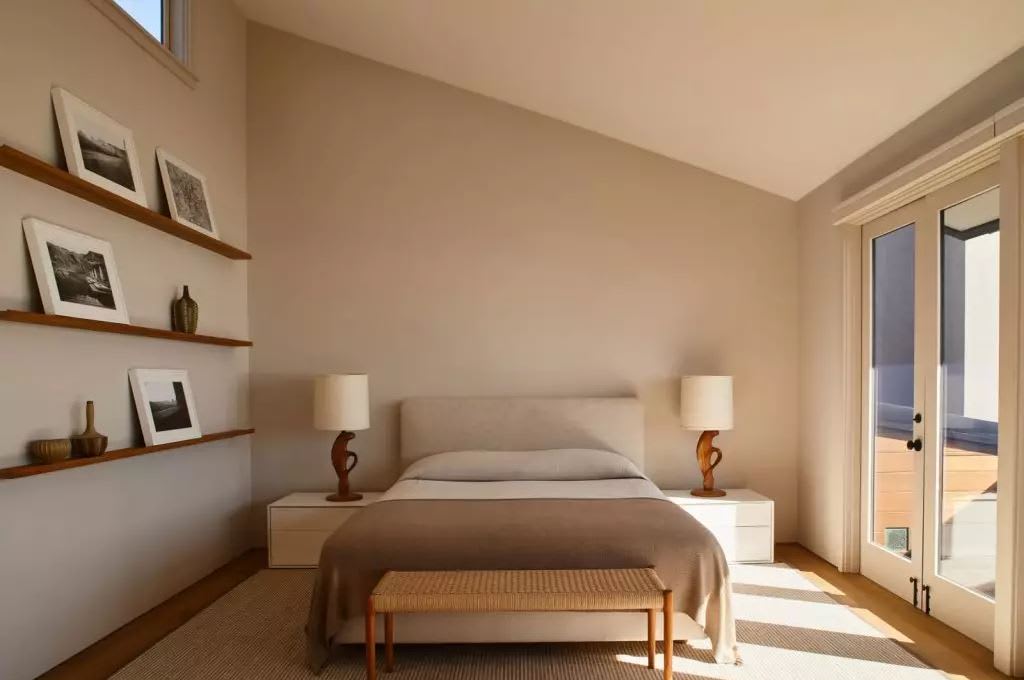 Jason's house on the beach in Malibu is a stylish and peaceful oasis with strong ties to the sand and sea. The large front window was one of the things that first attracted Jason to the house, and he worked hard to preserve it during his bottom-up rebuild. The window is a beautiful feature that allows natural light to flood into the house and offers stunning views of the beach. The other elements that Jason retained from the original house are the brick fireplace, the slanted roof in the south, and the footprint of the house.
Everything about Jason's house is inspired by or rooted in the beach, from the copper gutters that have turned green from sea spray to the washed-out colors of Scandinavian influence. The end result is a chic and serene home that feels like a true getaway from everyday life.
There is something about celebrities and their houses that always gets people talking. Maybe it's the extravagance, the scale, or the overall aesthetics, but everyone seems to be fascinated by them, whatever the reason. And while our fascination with celebrities may wax and wane over time, there is no denying that their homes will always be a topic of conversation. After all, it's not every day that you see a house that has its own bowling alley or movie theater. In a way, celebrities are like modern-day royalty, and their houses are like palaces. So even though we may not always be interested in their personal lives, we cannot help but be curious about their homes.
Looking for your palace to call home? Peruse our current listings here, and give us a call to schedule a consultation