STAGE TWO: OUR NEW REALITY
The hard truth is that we will be living with COVID-19 until there is an effective vaccine or treatment for the virus. Only then will the pandemic truly be over. These protective measures will be in place as long as COVID-19 remains a threat to public health which experts state could be as long as two years.
Starting May 8, 2020, the City and County of Los Angeles will transition to Stage II, making minor adjustments to some restrictions.
Everyone in Los Angeles should be prepared to proceed carefully — to ensure that we do not create a surge of infections. Angelenos should continue to wear face coverings in public, avoid coming into close contact with other individuals, and practice social distancing of at least 6 feet. Everyone should continue to limit travel and non-essential activities, and stay home as much as possible.
Effective Friday, May 8, some retail establishments will be allowed to offer online/phone orders and curbside pick-up ONLY, including: florists, toy stores, music stores, bookstores, clothing stores, and sporting goods stores. Car dealership showrooms open for sales with adherence to distancing and cleaning and infection control protocol. Restaurants will remain closed for dine-in guests.
Trails, trailhead parks, and golf courses will reopen on Saturday, May 9, as long as activities adhere to distancing and cleaning and infection control protocol, including the wearing of face coverings.
For information from the County of L.A., visit the Los Angeles County Department of Public Health website.
Guidance for businesses
The City has issued the following preliminary guidance to assist retail businesses interested in utilizing curbside pickup starting May 8.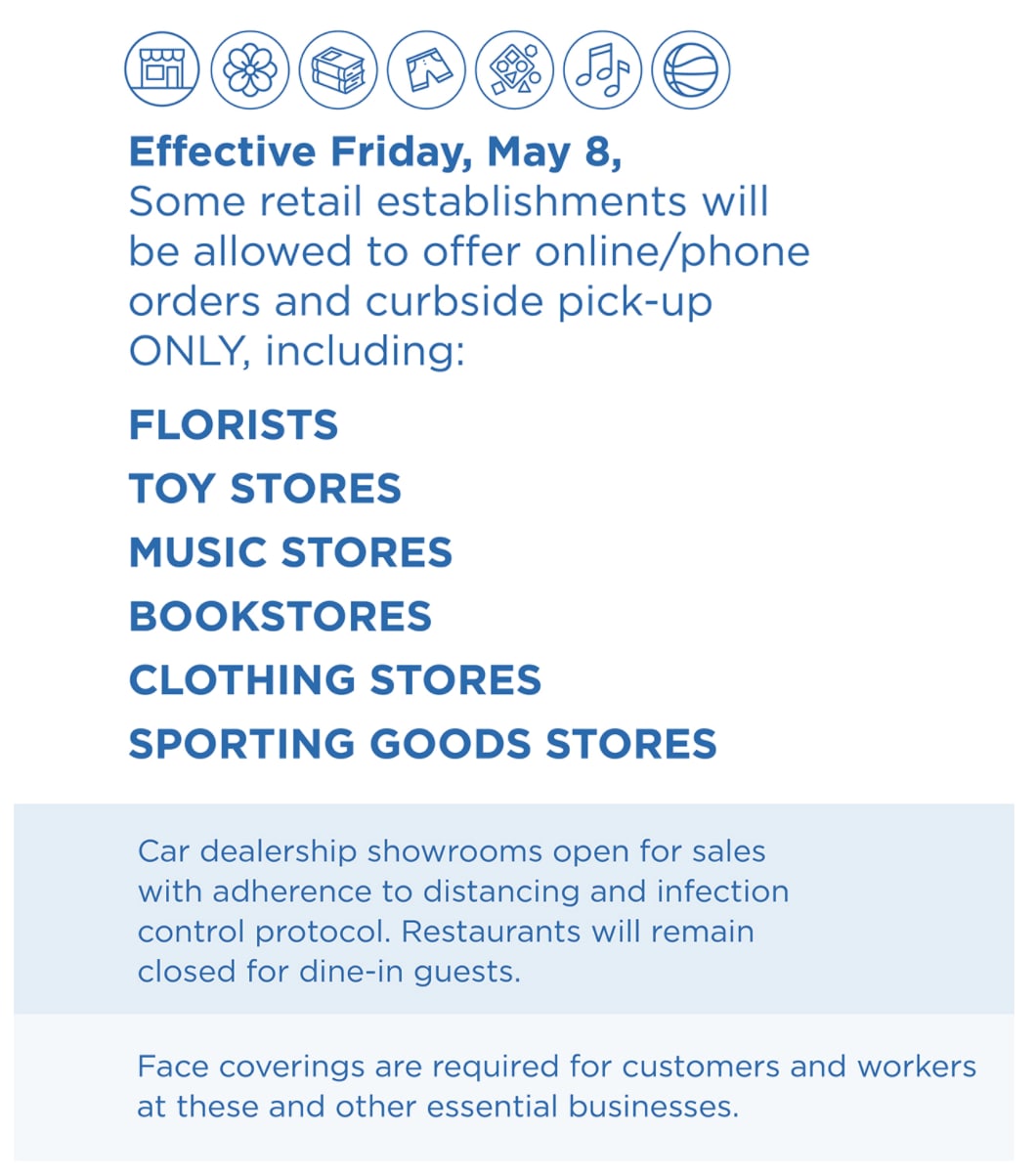 IN STAGES: ROADMAP TO SAFELY ADJUSTING THE SAFER AT HOME ORDER IN THE CITY OF LOS ANGELES
Until there is a vaccine or effective treatment, COVID-19 will continue to be a serious public health threat to our communities, our city, and our country. We must learn how to live with the new reality and find ways to safely begin to gradually lift restrictions, making minor adjustments over a long period of time.
As we move forward, it is critical that we continue to slow the spread of COVID-19 and avoid a surge in the number of cases that would overwhelm our hospitals.
The City of Los Angeles will take a gradual and staged approach to our response to this crisis — working with leaders across the region and continuing to be guided by expertise from County, State, and Federal public health officials. This approach will enable us to slowly lift restrictions while carefully monitoring risks and needs, and adjusting our approach as needed.
The gradual relaxing of restrictions will require the patience, persistence and partnership of residents, businesses, workers, government representatives and public health officials.
We must act as one, fighting to keep Los Angeles safe and healthy, and protecting our friends, families and neighbors.
There is a long road ahead, but we will get through this challenging time together.

STAGES OF A GRADUAL AND SAFE ADJUSTING OF RESTRICTIONS
Starting May 8, the City and County of Los Angeles will enter Stage II and begin the process of slow and gradual adjustments to the Safer at Home order. Physical distancing, face coverings and other safety measures will remain in place and will be even more important.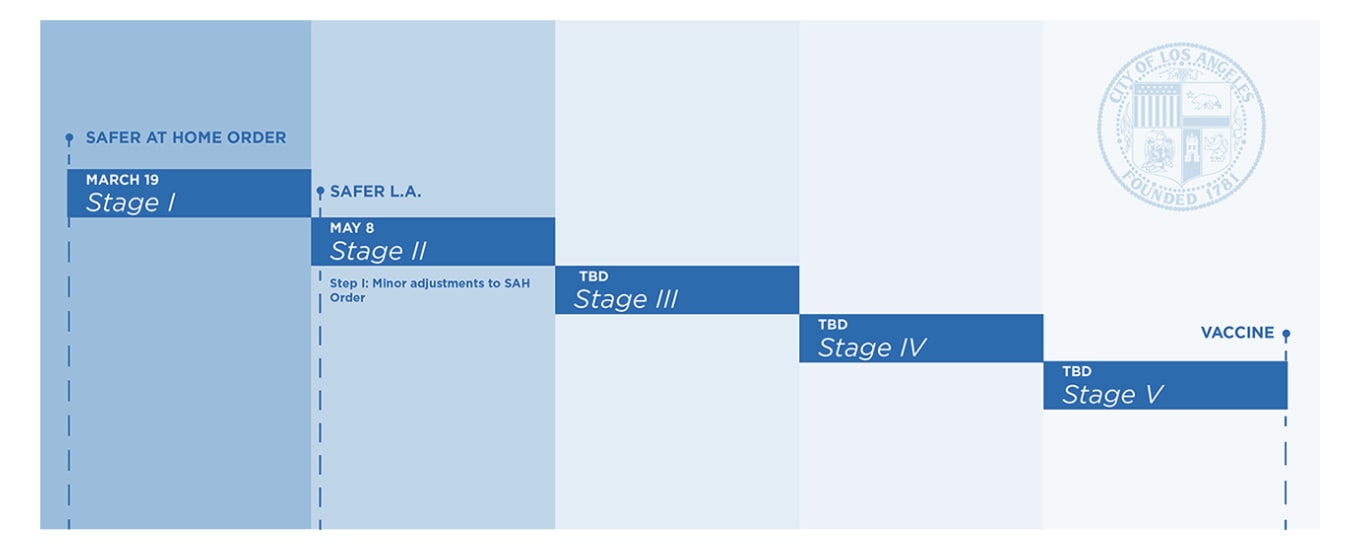 A gradual approach is necessary to safely navigate the COVID-19 pandemic. The goal is to slowly taper restrictions so we can avoid a surge of new COVID-19 cases that could overwhelm our healthcare and other systems. This strategy will be slow, deliberate, coordinated, and driven by data and public health criteria.
The first stage — where Los Angeles has been over the last several months — is crisis management mode, which has the goal of saving as many lives as possible.
The second stage aims to transition Angelenos back to a "new reality," with a slow and gradual change to some restrictions, while always ensuring that there are adequate safety measures in place.
In the third and fourth stages, the City will transition to a state of monitoring, and aim to lift additional restrictions. In the fifth and final stage, the City will be fully reopened and turn its attention to reimagining itself in a post-COVID-19 period.
Stages ultimately become less restrictive as they progress. Key milestones must be reached before the City can transition to the next stage of recovery.

DECISION-MAKING PROCESS
Mayor Garcetti will work closely with leaders throughout Southern California during this process and make decisions in consultation and collaboration with them — providing detailed information to the public, businesses and communities at every turn, so we can collectively prepare, respond and adapt.
The process of gradually reopening the City of Los Angeles will not always be straightforward. Consulting with public health officials and regional leaders, we'll work together to decide on whether we should step forward, step backward, or pause — throughout each stage of this process. Each decision will be based on an assessment of the risk to our communities and the capacity of our medical systems to respond.
This decision-making process is rooted in the cycle of the disease.
A person begins showing symptoms of the disease within two weeks. Within three to four weeks, people are hospitalized. As such, it typically takes three to six weeks to more fully understand how transmission is progressing and hospital capacity is handling. Ultimately, the actions we take today will be seen in the indicators within three to six weeks. Public health and government leaders will make careful decisions about whether to hold, expand, contract what is open or closed with this in mind.
Mayor Garcetti will continue to provide the public with regular updates on this information as it develops.

KEY INDICATORS
As the City of Los Angeles moves through the stages of recovery, we will be guided by data and science. The County has defined seven key public health indicators that will enable public health and government officials to determine whether the COVID-19 crisis is improving, staying the same, or worsening — and to then take action accordingly. These indicators will evolve as our knowledge of COVID-19 and its effects grows.
These public health indicators will be used to monitor Stage II and make decisions about when to loosen or tighten over the coming year. In addition, Mayor Garcetti is actively monitoring a wide array of public health and safety data and will continue making this information available to the public. Click here for definitions of key indicators.