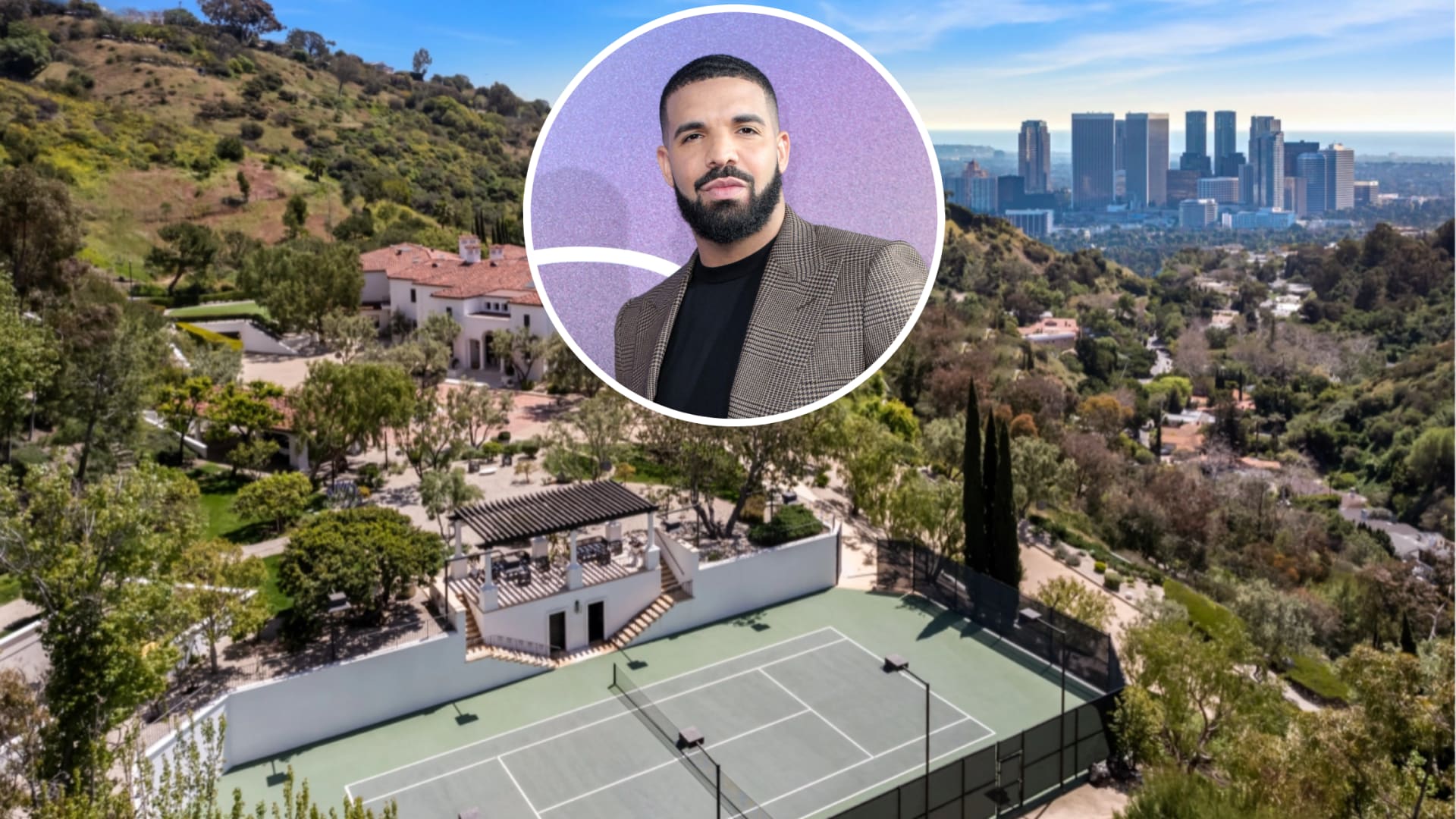 Just a year after splurging on a majestic estate nestled in the hills above Beverly Hills, popular rapper Drake is already putting it back on the market. His resort-style haven is now available for purchase at an asking price of $88 million, as initially reported by TMZ.
The sprawling mansion, covering nearly 25,000 square feet, was designed by renowned architects at KAA Design Group for Armand Marciano, the co-founder of GUESS, in the late 1990s. Initially featuring Old World, Mediterranean-inspired interiors, the Tuscan-style residence saw extensive renovations under Robbie Williams, who bought the mansion in 2015 for $33 million and transformed the interiors into contemporary spaces.
In the spring of last year, Williams and his wife, Ayda Field, sold this colossal estate to Drake for a staggering $75 million. Although it's not precisely known what alterations Drake has implemented since the purchase, the estate largely retains the look it had under Williams' tenure, a fact evident from the glamorous property listing photos and Field's regular Instagram updates.
Located in the seclusion of the hills above Benedict Canyon and situated at the end of a hidden cul-de-sac, the mansion offers impressive canyon, city, and ocean views, framed by mature olive trees and ancient oaks. It boasts an 11-car garage and an expansive motor court capable of accommodating dozens of vehicles.
The newly staged interiors showcase a minimalist aesthetic, featuring a double-height foyer with an imposing staircase, a living room with two grand fireplaces, a wine cellar, a gym, an elevator, a kitchen with dual islands, and a master suite complete with a private balcony and a spacious salon-style bathroom. Additional amenities include a staff wing, a separate guesthouse, acres of marble finishes, and bespoke custom woodwork.
However, the estate's outdoor attributes truly capture attention: one of the largest lawn areas in the 90210 area, a full-size tennis court, an outdoor kitchen, and a concealed orchard, according to the listing. The property spans nearly 20 acres, with much of it being a rugged hillside.
While it remains unknown where Drake plans to relocate, he still spends a considerable amount of time in his hometown, Toronto, where he owns a 50,000-square-foot mansion in the upscale Bridle Path neighborhood.
The Beverly Hill's Estates and Maywood Group share the listing for Drake's Beverly Hills property.
View images and the full article here.
Photo Credit: Marc Angeles