Calabasas, often in the limelight for its celebrity residents and pristine landscapes, is on the verge of unveiling its latest marvel - The Commons Lane Development. Nestled amidst the tranquil rolling hills, this development promises architectural beauty and a plethora of benefits for the local community. If you're curious about the transformative impact of this initiative, read on to discover the comprehensive guide on how this development stands to reshape Calabasas.
Advantages of The Commons Lane Development
A Boost to Local Economy
One of the most palpable benefits of such a development is the economic stimulus. With the construction phase employing local talent and the eventual commercial spaces inviting businesses, the local economy is poised for a significant boost.
Enhancing Community Engagement
Community spaces within The Commons Lane Development are designed keeping in mind the ethos of Calabasas. These spaces will serve as hubs for cultural events, fostering stronger community ties and facilitating more town gatherings.
Sustainable Living at Its Best
In an era where sustainability is not just a buzzword but a necessity, The Commons Lane Development leads by example. Incorporating green building practices and prioritizing eco-friendly amenities, the development is setting a new benchmark for sustainable living in Calabasas.
Augmenting Property Values
A well-planned and executed development like this often has a ripple effect on surrounding property values. Homeowners in the vicinity can potentially look forward to an appreciation in their property's worth.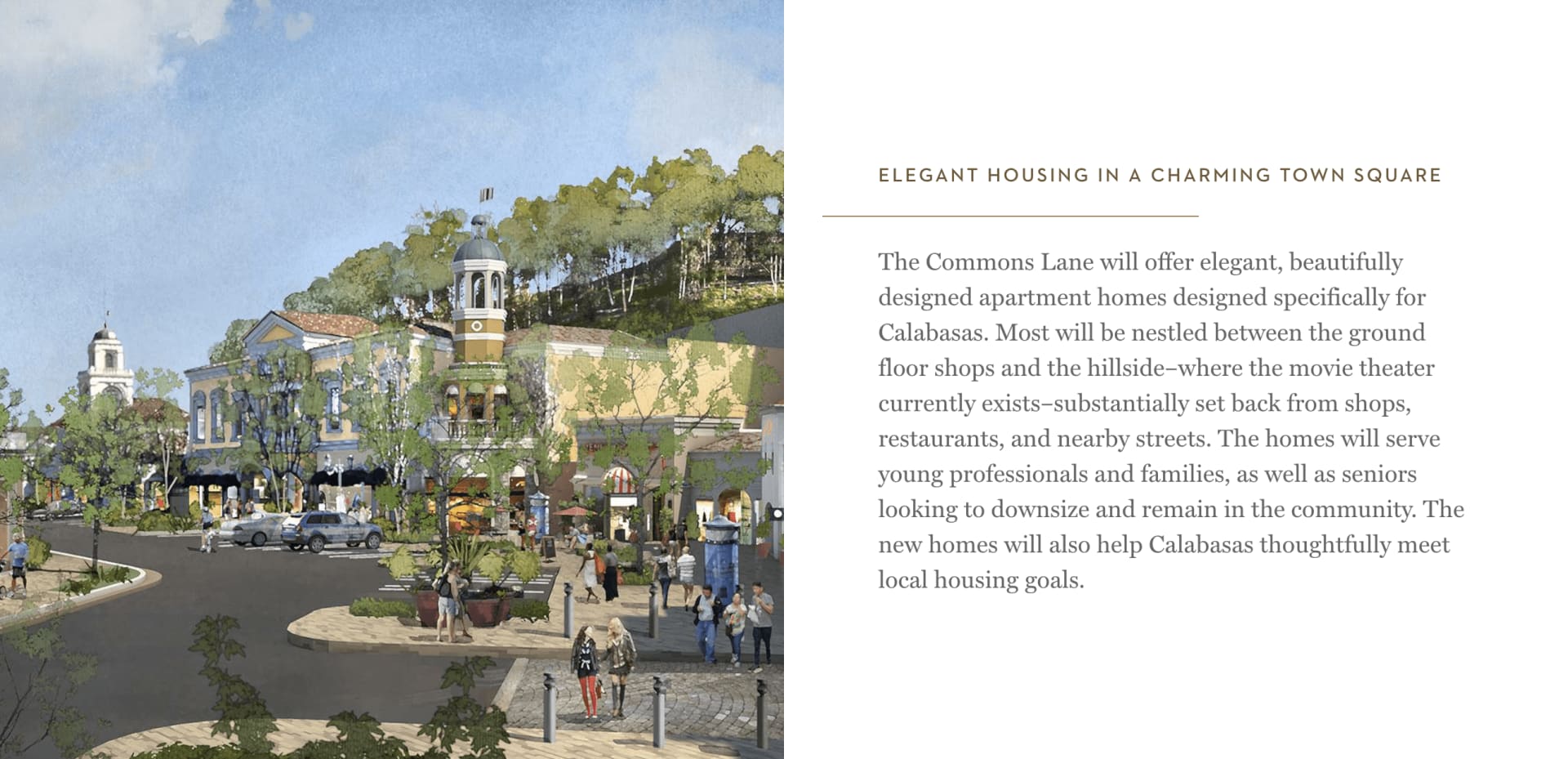 Potential Challenges and Their Mitigations
While the advantages are plenty, it's essential to address the potential challenges head-on to ensure the community is well-prepared and informed.
Traffic Congestion Concerns
With any new development, there's always a concern about increased traffic. But fear not! Comprehensive traffic assessments have been undertaken, and measures like widening certain roads and enhancing public transport options are in the pipeline.
Environmental Impact
Concerned citizens might ponder about the environmental ramifications. However, The Commons Lane Development is acutely aware of this. Not only are they incorporating sustainable practices, but they're also investing in local environmental initiatives to offset any potential harm.
Preserving Calabasas' Unique Charm
Change can be daunting, especially when it threatens a place's distinct charm. The development team has worked closely with local historians and community leaders to ensure the design and function of the development seamlessly blends with Calabasas' rich heritage.
Tips for Residents During the Transition
Stay Informed: Review FAQs and sign up HERE to stay informed on updates and information.
Engage Actively: Attend community meetings at the Calabasas Civic Center on Tuesdays from 1-3 p.m. through October 17th to ask questions. Engage with the development team, share feedback, and voice concerns at

[email protected]

Plan for the Future: While there may be temporary inconveniences, remember the long-term benefits that await.


Conclusion
The Commons Lane Development is not merely about erecting buildings; it's about enhancing the Calabasas community's quality of life. The advantages are manifold from bolstering the local economy to fostering community engagement. While challenges are inherent to any change, these can be effectively navigated with proactive measures and community collaboration.
Calabasas is on the brink of a transformative phase, and The Commons Lane Development is set to be its shining beacon. So, dear residents, gear up to witness the dawn of an era where tradition meets modernity, and community spirit is at its zenith! 🌟