Most-Loved Neighborhoods Showcase the Nation's Taste for Luxury, Leisure and Possibility
U.S. home shoppers and gawkers have a soft spot for neighborhoods that radiate luxury, leisure and opportunity. For 2018, the most-loved[1] neighborhoods in the country's largest metro areas ranged from upscale enclaves to popular vacation/retirement communities to previously tired neighborhoods now undergoing revitalization.
No neighborhood received more love per home than The Oaks, a luxury gated community in Calabasas, a city in the Los Angeles metro made famous by celebrity residents including more than one Kardashian, Justin Bieber and Jennifer Lopez. The Oaks boasts a median home value of $3 million.
Posh neighborhoods were popular on the other side of the country, too. Lake Nona Estates, a neighborhood in southeast Orlando with a median home value of $1.49 million, is the most-loved area in that metro. The Atlanta neighborhood of Kingswood—median home value $1.59 million—proved to be a strong object of desire for home shoppers and/or voyeuristic home dreamers.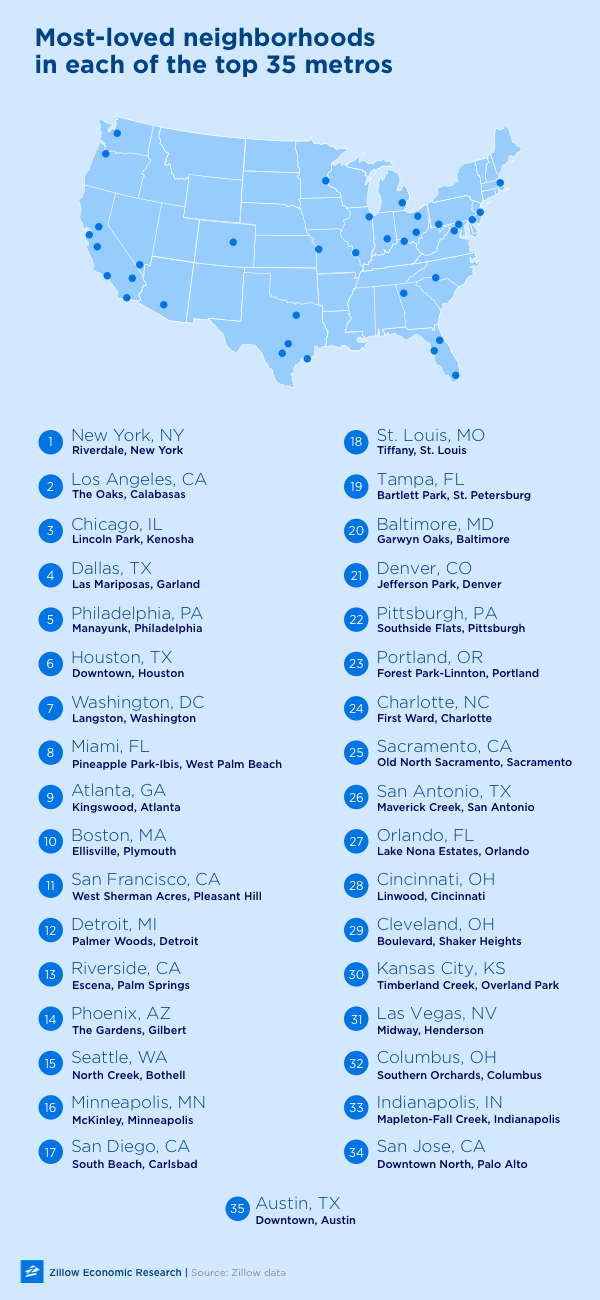 It's not just swanky neighborhoods that are all hearted up: U.S. home shoppers are enamored with vacation and leisure spots as well. Ellisville, a small community south of Boston near Cape Cod, received more love per home in 2018 than any other neighborhood in the Boston metro. Another coastal locale, South Beach in Carlsbad, Calif., is the most-loved neighborhood in the San Diego metro area.
Gated communities on both coasts got plenty of love: Pineapple Park-Ibis, in West Palm Beach, Fla., and Escena in Palm Springs, Calif.—both neighborhoods situated on golf courses and popular with vacationers and retirees—received more love per home than any other district in their respective metros.
Many shoppers appear to have an eye for investment opportunities. In several of the nation's largest markets, the most-loved neighborhoods are situated near city centers where median home values are swiftly increasing but remain low compared to their metros. Extra attention for neighborhoods with these criteria could suggest that people expect the country's urbanization to continue–and may hope to profit as the value of these urban properties to increase.
For example, the Manayunk neighborhood in Philadelphia, a historically working-class community that has been redefined as trendy and popular with upper middle-class professionals and families over the past few years, was the most-loved neighborhood in the Philly metro area. In 2000, the median Manayunk home was worth just $73,300, or 61.8% of the value of a typical Philadelphia metro area home. Today, a home in Manayunk is worth $225,200, or 97.2% of the metro's median value ($231,800 as of December 2018).
Similar trends have taken place in neighborhoods like McKinley in Minneapolis and Old North Sacramento, Calif., both of which are the most-loved neighborhoods in their respective metros. Despite this rapid growth, both relative and absolute, over the past two decades, recent slowdowns may temper investors' expectations: The median home value in the Manayunk neighborhood decreased in 2018 by 1.7%.
Slowing home growth nationwide may have put some dreams of immediate value gains for 2019 on hold. But, in all likelihood, our collective fascination with the luxurious, the leisurely and the longer-term possibility of riches will not waver as the year rolls on.
Click Here for more information.