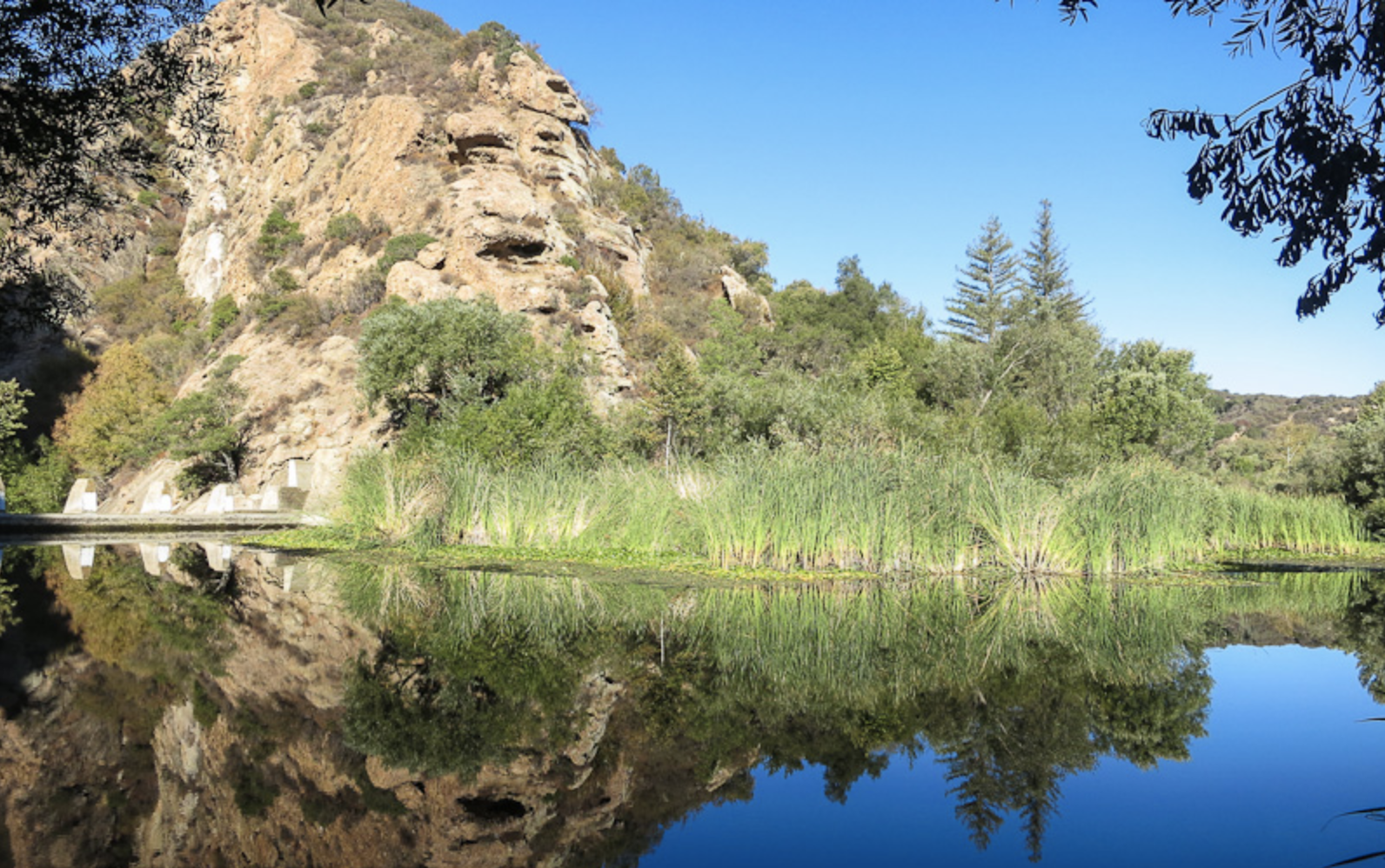 Residents of the once-idyllic community of Monte Nido, adjacent to Will Smith's $43 million compound, are in a panic and begging law enforcement for some answers amid a string of gruesome deaths and seemingly random shootings.
The rustic enclave of Monte Nido in Malibu Canyon has long been the kind of place where kids set up lemonade standsunder the shade of oak trees and neighbors leave their doors unlocked as they gab about camping and horseback riding. It's little wonder that Will and Jada Pinkett Smith built their $43 million dream home just up the hill from the area's Malibu Creek State Park, parts of which previously were owned by Paramount Pictures and 20th Century Fox, the setting for thousands of films and television shows, most famously M*A*S*H.
In recent months, however, the area has taken a turn toward the macabre as the tight-knit Malibu community deals with a spate of unexplained violence — an unsolved homicide, bodies dumped along roadsides, multiple untraced gunshots striking cars and people and, worst of all, the specter of a rogue gunman still at large.
Signs of trouble burst into public view June 22 when Tristan Beaudette, a 35-year old scientist from Irvine, was killed in a campground at Malibu Creek State Park, which has since been closed. A chemist employed by the pharmaceutical giant Allergan, Beaudette was shot in the head while his two daughters, 2 and 4, slept in a tent they were sharing (they were unharmed).
Now detectives at the local sheriff's department are working to develop a profile of the alleged shooter while pushing back against resident accusations that they have been slow to react.
"Everyone is uneasy," says Carrie Baltin, president of the Monte Nido homeowners association and a 30-year resident. "I won't go hiking in Lost Canyon by myself anymore. And I was never afraid to run in Malibu before, but I don't want to take a chance with a random shooter." Another longtime resident who prefers not to give her name says she has had to curb her daily horseback riding: "I felt like a sitting duck out there." Despite the proximity to nine-figure homes owned by Robert Downey Jr. (Malibu Knolls) and Katie Holmes (the Oaks in Calabasas), a week rarely goes by without someone hearing the crack of gunshots at night and reporting it to the police. Paranoia, at least for some is seeping in.
Beaudette's death is being investigated as a murder. But it gained an additional, more sinister significance when L.A. County Sheriffs revealed that at least eight other firearm-related incidents had occurred in the same neck of the woods, dating to November 2016 — incidents they had not previously discussed with the public. These include the shooting of James Rogers, who was sleeping overnight in a hammock in November 2016 when he awoke to pain in his side, then began pulling shotgun pellets out of his arm. Rogers survived but required surgerythe shooter was never found.
Two months later, in January 2017, Meliss Tatangelo was camping inside Malibu Creek State Park with her boyfriend when a loud sound stirred her in the middle of the night. The next morning, she discovered a gaping hole in the trunk of her car. Police found a shotgun shell inside and told her that it had been fired "from maybe 20ft away, if not closer," she recounted in a Facebook post. "If the bullet was fired even an inch higher, it would have hit me," she wrote. Since her encounter, and especially after Beaudette's murder, Tatangelo has been haranguing sheriffs to do more. "Two little girls lost their father and still no one can figure anything out or connect anything together," she tells THR. "Sounds like B.S. to me."
Meanwhile, within the past six weeks, two other dead bodies have turned up within three miles of the site of Beaudette's killing in the canyons along both sides of the rural Las Virgenes corridor that connects Malibu's star-studded beachfront properties (Rob Reiner) to the inland communities of Calabasas and Hidden Hills (Drake). Suddenly, a killing that had initially seemed to residents like an isolated incident began to take on new significance.
"All I know is that this town is freaking out and people are scared to death," says journalist Cece Woods, who runs the website the Local Malibu. In recent weeks, she has been warning friends and colleagues to avoid driving along Malibu Canyon Road after dark and has been openly criticizing local law enforcement and elected officials for being slow to alert the public. "The city of Malibu never put out a public safety announcement, and I believe it's because they don't want to make the sheriffs look bad," she says.
The opacity around the investigation, which has drawn in homicide detectives from the L.A. Police Department and park rangers from the California Department of Parks and Recreation, has angered some local residents.
Sgt. Matt Dunn of the Malibu/Lost Hills Sheriff's Station says the agency is being "as transparent as possible" but adds, "We can't release a lot of information because it could jeopardize an ongoing investigation."
The general consensus among residents and investigators is that there are two separate, violent phenomena unfolding simultaneously. First there are the shootings that have occurred in and around MalibuCreek State Park. According to Dunn, however, detectives have not forensically linked those incidents to each other. For now, at least, he says each is being considered independently. Then there are the body dumps, which authorities confirm to THR are unrelated to the park shootings.
Det. Karen Shonka of the sheriff's homicide bureau is investigating the murder of 19-year-old Roger Chavez Barahona, whose decomposing body was found in an embankment alongside Piuma Road, the central artery of Monte Nido. Shonka says Barahona moved to the U.S. from Honduras in 2016 and was known to have associated with a Los Angeles gang (she declined to name which one). According to the coroner, Barahona died of multiple gunshot wounds. "I don't believe [the bodies] are related to the Malibu Creek shootings. We have some leads in our case, and it has nothing to do with those. Our investigation is leading to a gang-related crime."
The other body found was that of Francisco Reynaldo Cruz, 52, discovered a month before Beaudette's killing in a ditch in front of the Malibu Hindu Temple, a lavish white structure devoted to the god Venkateswara. The temple sits a few hundred yards from the entrance to Malibu Creek State Park and attracts devotees from around the world. (The temple's bulletin board, typically featuring letters from parents seeking arranged marriages for their children, now displays a "REWARD" poster for any information on Beaudette's killing.) A coroner's report found that Cruz had been killed by "sharp force injuries" and "blunt force trauma" to the head. According to park officials who wish to remain anonymous, his body showed "signs of torture" in the form of drill marks.
Further complicating matters, say county officials not authorized to speak on the record, is the practice by Mexican cartels of sending forced labor across the border to grow small black market plots of marijuana in the most remote parts of the mountains around Malibu Creek State Park. They say small groups of men, often working in pairs, spend weeks at a time camping out alongside water sources buried deep in the canyons as the pot plants come to maturity. Now and again, one will hike down to town to fetch food and water. The sheriffs, in turn, occasionally send out marijuana eradication teams to destroy the illegal grows. Law enforcement has not linked the cartel activity to any of the most recent violence.
On its face, the Beaudette murder is hard to connect with either of the dumped bodies or the cartel activity. By all accounts, Beaudette was an outdoors enthusiast who spent all his free time camping and hiking with his family. He and a friend had taken their families into Malibu Creek State Park for a weekend of fun. The campground, located near the road, was convenient for a father juggling two small kids.
After Beaudette was shot, there were conflicting accounts of the incident. News reports initially said he was hit in the chest, but a coroner's spokesperson later said he was shot in the head. Beaudette's brother, 37-year-old Dylan Beaudette, told Radar Online that two bullets struck the tent, one of which hit Tristan in his torso. Dylan also speculated that the shots may have been fired from a distance, possibly from the road. (The coroner's report is sealed and the Sheriff's Department declined to comment.) "Tristan rejoiced in sharing his love of the outdoors with the girls and believed that campgrounds were the definition of a sanctuary where people could feel safe and secure," his wife, Erica Wu, an obstetrician, said in a statement. (There is a $35,000 reward for information related to the crime).
While Dunn would not confirm it, two sources with connections to the Malibu/Lost Hills Sheriff's Station tell THR that detectives are working to assemble a physical composite of the Beaudette shooter and are compiling a list of persons of interest. "We are not releasing a composite of any suspects at this time," says Lt. Jim Royal of the Malibu/Lost Hills station.
A source says that officers are also exploring whether one of these persons of interest can be tied to one of Calabasas' most notorious unsolved crimes: the death of Mitrice Richardson, a 24-year-old who went missing in 2009. Richardson, who was visiting the area from Covina, was briefly detained at the Malibu/Lost Hills Sheriff's Station by deputies for skipping out on a bill at a local eatery. She was released just after midnight without her purse or her phone (which were still in her impounded vehicle) or any form of transportation. She went missing, and 11 months later, her remains were discovered near a creek seven miles from the station. Sheriffs came under intense criticism for their handling of her disappearance, prompting an investi­gation by then-California Attorney General Kamala Harris, who later cleared the department of any wrongdoing. Dunn declined to comment.
Coordination, or lack thereof, among the various agencies involved in the investigation has become a cause of concern among residents. Recently, one Malibu Creek State Park official said sheriffs responded to a call from a local who reported that an unidentified gunman had taken aim at a car traveling along Las Virgenes in the early morning. "The shooter was in this area just a couple of days ago," said the official, who wished to remain anonymous out of concern for his safety. In response, eight police cars came roaring down Piuma in pursuit, and sheriffs told locals they had 15 deputies fanned out who were "looking into it."
"That's news to me," says Dunn. "And if State Park is withholding information, that's a problem. As far as I know, there has not been a shooting [since June 18]."
Law enforcement officials involved in the investigation met with several dozen residents at a meeting Tuesday night at a home on Piuma Road. It was supposed to be a chance for the community to get some answers about the state of the investigation, but according to one resident who attended the two-hour meeting, very little was revealed. Citing the "ongoing" state of the investigation officials declined to address any specifics like whether they had any suspects in mind or if they were closing in on an arrest. "One [sheriff] was touching on telling us something meaningful and then he was stopped immediately," says this resident.
With nerves frayed, locals have been taking unprecedented steps to protect themselves. Just up the hill from the Hindu Temple, inside the gated campus of MUSE, a private K-12 school run by Suzy Amis Cameron, wife of director James Cameron, an administrator said the school was installing several security cameras along its perimeter and ramping up protective measures for its 140 students. When THR visited the school, which sits at the end of a winding, dead-end road with views onto a steep valley, a spokesperson said administrators were in the process of completing a two-hour class to review new security protocols.
Meanwhile, just down the hill, two medics from a private ambulance company said they had been instructed not to stage their vehicle anywhere near Las Virgenes or Piuma roads because of the ongoing security threat. "Our bosses don't want us to get shot," one of the drivers said, simply.
On the neighborhood social media platform Nextdoor, angry residents have been venting. In response to the shots fired on Las Virgenes last week, several people posted. "We need to all report it so they don't dismiss it," wrote one resident. "It's getting concerning." Some people began speculating about what weapon was used. "Sounded like small to medium caliber semi-auto hand gun or rifle," wrote one, "large caliber would have too much recoil for 3 rapid shots." Others have guessed that the sounds are hunters, or perhaps the cracking of a live oak coming to pieces. The canyons of Monte Nido are steep in some places, flat in others, lending the whole area a strange acoustic resonance, which has led to speculation that the noises some take as gunfire might, in fact, be a trick of the ear.
Either way, two things are clear: Residents have reported vastly more shots fired than those the LASD has acknowledged, and they feel they are being kept in the dark. "Four shots now and they're getting closer to Dark Creek Road," wrote one poster around 1 a.m. on July 9. "What's going on out there?"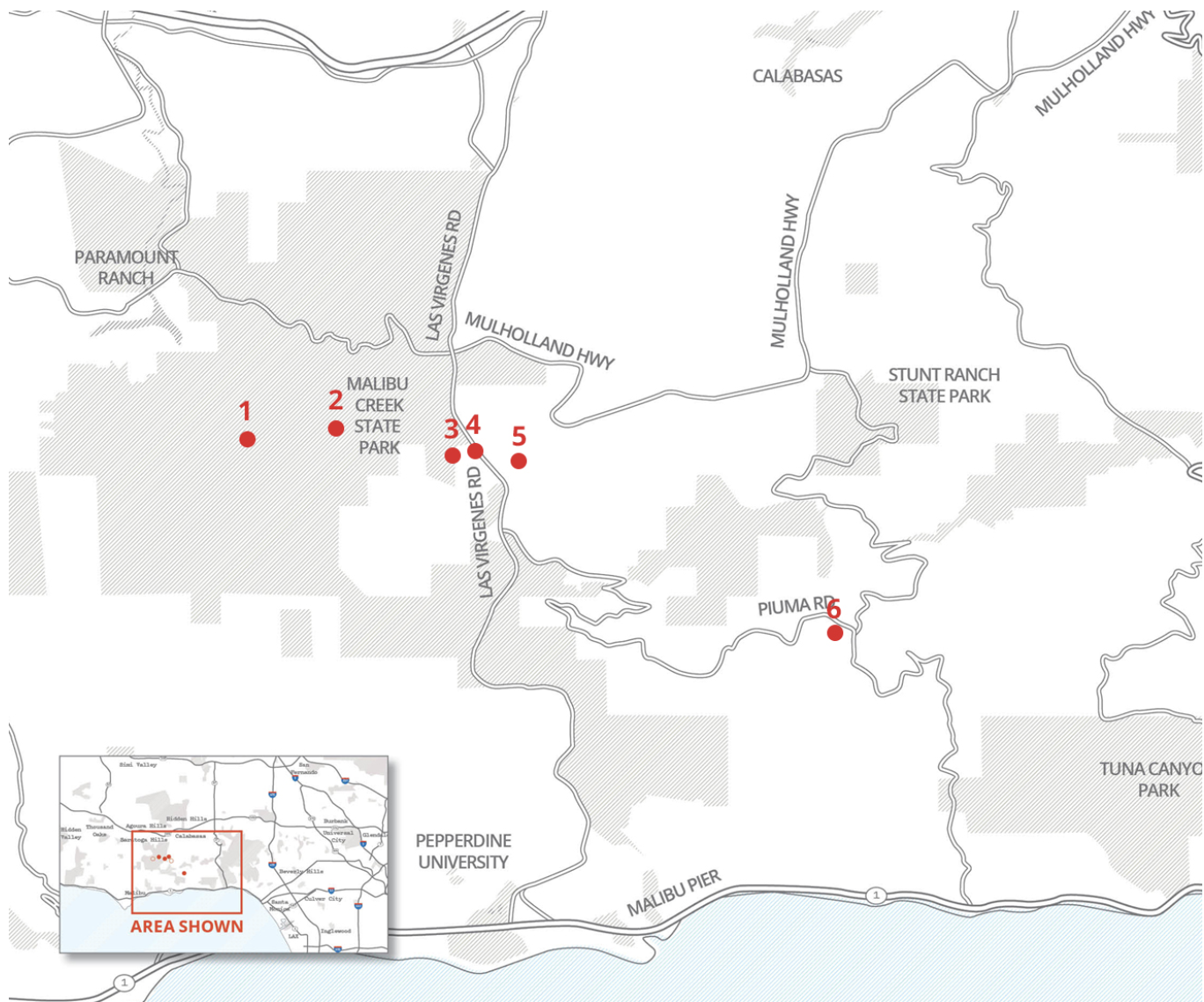 (1) M*A*S*H filming location: A 4.75-mile hike to the old set of the fabled CBS sitcom is one of the park's most popular attractions.
(2) Malibu Creek State Park: On Nov. 3, 2016, about a mile from where Beaudette was killed, James Rogers was shot while sleeping in a hammock. He survived the attack but required surgery.
(3) Malibu Creek State Park Campgrounds: On Jan. 7, 2017, while camping, Meliss Tatangelo was awakened in the middle of the night by what turned out to be a shotgun fired at her car at close range. On June 22, 2018, Beaudette, a 35-year-old chemist from Irvine, was shot and killed while sleeping in a tent alongside his daughters, 2 and 4.
(4) Malibu Hindu Temple: On May 16, 2018, the body of Francisco Reynaldo Cruz, 52, killed by "blunt force injury to the head," was found in a ditch across the street from the Hindu Temple. Sheriffs say Cruz was murdered by a street gang and dumped here.
(5) The Muse School: The K-12 day school founded by Suzy Amis Cameron (wife of director James) has upped its security measures.
(6) 24,300 Block Piuma Road: On July 27, 2018, the body of 19-year-old Roger Chavez Barahona was found on an embankment along this stretch of road. The cause of death was multiple gunshot wounds.
CLICK HERE for more information.