The following is a note from Ewing and Associates Sotheby's International Realty Broker Roger Ewing:


A recent article in Forbes Magazine discusses the latest trend in luxury real estate – auto lifts.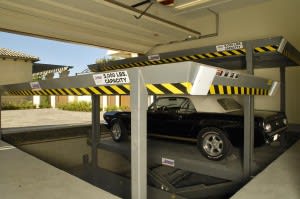 Over the course of the past year home owners around the country have begun adding these subterranean chambers to their homes in order to store car collections or protect luxury vehicles. Lift specialist, Brad Davies noted that their company's orders increased from 2-3 per month to their current amount of 19 orders. This phenomenon is generally reserved to car enthusiasts and collectors but the current listing of two of our agents, Jeff Biebuyck and Dana Olmes dubbed "Chateau Suenos", previously inhabited by Britney Spears is privy to a lift as well.

"Situated in the tony, gated development The Oaks (where the Kardashians and Justin Bieber own neighboring homes), the 9,211-square-foot château-inspired estate offers a split-level garage equipped with two PhantomPark hydraulic lifts that store autos below ground, safe from playing children as well as the auto-eroding effects of SoCal's warm weather."

"Jeffery Biebuyck, emphasizes that the garage is one of Chateau Suenos' biggest enticements. 'Every single person who has toured this home has had a car collection,' Biebuyck says." Although the lifts tend to only receive 58% on return in investment, they are a phenomenal marketing tool to attract buyers. Having an auto lift as an ammenity in a home sets the property apart from others and increases property showings for potential buyers.

Jeff and Dana's eye for the distinct taste of luxury buyers has made them a great resource to anyone looking for insight on high end real estate. I'm excited to see journalists continually seek them out for their thoughts and look forward to Jeff and Dana's future endeavors.