As the minimalistic movement and sustainable living gain traction, the tiny house movement has steadily increased in demand. As a result, people are choosing to downsize the space they live in and live with less.
Embracing the sustainability philosophy, tiny houses offer affordability, efficiency, minimalism, and eco-friendliness. Add in the ease of customizing the various areas according to the needs and preferences of the homeowners; it's a no-brainer for some to invest in tiny houses.
Want to convert your area into a home office? A fitness studio? A storage shed? A guest room? An entertainment hub? Tiny houses offer endless possibilities with what you can do. While several companies offer tiny houses, Amazon also offers a wide array of tiny house options according to your style and space.
Here are some of the best options when shopping for tiny houses on Amazon. However, some houses are equipped with most of the home components you need (windows, doors, etc.), while others just provide the main frames for the tiny house structure, so you could alter and build your space according to your preference.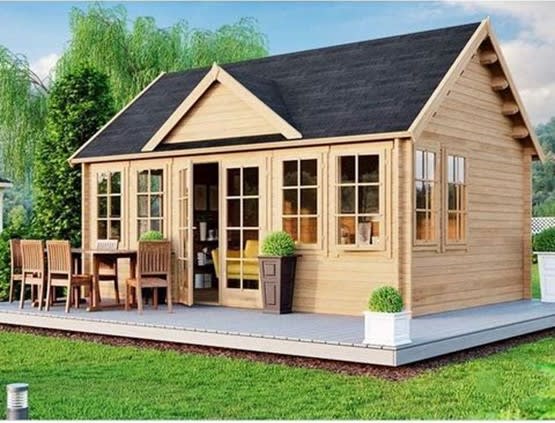 Allwood Claudia 209 SQF Garden House Cabin Kit
The enormous windows and French doors on this spruce-wood gem bring in plenty of light, making it big enough to be an office or a guest room.
Item Details:
Inside Floor Area: 209 sq. ft.- spacious yet cozy.
Wall thickness: 1-3/4" (44 mm) - dual T&G wind block pattern | Front / back wall height: 7'3" - Ridge Height: 11'11".
Add Factory Protection Against Termites. ASIN: B07ZWXFXMT.
2020 model upgrade: New stronger roof with 90 lbs / sqf snow load capacity.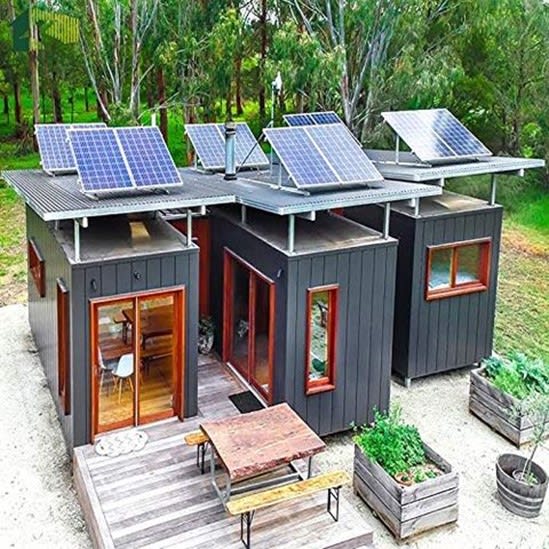 Solar House Economic Modular Home
Eco-friendliness is elevated to a whole new level in this little house. It's 320 sq. ft tall with five solar panels (all of which can be fully up within 10 hours, depending on your local sun levels).
Item Details:
320 sq. ft. Container House is weatherproof and leakproof even under extreme climatic conditions.
All modern fixing possible in the tiny home including AC, fire alarms, smoke detectors etc.
Appropriately insulated to bear extreme temperatures, Modular House built with advanced weatherproof materials.
Aluminum Doors and Windows, Only Vinyl Floors, Painted Drywall Walls, Hi-Quality Foam Insulation, Hurricane Proof Windows.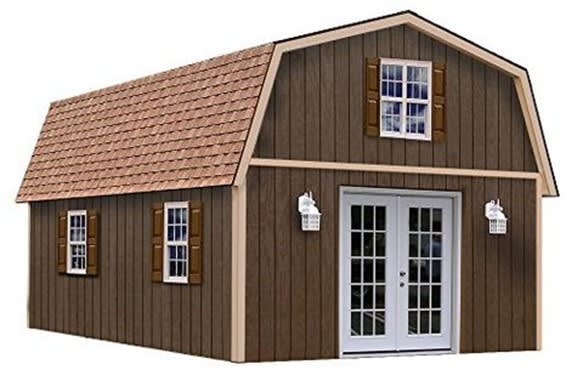 Richmond Barn House
To those who prefer a picturesque and quaint home, a barn-themed house sounds both nice and exciting.
Item Details:
Materials: Wood & Resin.
Water Resistant.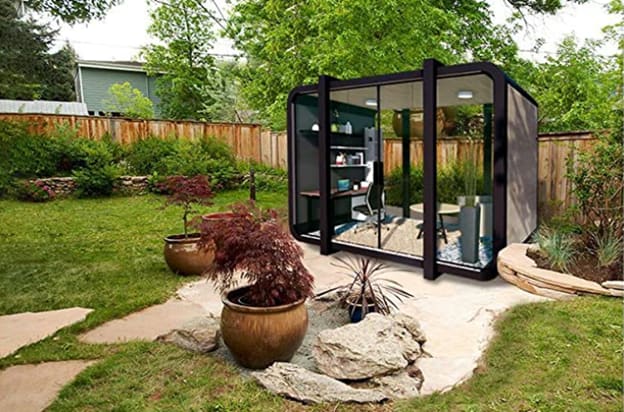 YARDADU Shed Pod
With 104 square feet, this little glass pod may easily fit in even the smallest yards. May it be your personal office space, or your own entertainment/gaming area, the shed pod got you covered.
Item Details:
Color: White, Black, Yellow, Red.
104 sq. ft., 13 ft. x 8 ft. with Lounge.
Quality and Comfort, Great Insulation, Soundproof, Waterproof, Finance for as low as $298/mo.
Backyard office production time is 8-12 weeks.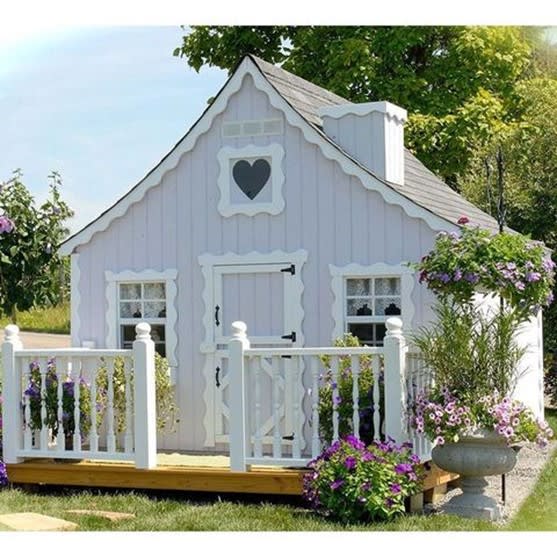 Little Cottage Company Gingerbread DIY Playhouse Kit
The proportions of this fairy tale cottage range from 8x8 feet to 8x12 ft., and it is all you could possibly want. Live your childhood dream or give your children a place they will truly remember for a long time.
Item details:
Item Dimensions LxWxH: 96x120x98 inches
Material: Wood
Item Weight: 917 lbs.
High-Quality Siding and Trim Pre-Fastened onto Wall Panels (Ensures Panels are Square).
Panelized Walls Sections (Not Just Precut) Saves Time in Assembly.
Gingerbread Trim Pre-Fastened to Panels.
All Trim and Siding Is Prep Rimed.
Outside Corner Gingerbread Trim.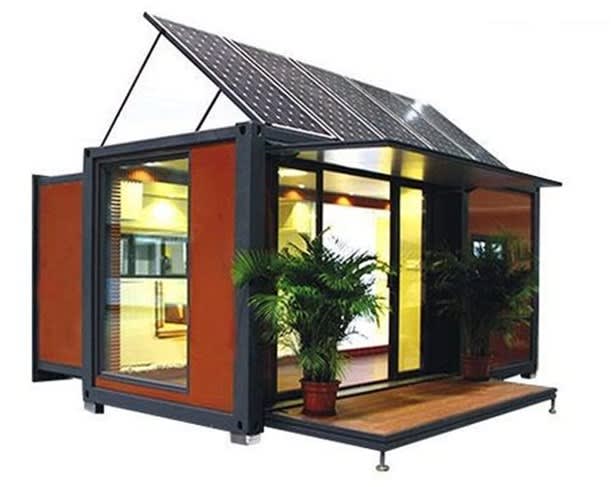 Expandable Container House
The tiny house that alleviates all your worries and stresses. Easy to assemble? Check. Aesthetically appealing? Check. Solar-powered? Check. In short, all the things you are looking for, the Expandable Container House has it.
Item Details:
Material: Alloy Steel
Waterproof
Useful in varieties of situation that makes your life more comfortable.
Easy to assemble and has clear instructions to help you.
Each part of the house is made of a hot galvanized light steel frame, ensuring its safety.
Environment-friendly.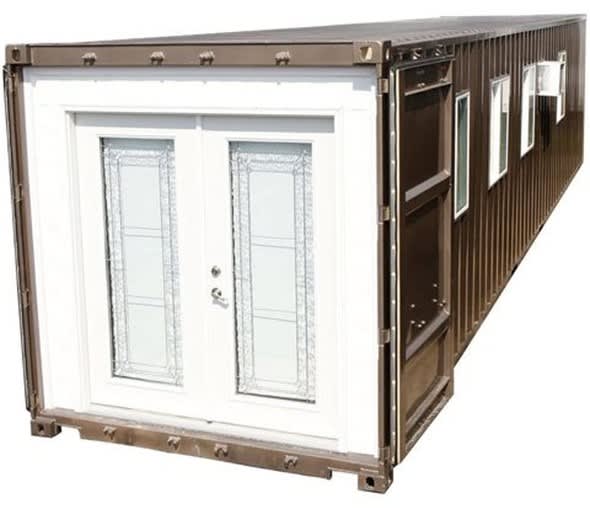 MODS 40-Foot-Long Tiny Home
It features a bathroom, shower, kitchenette, sink, and bedroom in addition to being a shipping container dwelling. What else could one possibly need?
Item Details:
Fully furnished tiny home, prefabricated from a new shipping container.
Double patio doors within secure container doors. Fully insulated.
Bottom sewer connection, easy side water, and electrical connection.
Includes heated & air-conditioned with a mini split.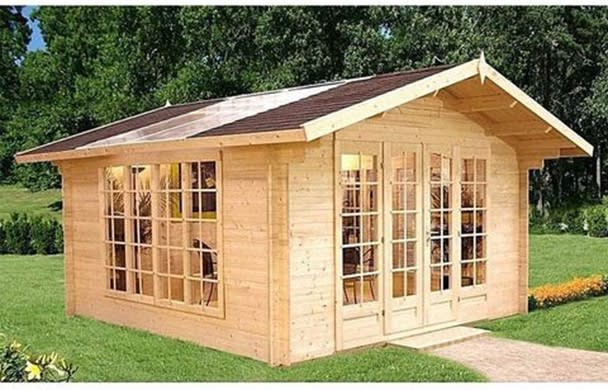 Allwood Summerlight 150sq. ft. Cabin Kit
The views from this tiny cabin are beautiful since it has floor-to-roof windows on three sides. But what makes it truly unique is the glass-paned roof, which is very ideal for summertime stargazing.
Item details:
Large windows, lots of light. Ideal lake or beach house.
1-11/32" (34 mm) dual T&G wind block pattern.
150 sq. ft. inside floor area. No interior finishing is needed.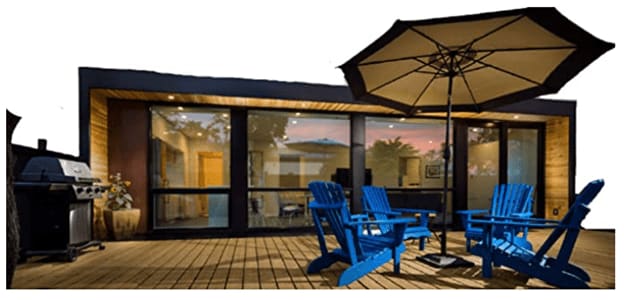 EZ Supply Modern 1 Bedroom Tiny House
The flooring, roofing, plumbing, and electricity you'll need to transform this 20-foot container into a home are all included in the delivery. It also appears larger because of the plate glass walls. Transform this into a guest house, and you surely will receive a lot of compliments from the people close to your heart.
Item details:
The tiny house is easy to assemble and has clear instructions to help and guide you.
Delivered directly to your doorsteps.
Plumbing system, electricity, flooring, roofing, and other essentials are provided.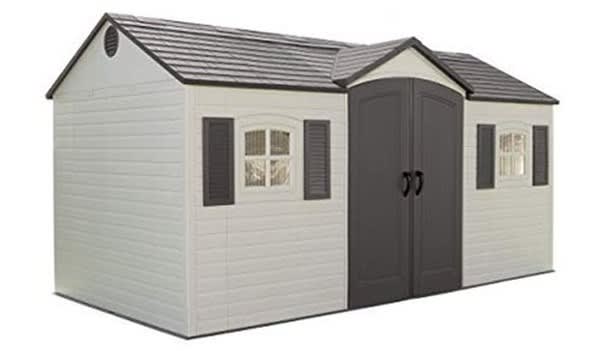 Lifetime Outdoor Storage Shed with Shutters
While it is technically a storage shed, we believe that it may easily be converted into a compact house due to the windows, skylights, and double barn doors.
Item Details:
Color: Desert Sand
Material: Polyethylene, Polycarbonate
Item Dimensions LxWxH: 180 x 96 x 108 inches
Item Weight: 601 lbs.
Features- 6 small skylights, 2 shatterproof polycarbonate windows, 2 screened vents, 2 decorative shutters, 2 peg strips, 2 90" x 9" shelves, and 4 corner shelves.
Low maintenance. Constructed of dual wall UV-protected High-Density Polyethylene with steel wall supports
Heavy-duty steel trusses provide additional roof strength, backed by a 10-year limited manufacturer warranty.
The high-pitched roof allows for quick drainage of rain and snow.
Lockable Steel-Reinforced Doors for Added Security.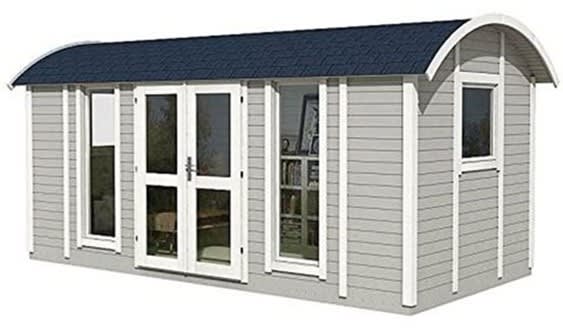 Allwood Mayflower Base
The total floor size of this tiny house is 117 sq. ft., and it is constructed from premium Nordic wood.
Item details:
Material: Wood, Glass
Style: Garden
Chamber Depth: 6.1 ft.
Unique style. Focal point of any garden.
Total floor area 117 sq. ft. | Roof area 158 sq. ft.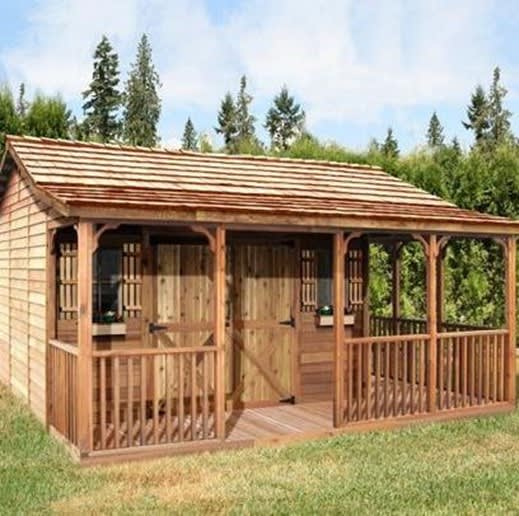 Farmhouse Kit
If you are seeking a house with a country vibe and theme, this farmhouse kit by Cedarshed is the right fit for you. Flaunting its front porches, this tiny house exudes a peaceful and cozy appeal.
Item details:
Products with electrical plugs are designed for use in the US.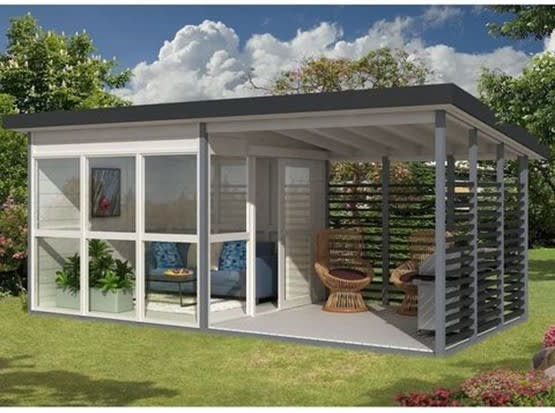 Allwood Solvalla Studio Cabin Kit
The spacious porch on this little house is ideal for use as a reading room, office, or small art studio. The inside room can be a private room for relaxation and entertainment. You can be offbeat and extraordinary at the same time.
Item details:
Color: Natural (unfinished wood)
Style: Casual
Chamber Depth: 78 inches
Inside Floor Area: 172 sq. ft. (whereof 86 sq. ft. is covered).
Wall thickness: 21mm- T&G pattern.
Ideal backyard recreation lounge, guest house, or even a home office.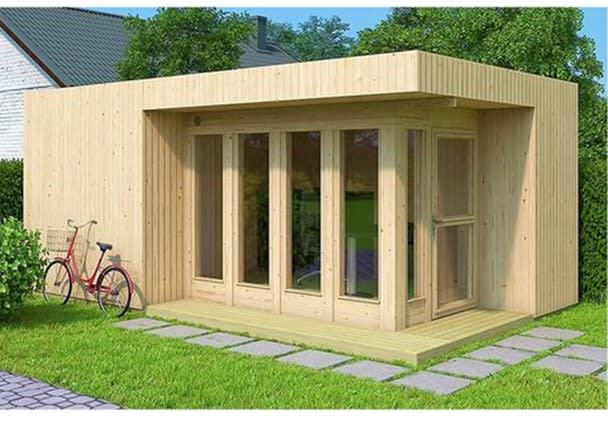 Allwood Arlanda XL
This tiny house flexes a contemporary, wooden, cozy vibe that you can utilize as a personal office space or a workout area.
Item details:
Style: Contemporary, Classic, Garden
Chamber Height: 8.6 ft.
Ideal home office | Total floor area 227 sq. ft. | Inside floor area 193 sq. ft.
Contemporary urban styling | Large windows allow an abundance of natural light.
Suitable for environments where the classic cabin style does not fit.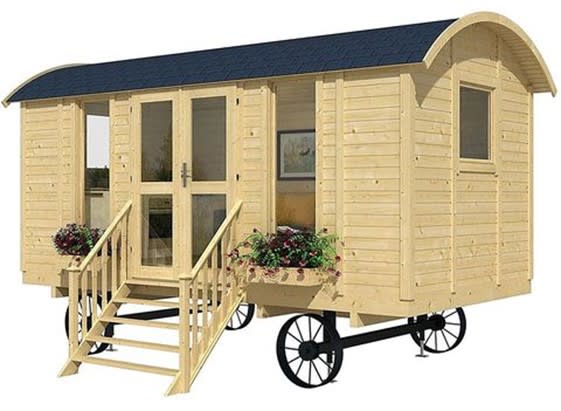 Mayflower House
Garden house on wheels! Truly, a head turner will add so much color to your backyard.
Item details:
Material: Wood, Glass
Style: Modern, Garden
Chamber Height: 7.1 ft.
Total floor area 117 sq. ft.
Roof area: 158 sq. ft.
Check out the full list here! Another option when looking at purchasing a tiny house is Frit Tiny Homes, you can check their website out here. Looking to buy a larger home in the Calabasas/Hidden Hills area? Contact Frontgate Real Estate today.