North American Van Lines 2022 Migration Report: A Comprehensive Look at American Relocation Trends

The beginning of a new year brings with it a host of new opportunities, and for millions of Americans, a chance to start over in a new state. With this in mind, North American Van Lines has released their 2022 Migration Report, providing a comprehensive look at the state-to-state migration patterns of millions of Americans.

This report offers a wealth of information, including an interactive migration map of the United States, a list of the top inbound and outbound states, key takeaways that show notable changes in recent years, and regional breakdowns that detail important developments in those particular states.
California Migration Report 2022: A Closer Look at LA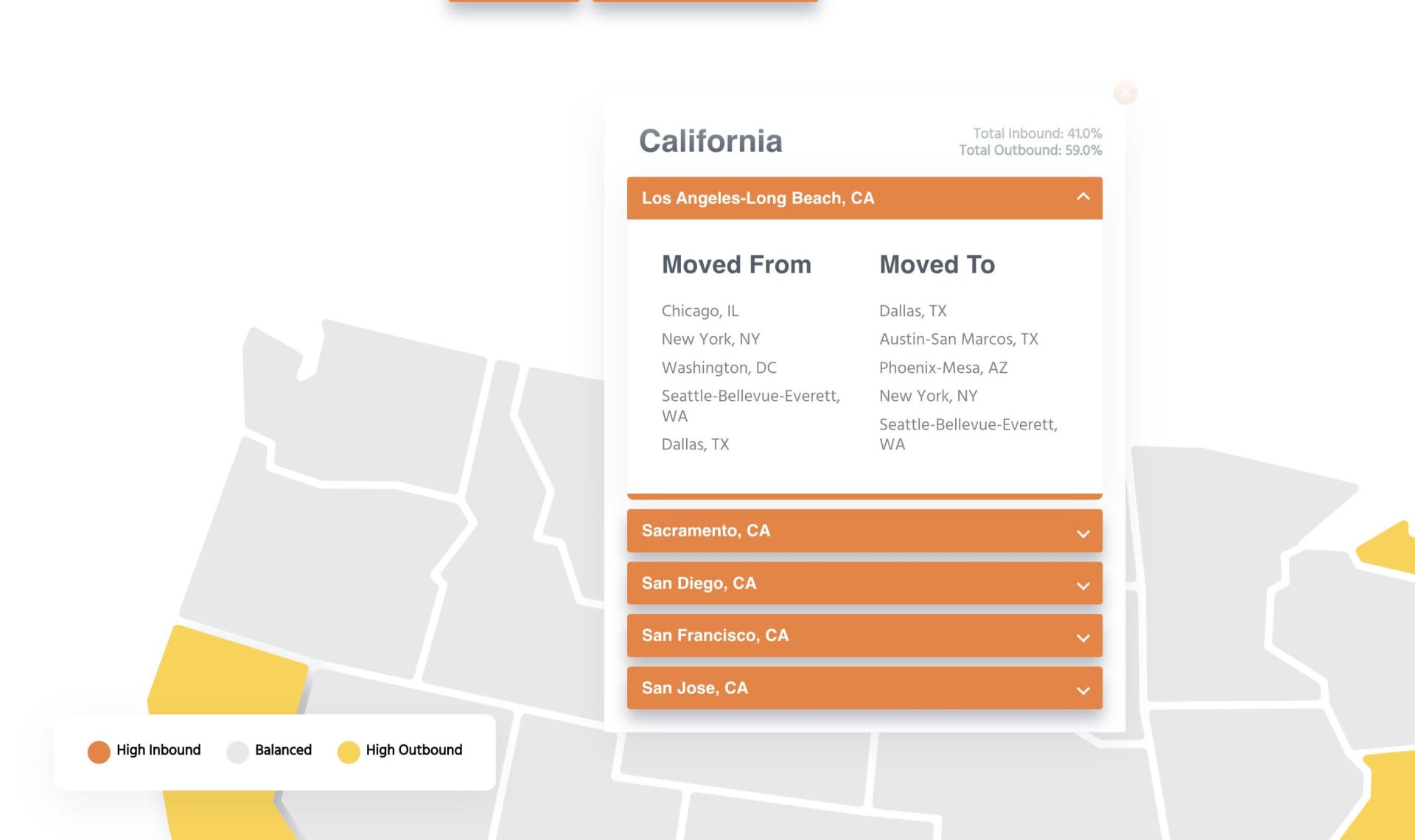 According to the North American Van Lines 2022 Migration Report, California had a total inbound migration rate of 41.0%, while the total outbound migration rate was 59.0%. This indicates that more residents are leaving California than moving in.
In Los Angeles-Long Beach, a key city in California, the migration patterns tell a slightly different story. The city saw residents moving both in and out, but certain cities stand out as the top places that residents are moving from and to.

Total inbound migration rate: 41.0%
Total outbound migration rate: 59.0%

Los Angeles migration patterns:

Moved from:

Chicago, IL
New York, NY
Washington, DC
Seattle-Bellevue-Everett, WA
Dallas, TX

Moved to:

Dallas, TX
Austin-San Marcos, TX
Phoenix-Mesa, AZ
New York, NY
Seattle-Bellevue-Everett, WA
Relocating Out of State? We Can Help!

If you are looking to relocate out of state or are simply curious to see what other areas are of interest, Frontgate Real Estate has got you covered. We have trusted advisors in every state who can assist you with any information you request and provide expert guidance on all your real estate needs in the local market.

Whether you are interested in getting a current home valuation or staying up-to-date on the most recent home sales in your area, we can provide the information you need. So, if you are considering a move out of state, be sure to take advantage of our resources.