From Real Estate Stunt to Cultural Icon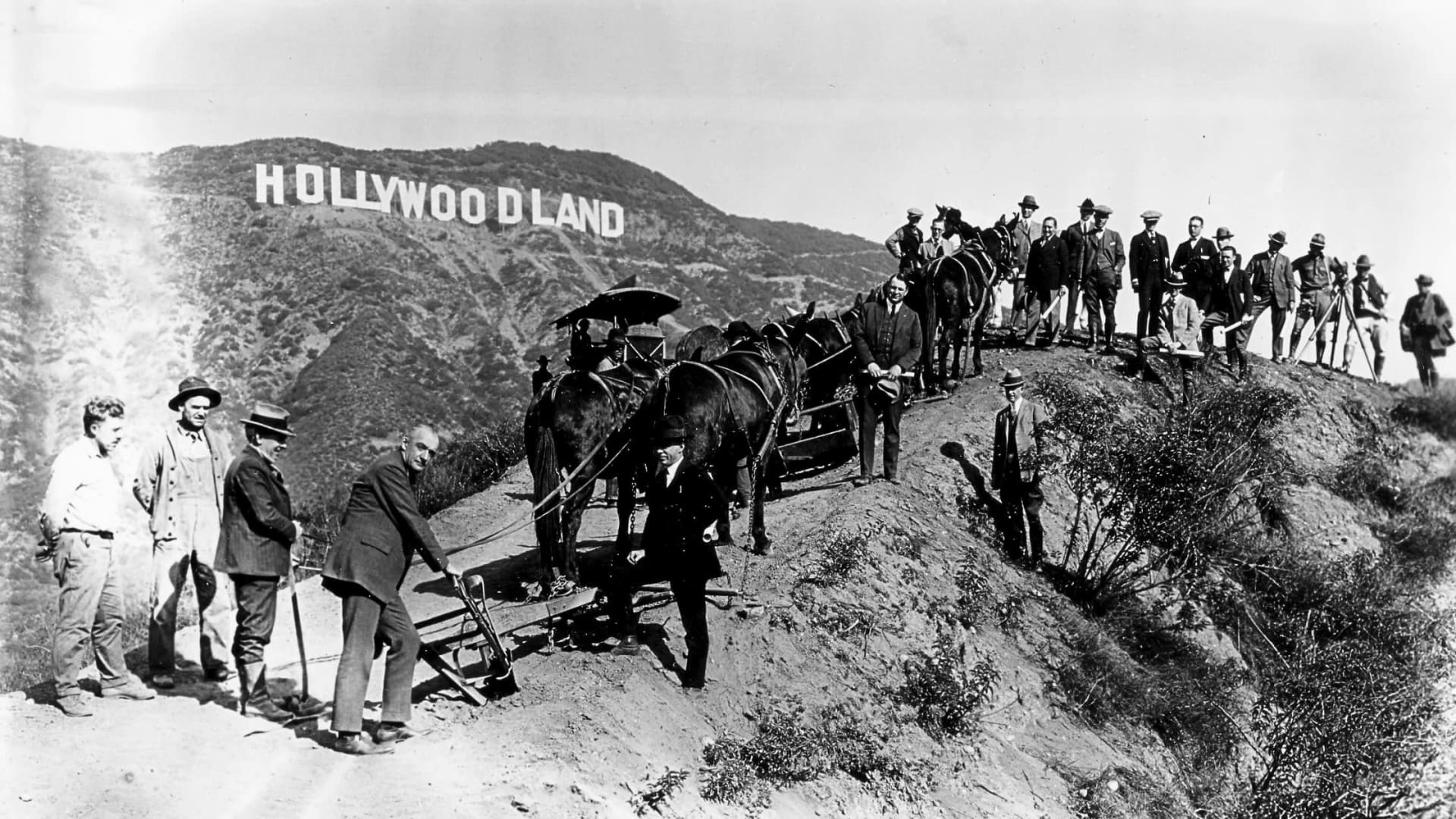 The iconic Hollywood Sign, nestled in the hills overlooking Los Angeles, stands as a symbol of the glitz and glamour of the entertainment industry. However, what many may not know is that this landmark, celebrating 100 years and synonymous with Hollywood's allure, originated as a clever real estate stunt.

In 1923, the Hollywoodland real estate development project emerged as a vision to transform the scenic hills above Hollywood into an exclusive residential community. To generate buzz and attract buyers to the area, the developers, Harry Chandler and his Los Angeles Times associates, conceived the idea of constructing a giant sign atop Mount Lee. Each letter spanned 30 feet wide and stood 50 feet tall, spelling out "Hollywoodland." Lit by thousands of light bulbs, the sign became an attention-grabbing spectacle visible throughout Los Angeles.

Initially intended as a temporary promotional display, the Hollywoodland sign soon captured the imagination of Angelenos and transcended its original purpose. As the film industry boomed and Hollywood gained international recognition, the sign became an enduring symbol of the neighborhood's glamour and the dreams it represented. Over time, the "land" portion of the sign was removed, and it transformed into the iconic "Hollywood" sign we know today.

Over the decades, the Hollywood Sign weathered numerous challenges. In the 1940s, the sign fell into disrepair and faced deterioration. It took the intervention of the Hollywood Chamber of Commerce, with the support of the local community, to restore and maintain the sign. Throughout its existence, the sign has undergone renovations, reconstructions, and even witnessed pranks. Fortunately, the sign has persevered, becoming an enduring symbol of Hollywood's grandeur.

Today, the Hollywood Sign is an internationally recognized icon, epitomizing the allure and creativity of the entertainment industry. It has featured in countless films, television shows, and advertisements, cementing its place in popular culture. Visitors from around the world flock to Griffith Park to catch a glimpse of this legendary landmark and capture photos with the sign as a backdrop. As a testament to its significance, the Hollywood Sign was declared a Los Angeles Historic Cultural Monument in 1973.

The Hollywood Sign, born from a real estate stunt to promote the Hollywoodland neighborhood, has evolved into an enduring symbol of Hollywood's grandeur and the dreams it represents. What started as a temporary advertisement became an iconic landmark, deeply embedded in the cultural fabric of Los Angeles. This year, the Hollywood Sign celebrates its' 100th anniversary and continues to serve as a beacon, attracting artists, dreamers, and aspiring stars to the city of dreams. As you gaze upon its grandeur, you can appreciate how this once humble real estate stunt forever etched itself into the history and imagination of Hollywood.