After hearing some complaints about a rattlesnake sighting from one of our clients, we sent Bo the snake wrangler over to have a look. What he found, was a pregnant, 15 year old female Pacific Rattlesnake.
With knee high leather boots and snake capturing gear, Bo Slyapich showed up ready to wrangle. He located the 4 foot snake almost immediately and provided education throughout the process.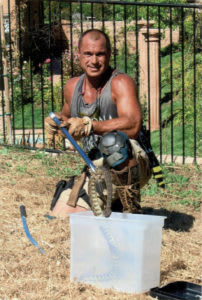 BE AWARE
Rattlesnakes are a fact of life in Southern California, and there isn't much one can do to keep them away. It helps to eliminate debris that might create hiding spots for rodents and lizards — that is, snake food. Birdseed and fallen fruit from trees can attract rodents, too.The bottom line, they said, is that Inland residents need to be mindful that rattlesnakes may lurk in their yards and garages.
He also sees bites to golfers going after a ball in the rough, children outside with bare feet and legs, and rock climbers reaching for a ledge where a snake is lying.While fatalities are rare, the loss of a finger or tissue, or swelling that won't go away, are not. "If you're bitten by a snake and you think it might be venomous, that's a good time to call 911.
Although rattlesnakes are not considered aggressive, they will strike when provoked. Naturally, if you get too close to them or try to hurt them, they will strike. But, you may simply stumble upon the snake and scare it into striking. In other words, sometimes we have no control over it. That's why it's best to have the snake properly relocated if it's living near your home. Although the snake will likely cause no problems, it's safer to have someone like Bo take care of the issue before someone gets bit.