Real estate experiences cyclical patterns that can be characterized as up, flat, down, flat, up, flat, down. While this cycle can provide an overview of past trends, it may not always accurately predict future market conditions.
RISING MARKET ➡️ FLAT TOP OF MARKET ➡️ BUYERS MARKET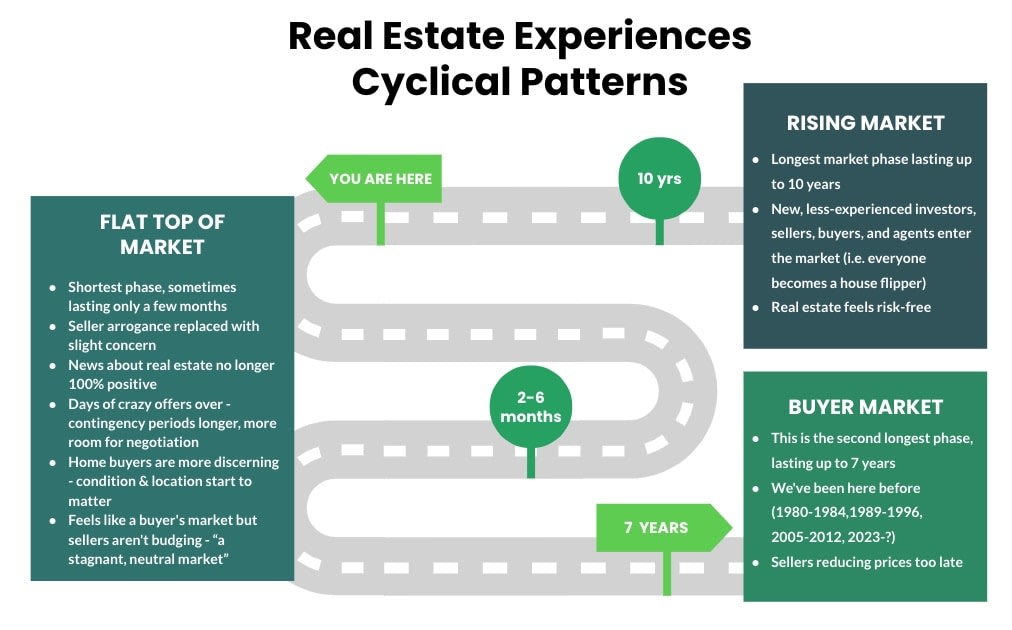 📈 We recently exited a RISING MARKET with the following characteristics:
Longest market phase, lasting up to 10 years
Momentum is gradual at first (2010-2020), explosive 💣 at the end (2020-2022)
New, less-experienced investors, sellers, buyers, and agents enter the market (i.e. everyone becomes a house flipper)
Real estate feels risk-free
🔝 We are currently in the FLAT TOP OF MARKET
Shortest phase, sometimes lasting only a few months
Seller arrogance replaced with slight concern
News about real estate no longer 100% positive
Days of crazy offers over - contingency periods longer, more room for negotiation
Home buyers are more discerning - condition & location start to matter
Feels like a buyer's market but sellers aren't budging - "a stagnant, neutral market"
🔜 The next phase of the real estate cycle is approaching, and we will soon move into a BUYER'S MARKET
📉 This phase is the second longest, lasting up to 7 years and characterized by more homes for sale than buyers in the market.
🔙 We've seen this before in past cycles (1980-1984, 1989-1996, 2005-2012, 2023-?).
💰 Sellers tend to wait too long to reduce prices.
📉 The shift to a buyer's market is happening now. Homes that received 30 offers in January 2021 now only have a few, and soon there will be just one buyer.
🚫 However, it's unlikely that there will be significant price declines in major markets like Los Angeles. Unlike in 2008, most homeowners are locked into low interest rates and prices remain high, so waiting for a major drop in prices is not advisable.
😕 In our experience, no one wants to buy at the bottom of the market