Real Estate Snapshot
The median home value in the United States surpassed $350,000 in September, reflecting a 2.1% surge from the previous year. Fueled by escalating mortgage rates, currently at 7.63% for a 30-year fixed mortgage as of Oct. 19, the dream of homeownership becomes a multifaceted challenge.
California's Priciest Cities
From Kentfield with a typical home value of $2,658,839 to Atherton commanding $7,653,603 for a home, each city tells a unique story. Metrics such as the home value, 1-year price change, and 5-year price change provide a comprehensive view of the dynamic real estate panorama.
Unraveling California's Home Price Enigma
In unraveling the complexities of soaring home prices, we scrutinize key factors—location, size, age, and condition—that intricately shape a home's value. Cities like Los Altos Hills and Rolling Hills command a premium for expansive properties with scenic views. Examining 5-year price change figures reveals compelling market trends, signaling sustained desirability in areas like Rancho Santa and Montecito.
Practical Strategies: Navigating California's Real Estate Frontier
Mastering California's real estate landscape demands a pragmatic approach. Understanding market dynamics, assessing growth potential, and aligning with personal preferences are crucial. Despite high prices, some cities show a downward trend, presenting opportunities. Conversely, areas with consistent growth, like Atherton and Los Altos Hills, promise enduring value appreciation.
Conclusion
This exploration of California's lavish homes underscores the dynamic nature of the real estate landscape. Whether you are a prospective homeowner or investor, knowledge is the key to informed decisions in this high-stakes market.
#30 Kentfield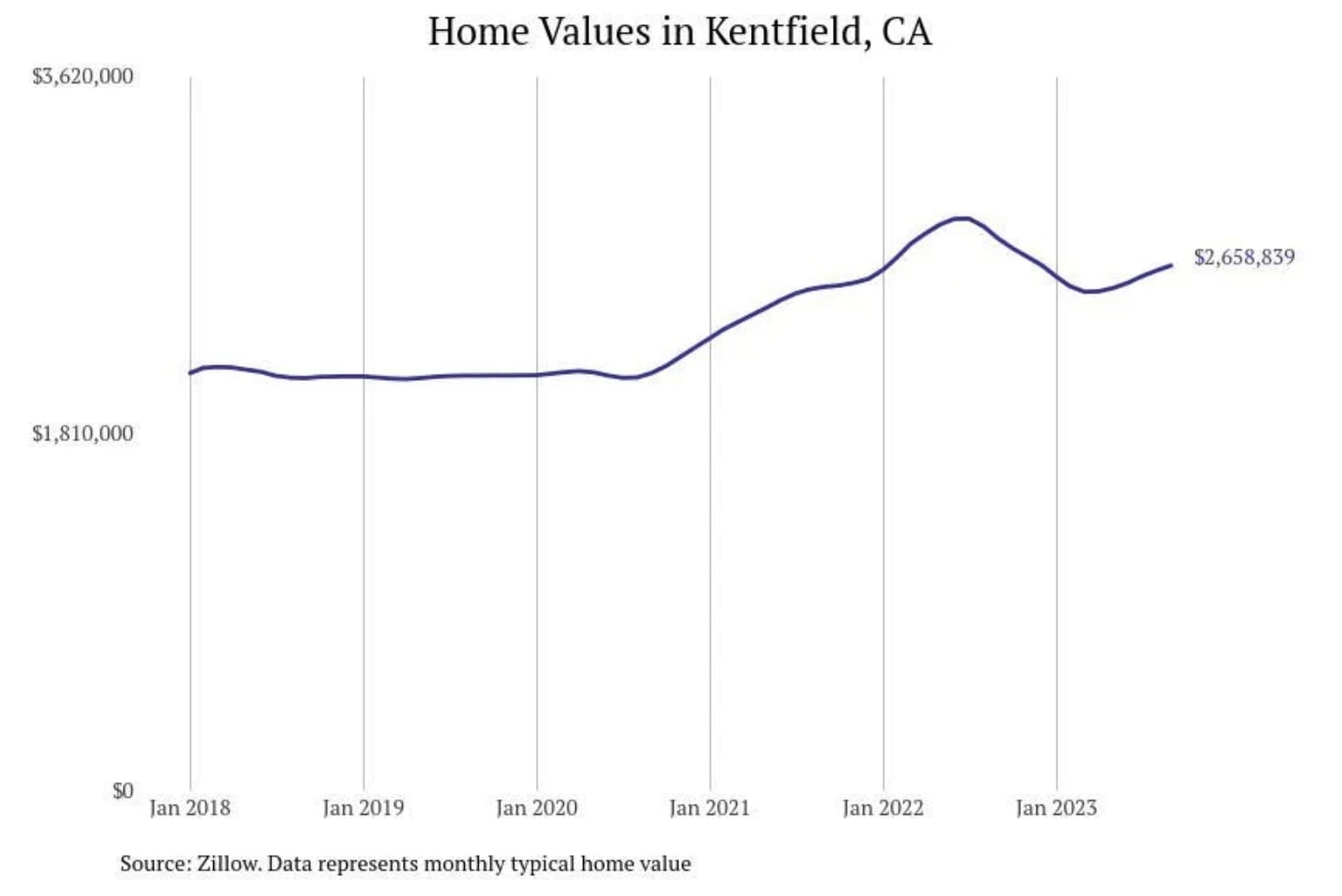 - Typical home value: $2,658,839
- 1-year price change: -4.9%
- 5-year price change: +27.3%
- Metro area: San Francisco-Oakland-Berkeley, CA
#29 Cupertino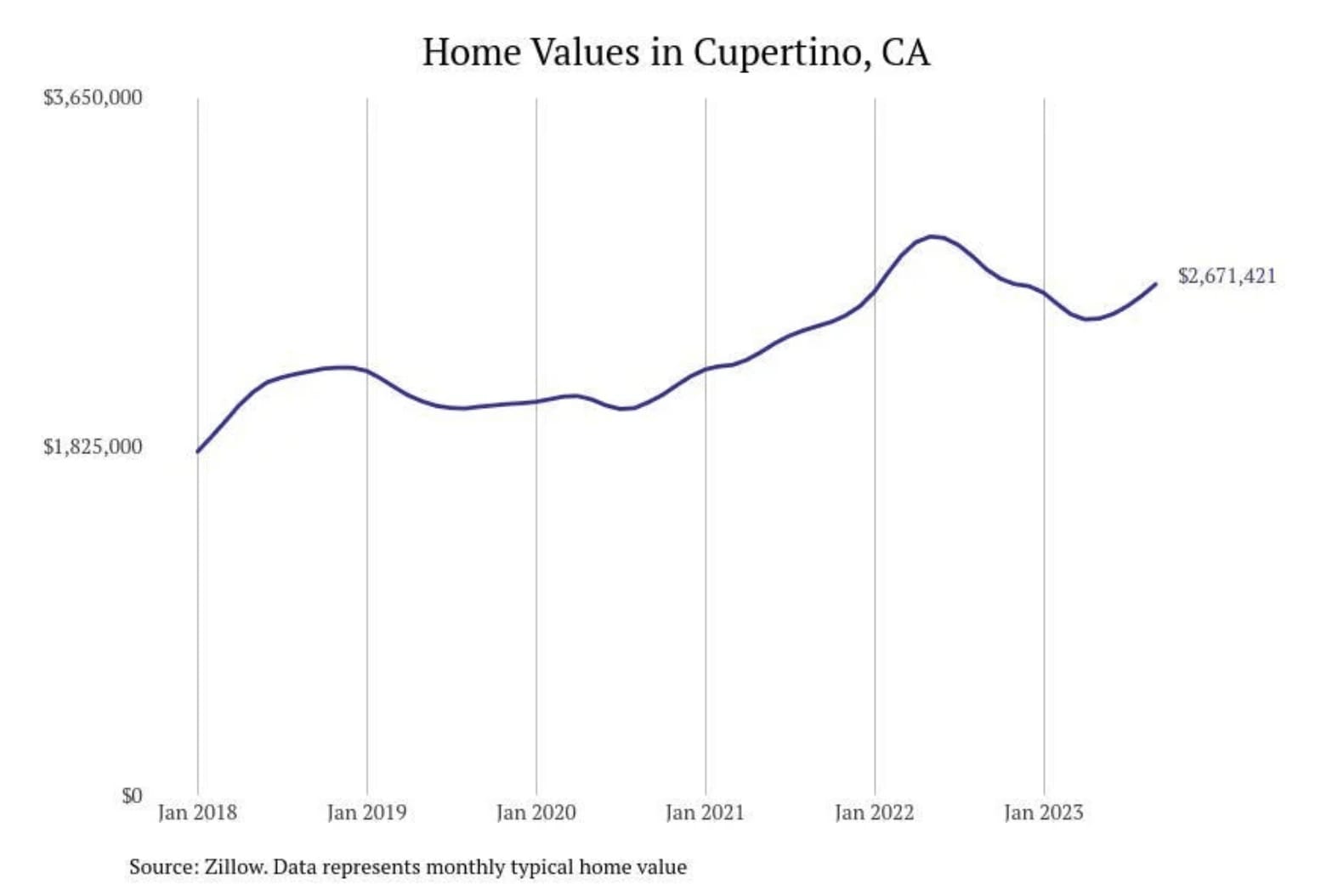 - Typical home value: $2,671,421
- 1-year price change: -2.8%
- 5-year price change: +20.6%
- Metro area: San Jose-Sunnyvale-Santa Clara, CA
#28 Summerland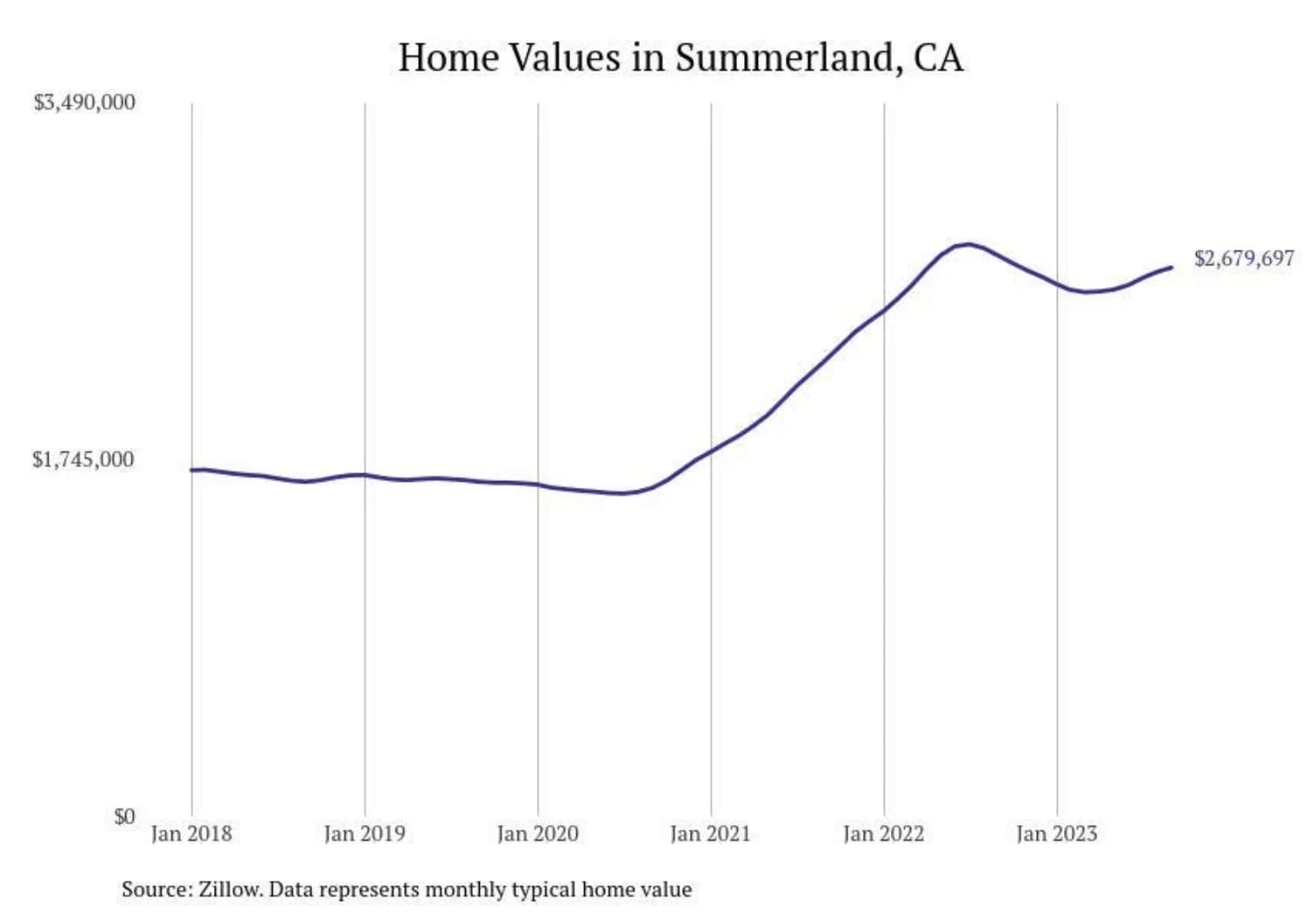 - Typical home value: $2,679,697
- 1-year price change: -2.1%
- 5-year price change: +64.1%
- Metro area: Santa Maria-Santa Barbara, CA
#27 Palos Verdes Estates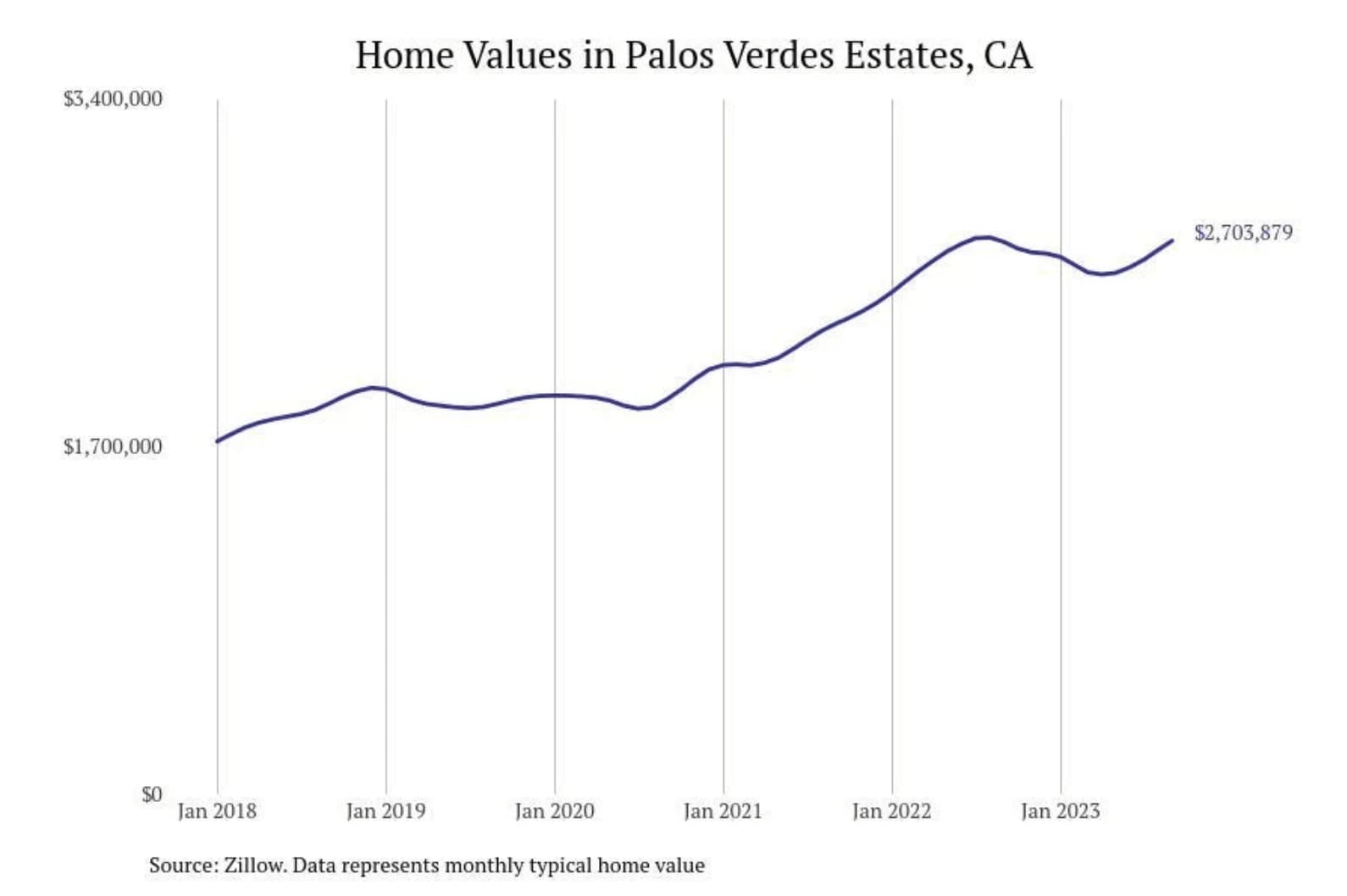 - Typical home value: $2,703,879
- 1-year price change: +0.2%
- 5-year price change: +41.7%
- Metro area: Los Angeles-Long Beach-Anaheim, CA
#26 Del Monte Forest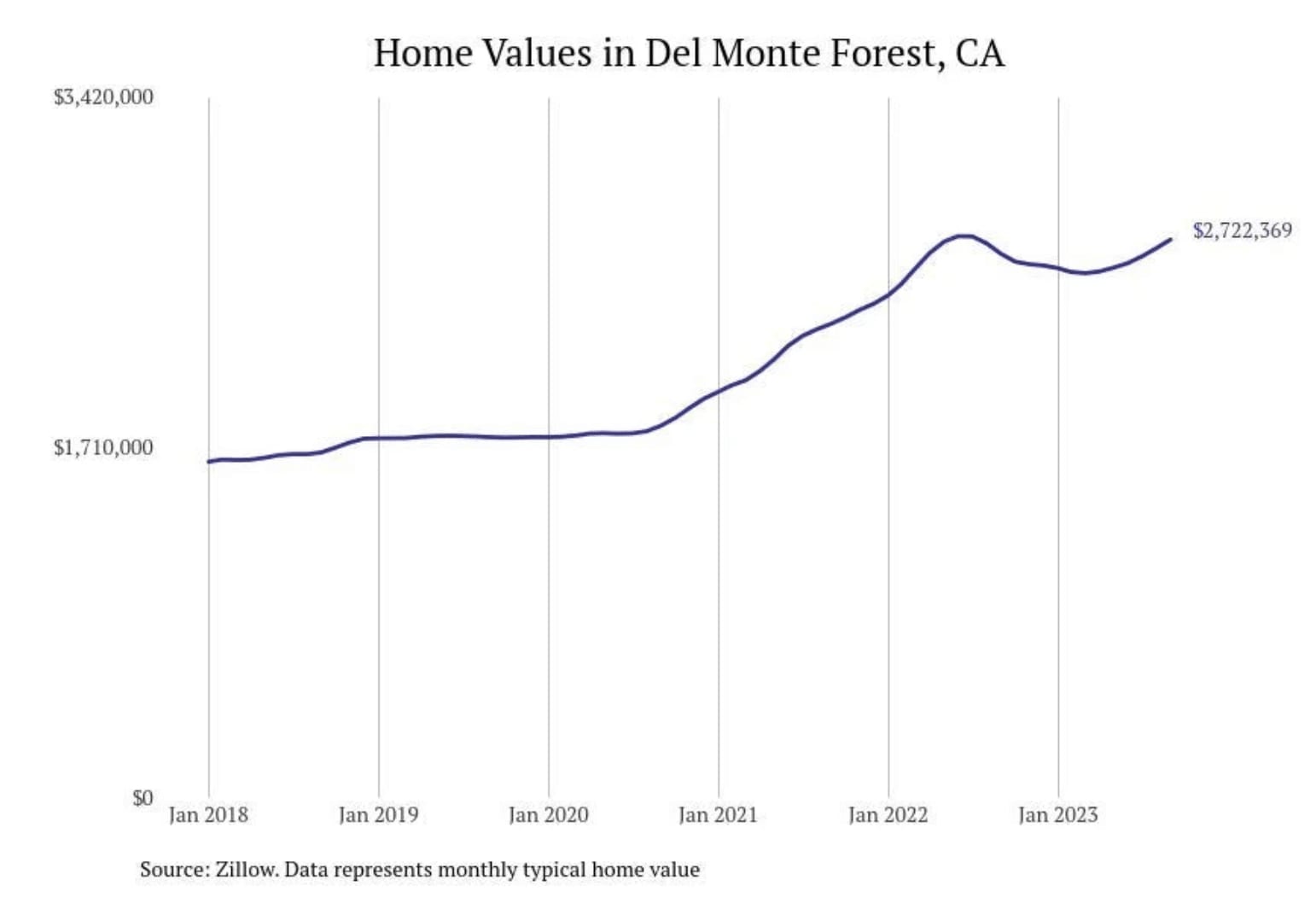 - Typical home value: $2,722,369
- 1-year price change: +2.6%
- 5-year price change: +61.7%
- Metro area: Salinas, CA
#25 Laguna Beach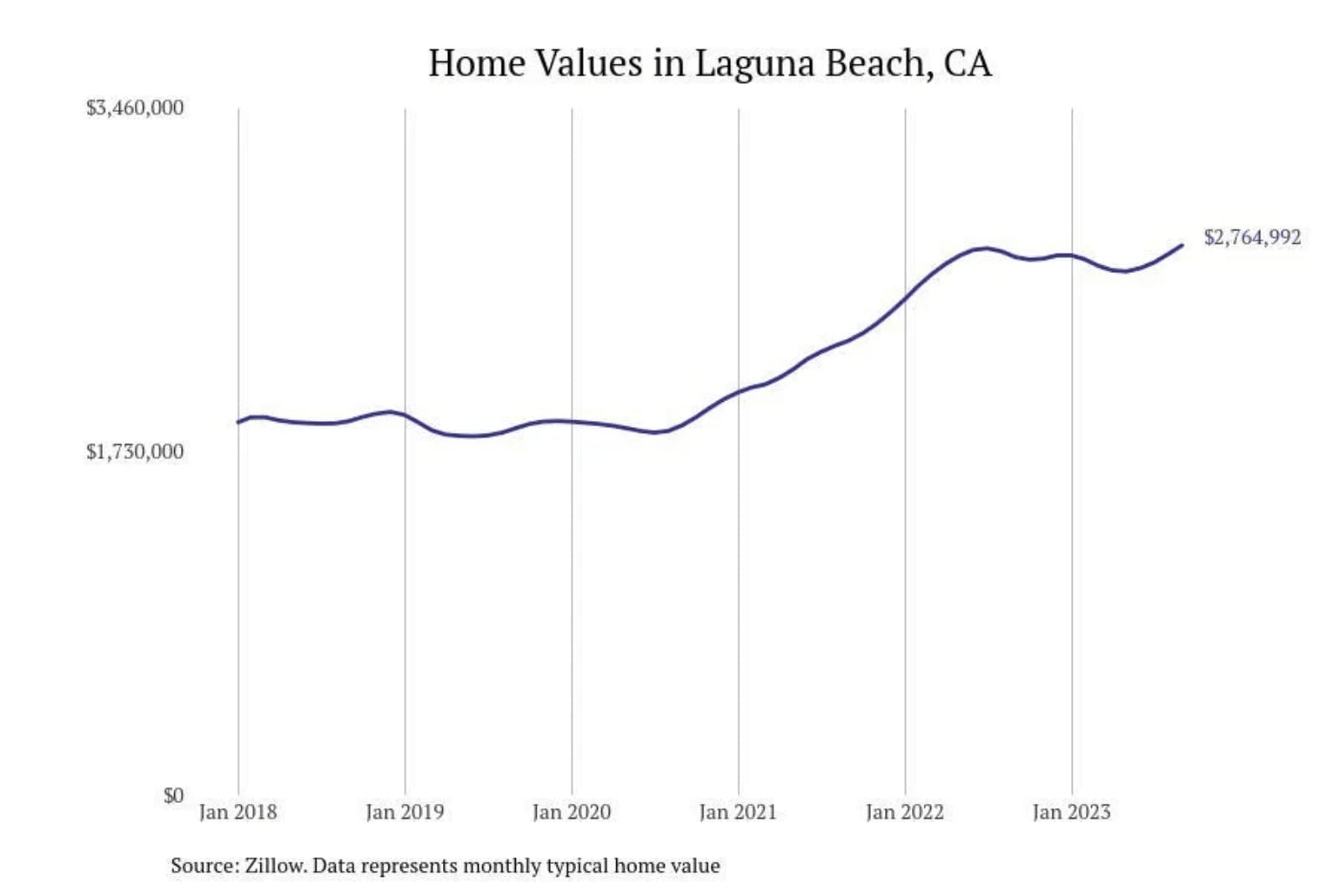 - Typical home value: $2,764,992
- 1-year price change: +2.2%
- 5-year price change: +47.0%
- Metro area: Los Angeles-Long Beach-Anaheim, CA
#24 Stanford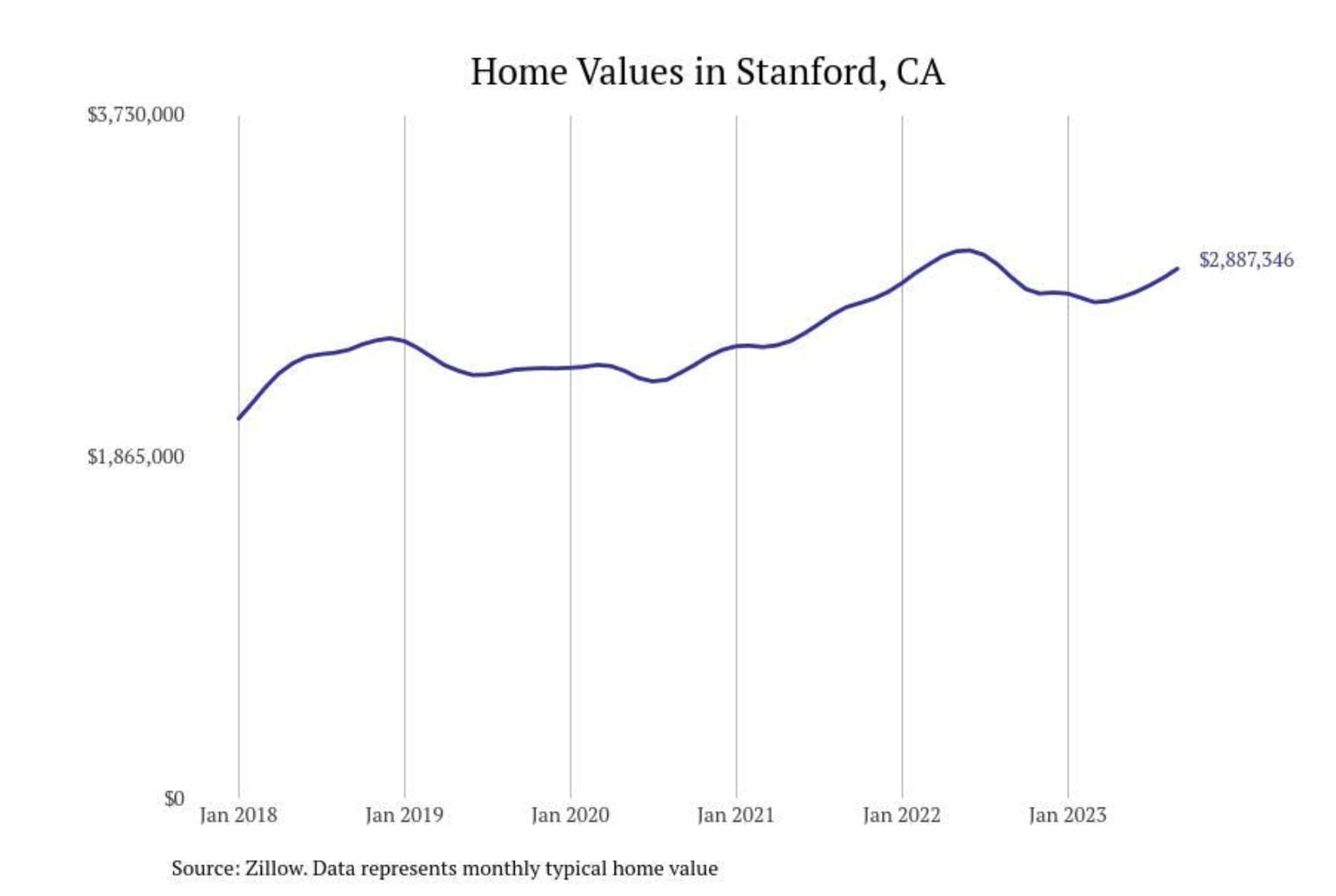 - Typical home value: $2,887,346
- 1-year price change: +1.7%
- 5-year price change: +18.1%
- Metro area: San Jose-Sunnyvale-Santa Clara, CA
#23 Manhattan Beach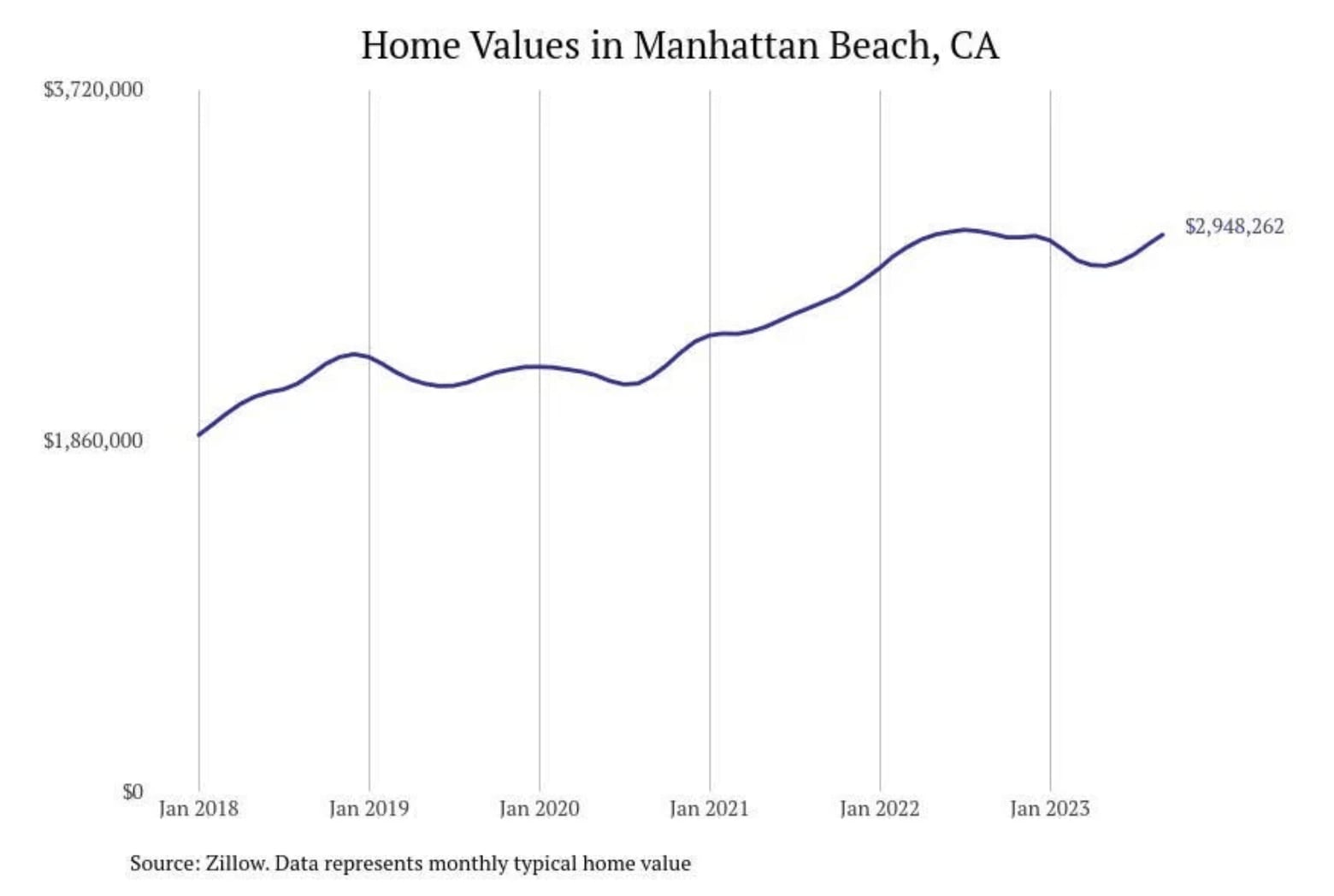 - Typical home value: $2,948,262
- 1-year price change: -0.1%
- 5-year price change: +33.5%
- Metro area: Los Angeles-Long Beach-Anaheim, CA
#22 Tiburon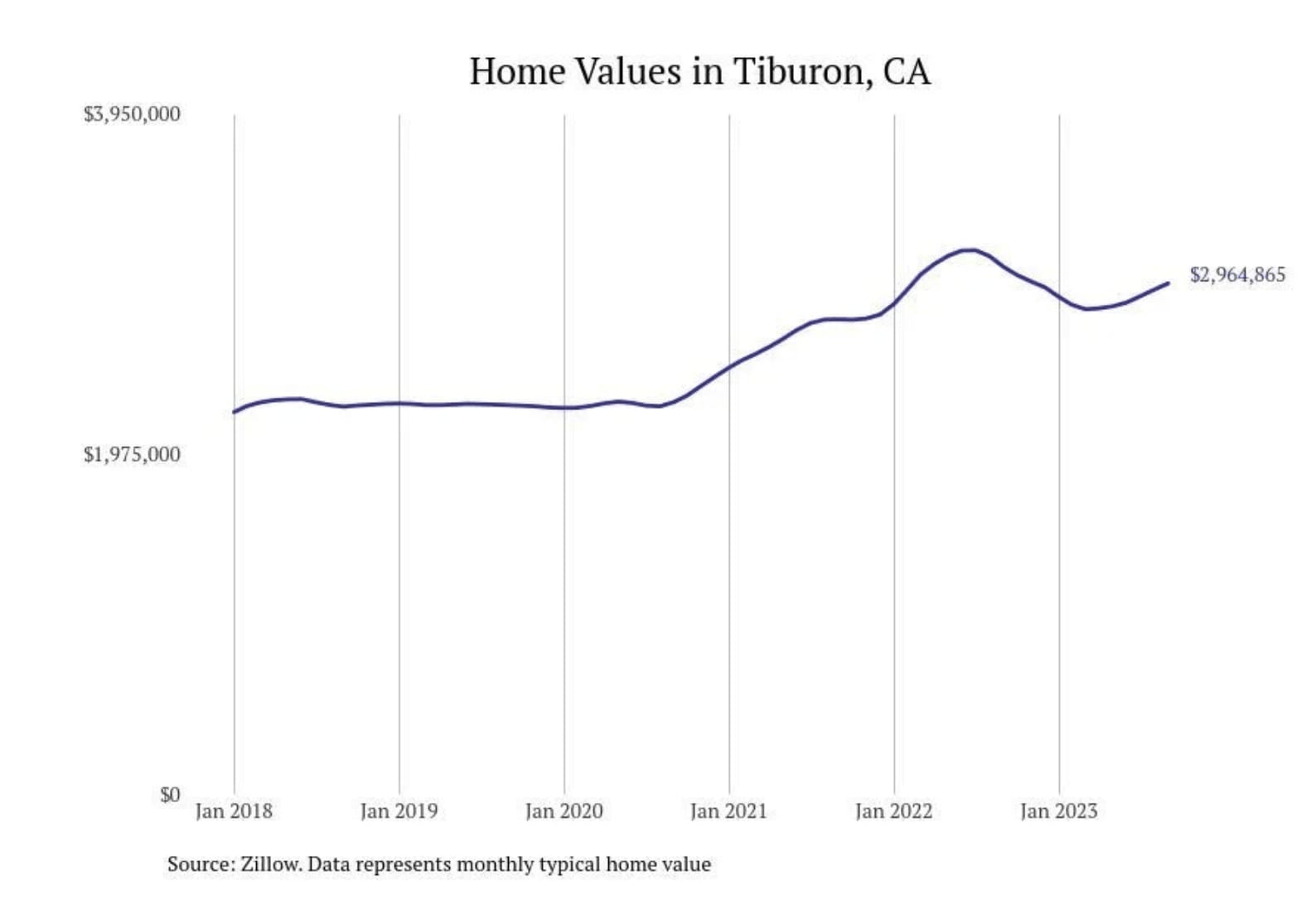 - Typical home value: $2,964,865
- 1-year price change: -3.2%
- 5-year price change: +31.8%
- Metro area: San Francisco-Oakland-Berkeley, CA
#21 Diablo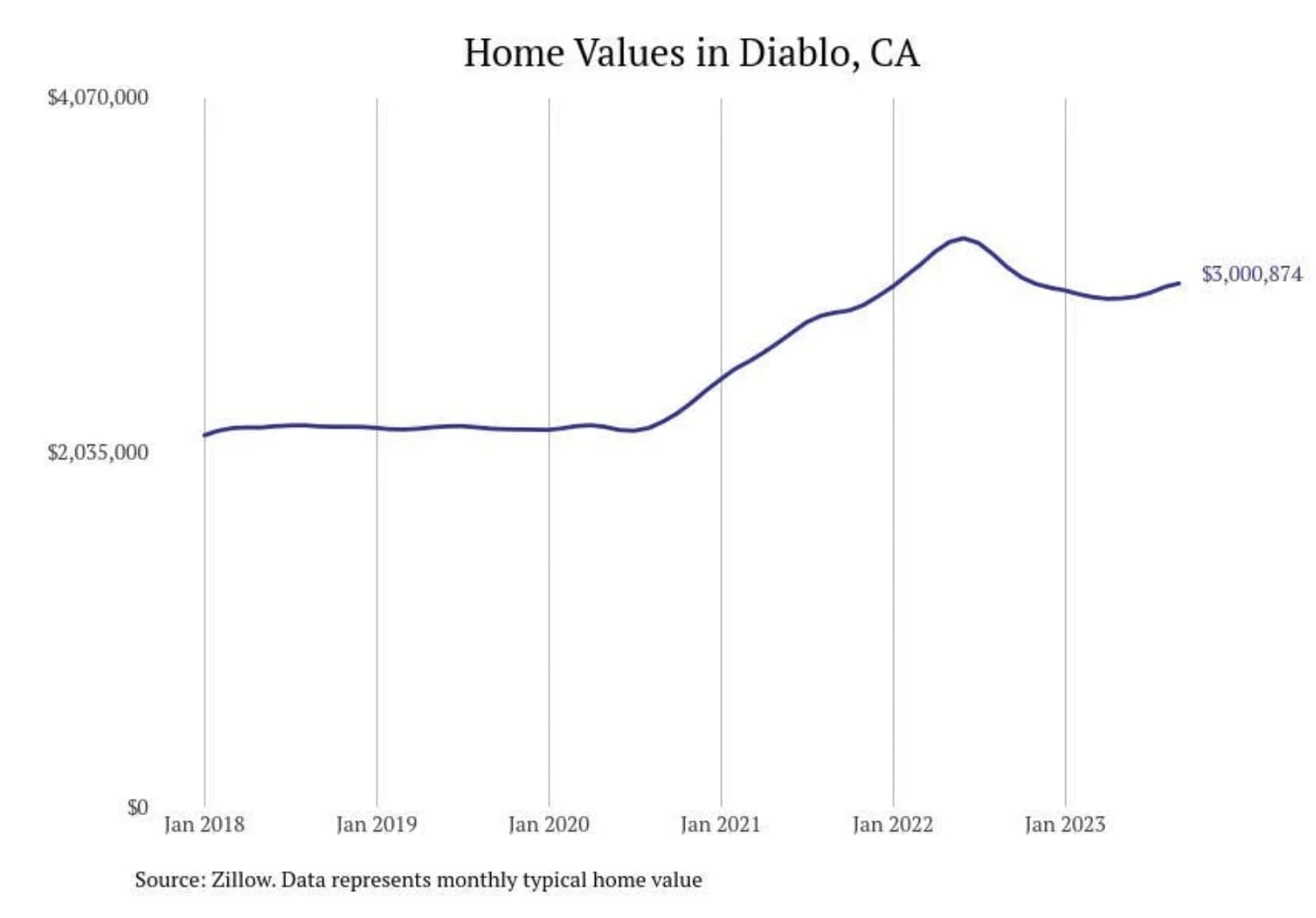 - Typical home value: $2,964,865
- 1-year price change: -3.2%
- 5-year price change: +31.8%
- Metro area: San Francisco-Oakland-Berkeley, CA
#20 Newport Beach
- Typical home value: $3,072,379
- 1-year price change: +6.2%
- 5-year price change: +55.1%
- Metro area: Los Angeles-Long Beach-Anaheim, CA
#19 Palo Alto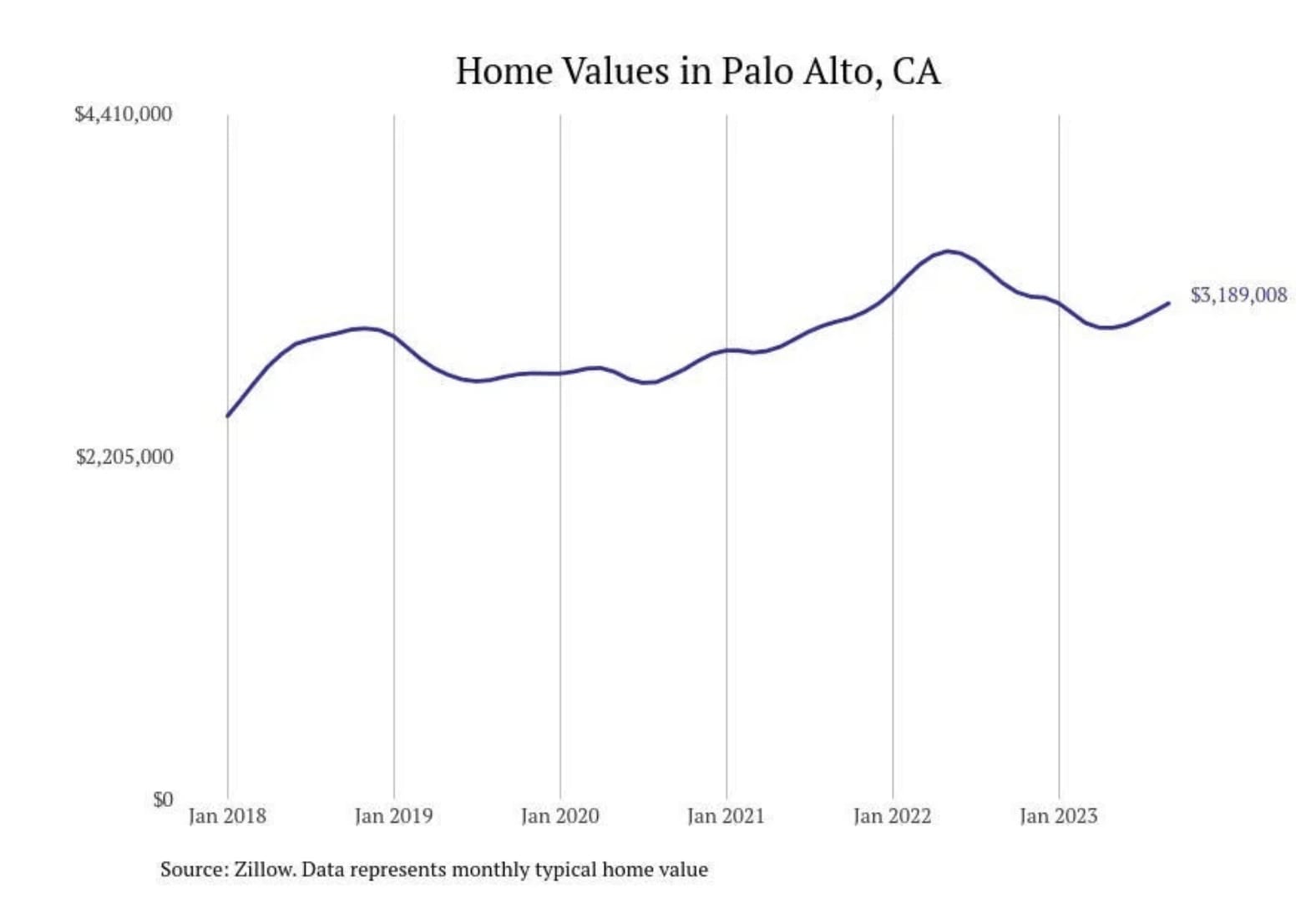 - Typical home value: $3,189,008
- 1-year price change: -3.9%
- 5-year price change: +6.4%
- Metro area: San Jose-Sunnyvale-Santa Clara, CA
#18 Malibu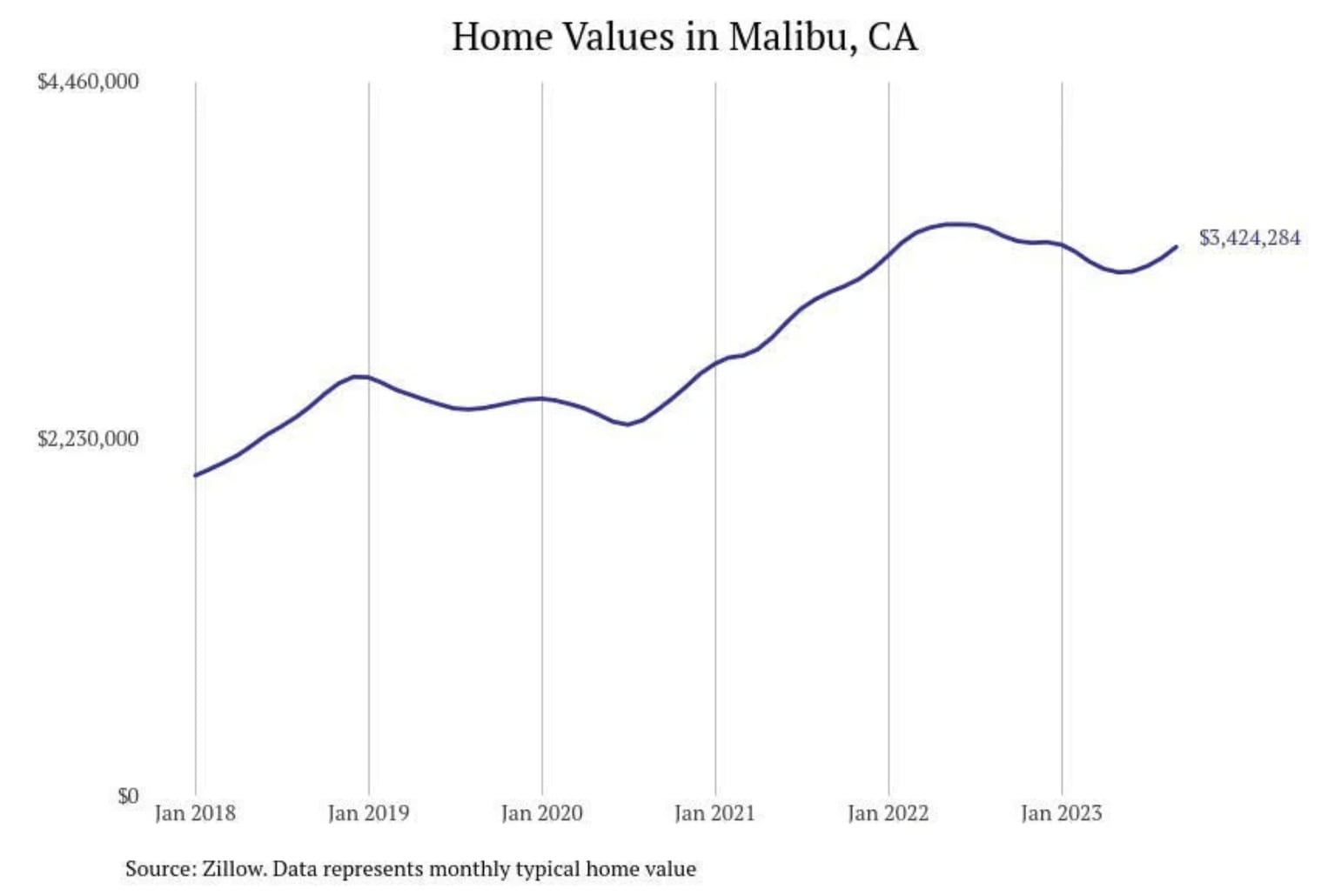 - Typical home value: $3,424,284
- 1-year price change: -2.0%
- 5-year price change: +41.1%
- Metro area: Los Angeles-Long Beach-Anaheim, CA
#17 Saratoga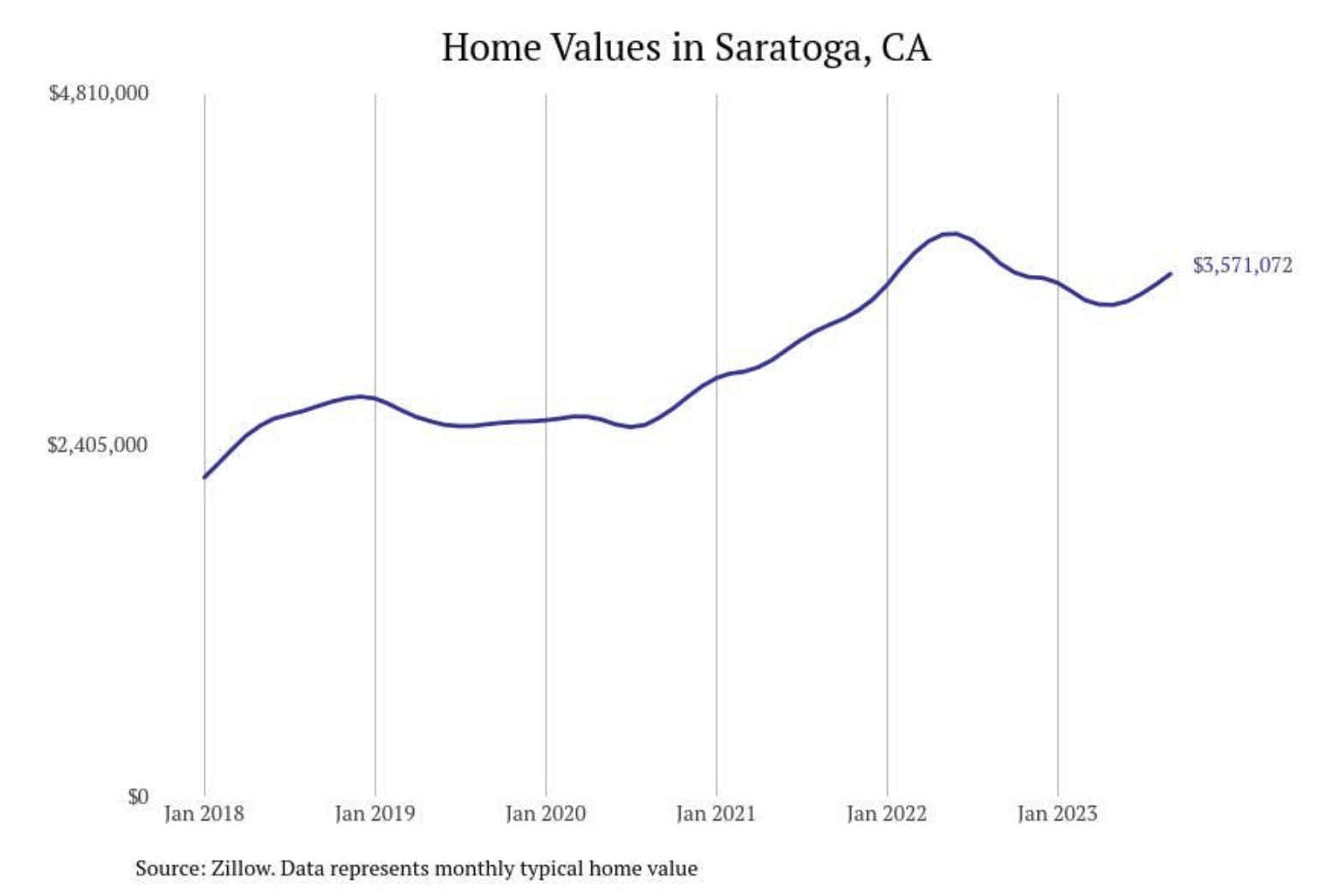 - Typical home value: $3,571,072
- 1-year price change: -2.0%
- 5-year price change: +34.0%
- Metro area: San Jose-Sunnyvale-Santa Clara, CA
#16 Stinson Beach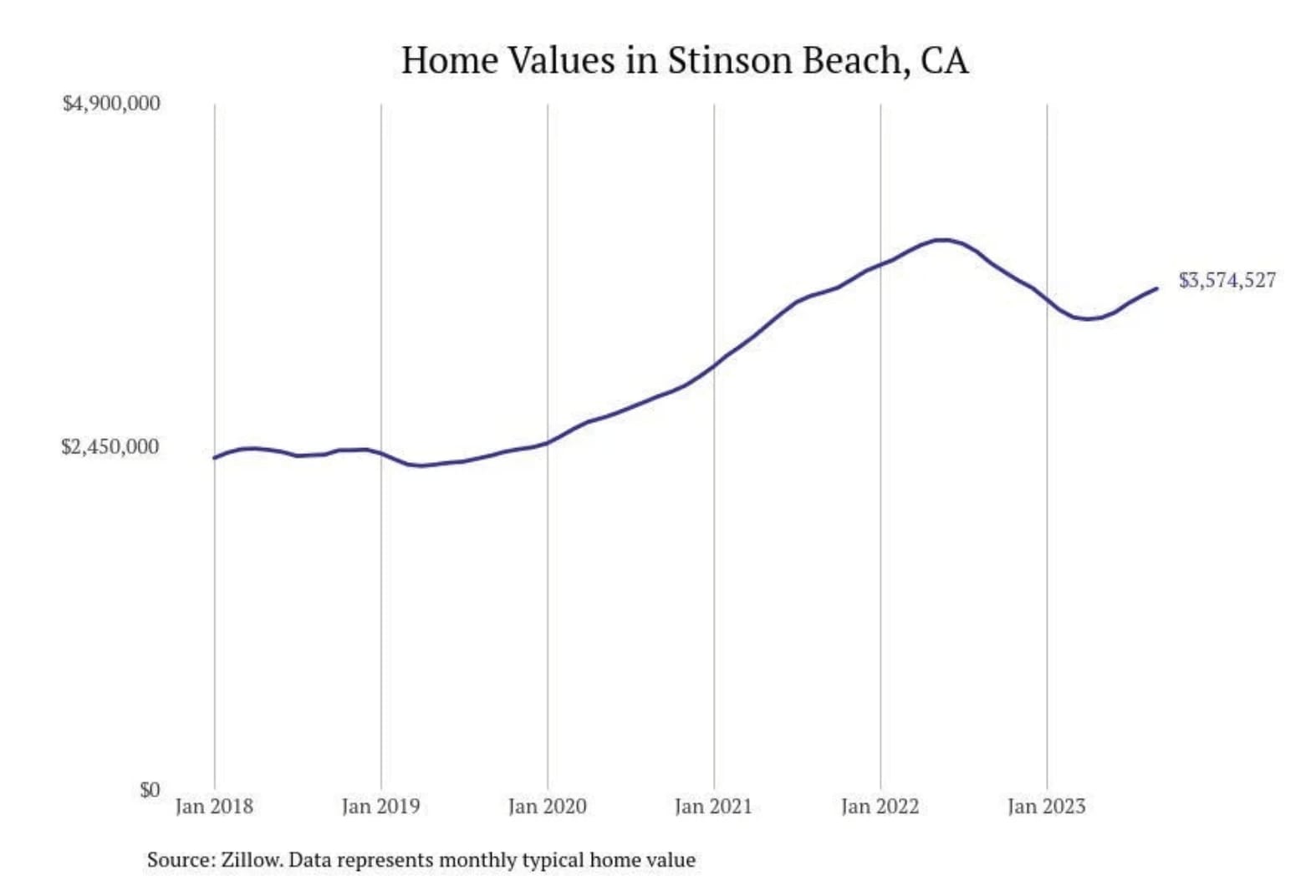 - Typical home value: $3,574,527
- 1-year price change: -4.9%
- 5-year price change: +49.6%
- Metro area: San Francisco-Oakland-Berkeley, CA
#15 Del Mar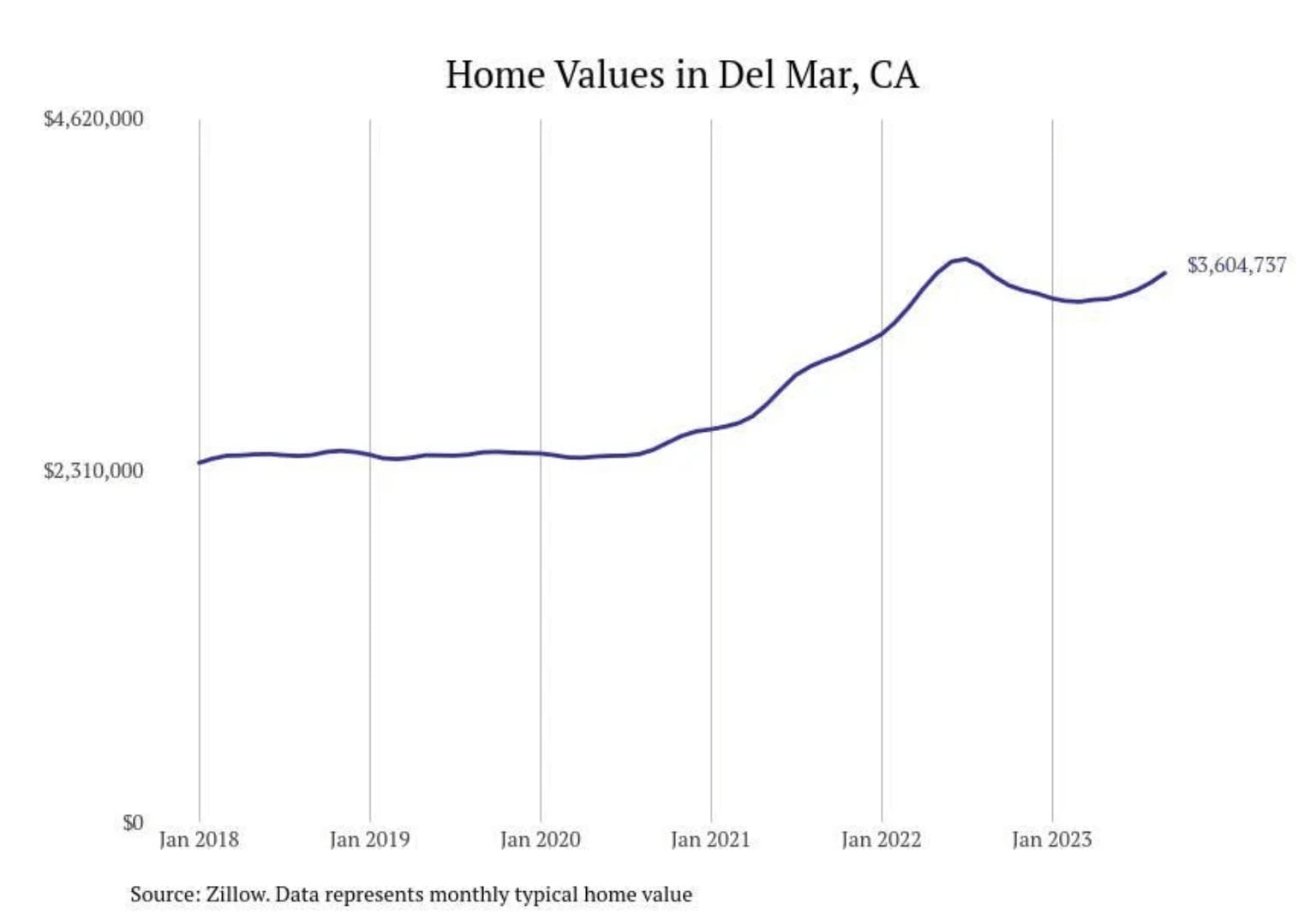 - Typical home value: $3,604,737
- 1-year price change: +0.7%
- 5-year price change: +49.6%
- Metro area: San Diego-Chula Vista-Carlsbad, CA
#14 Beverly Hills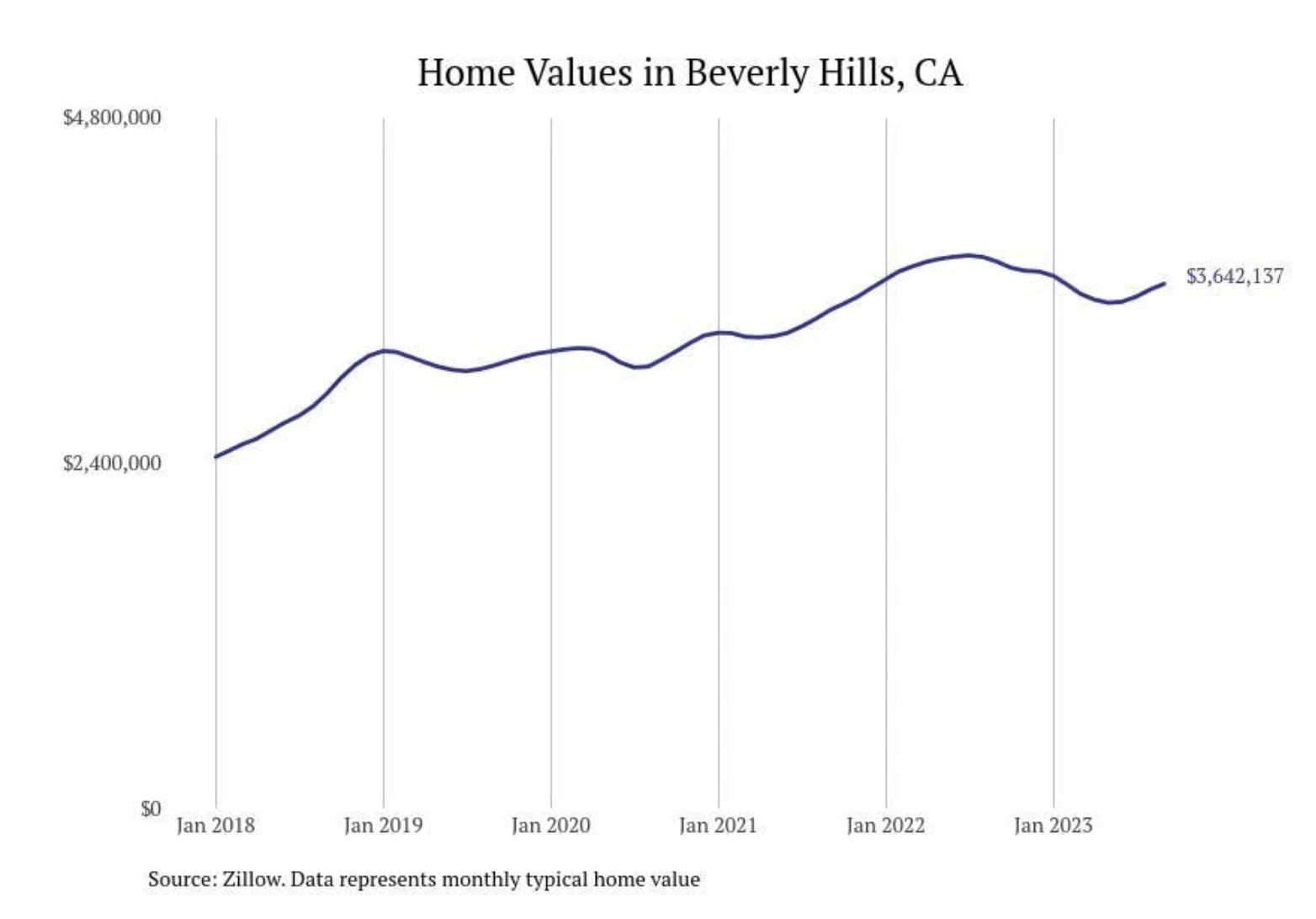 - Typical home value: $3,642,137
- 1-year price change: -4.1%
- 5-year price change: +26.5%
- Metro area: Los Angeles-Long Beach-Anaheim, CA
#13 Woodside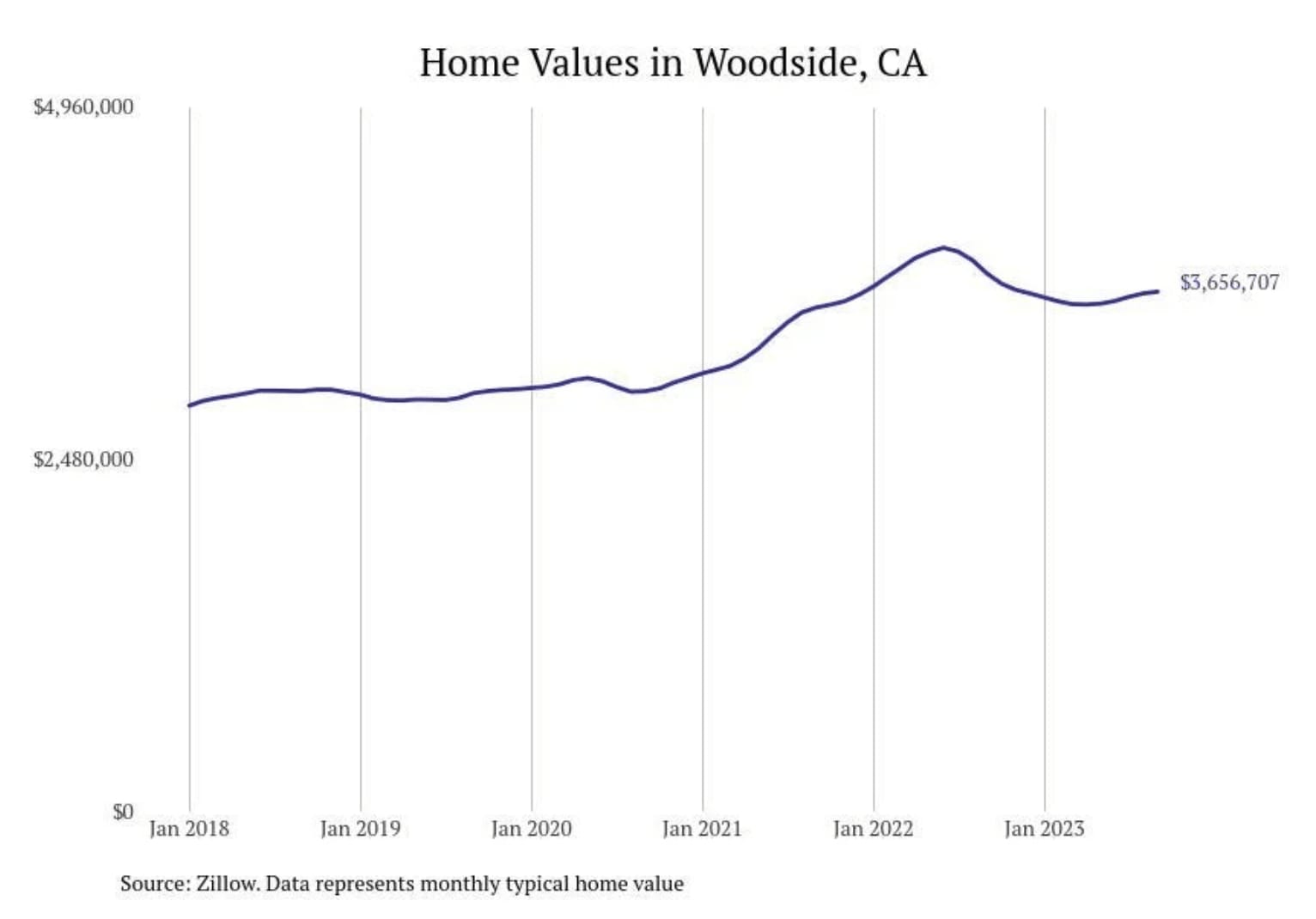 - Typical home value: $3,656,707
- 1-year price change: -3.4%
- 5-year price change: +23.7%
- Metro area: San Francisco-Oakland-Berkeley, CA
#12 Portola Valley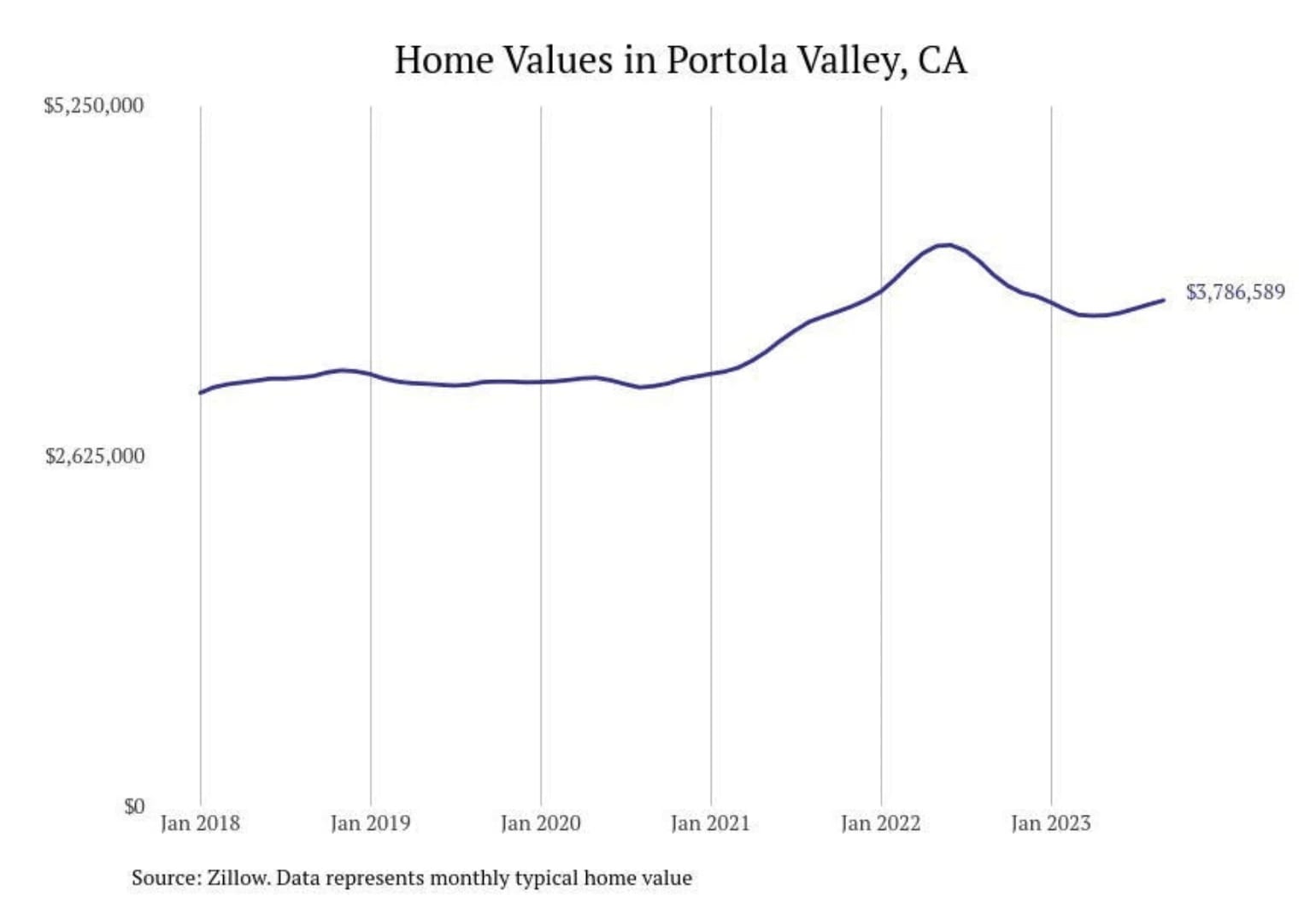 - Typical home value: $3,786,589
- 1-year price change: -4.8%
- 5-year price change: +17.6%
- Metro area: San Francisco-Oakland-Berkeley, CA
#11 Ross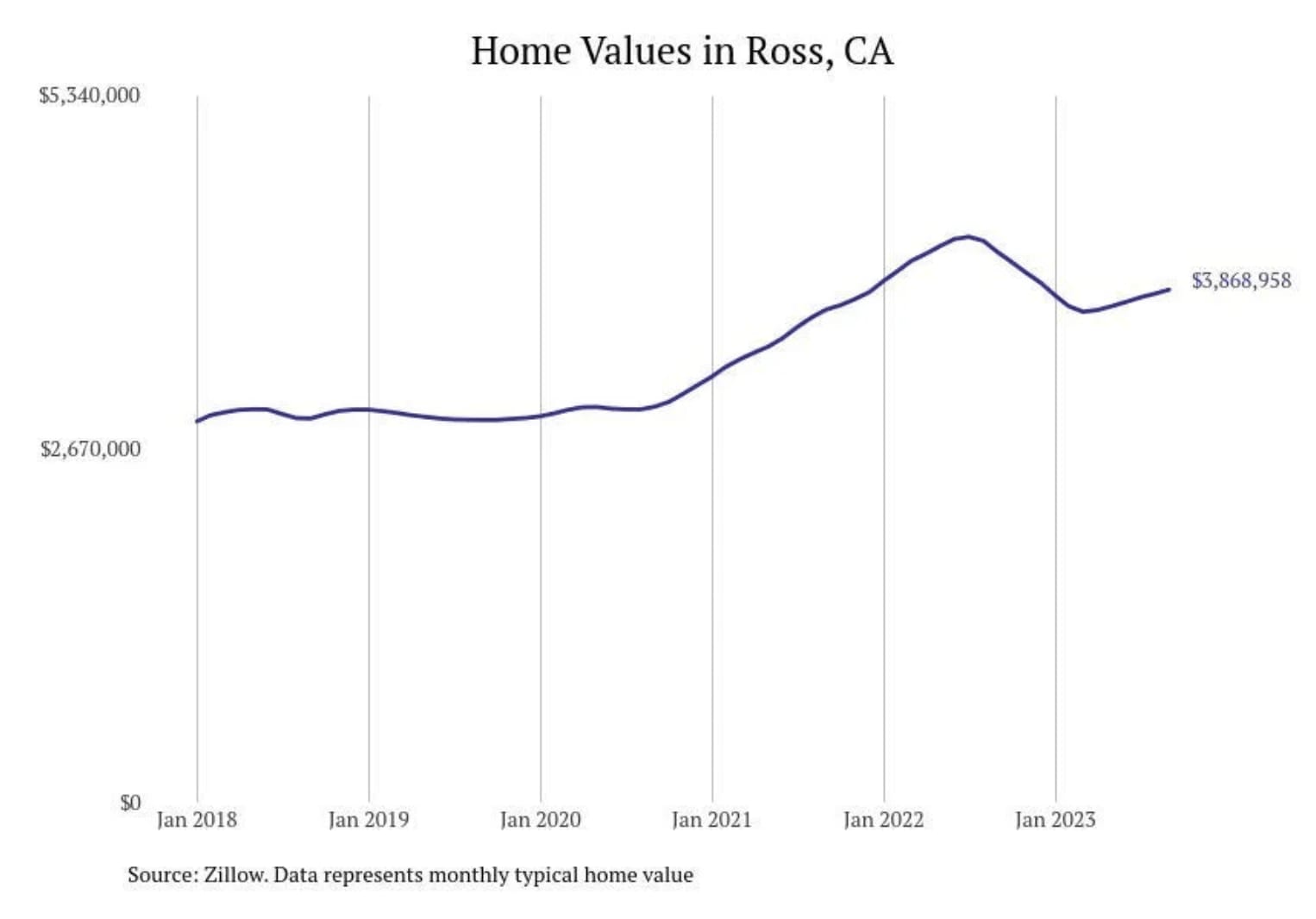 - Typical home value: $3,868,958
- 1-year price change: -6.9%
- 5-year price change: +33.5%
- Metro area: San Francisco-Oakland-Berkeley, CA
#10 Monte Sereno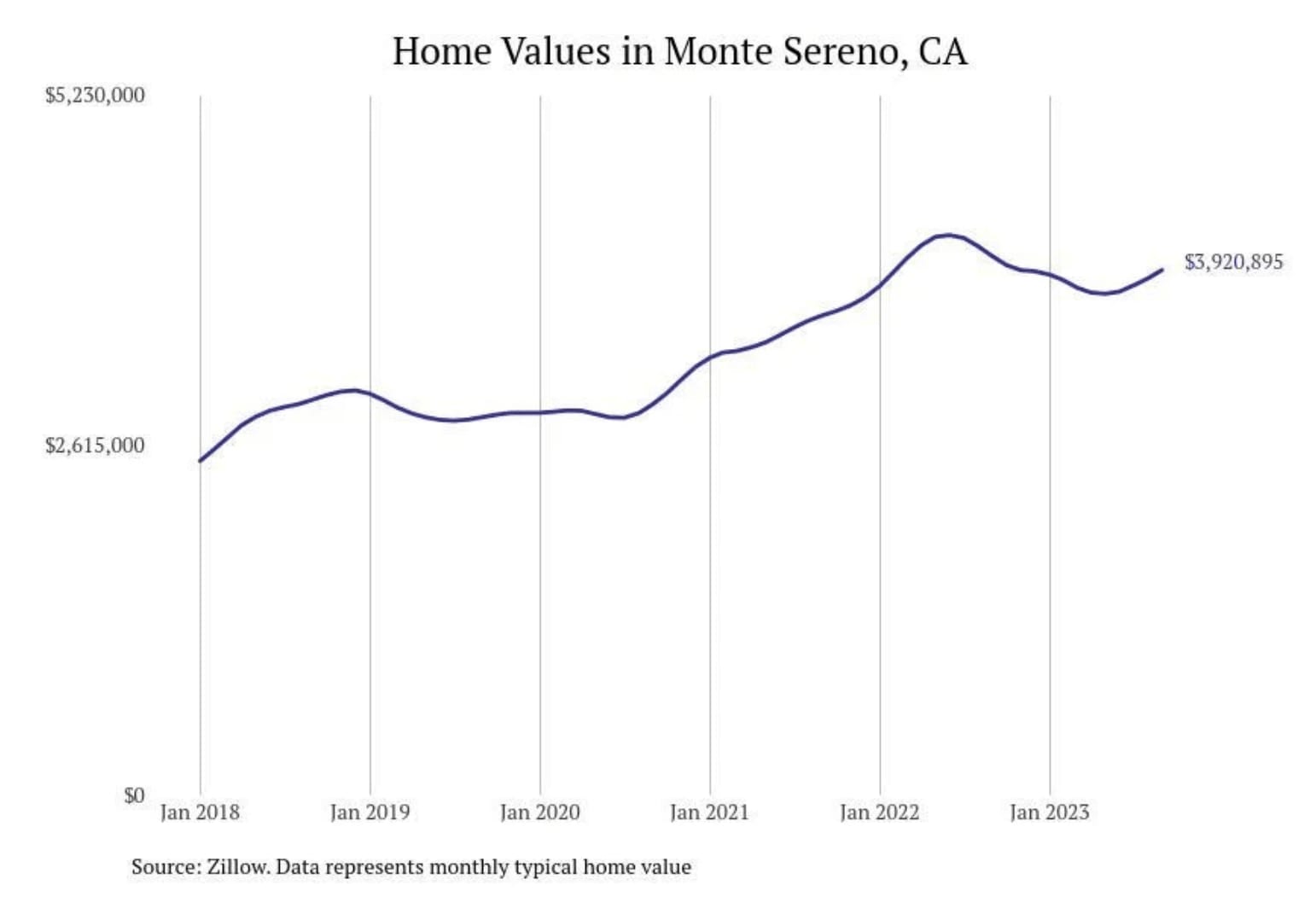 - Typical home value: $3,920,895
- 1-year price change: -2.6%
- 5-year price change: +32.8%
- Metro area: San Jose-Sunnyvale-Santa Clara, CA
#9 Los Altos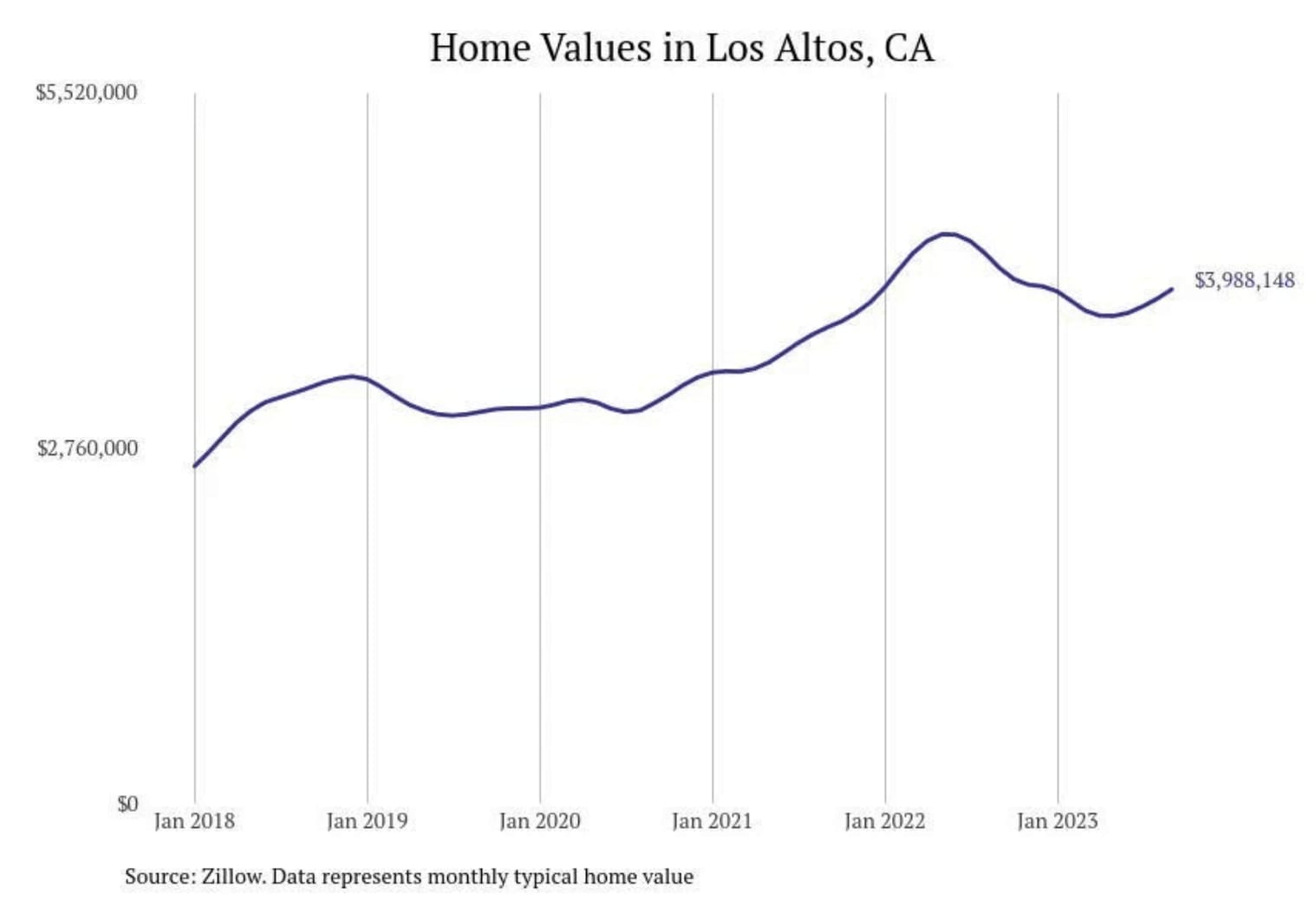 - Typical home value: $3,988,148
- 1-year price change: -4.0%
- 5-year price change: +23.7%
- Metro area: San Jose-Sunnyvale-Santa Clara, CA
#8 Rancho Santa Fe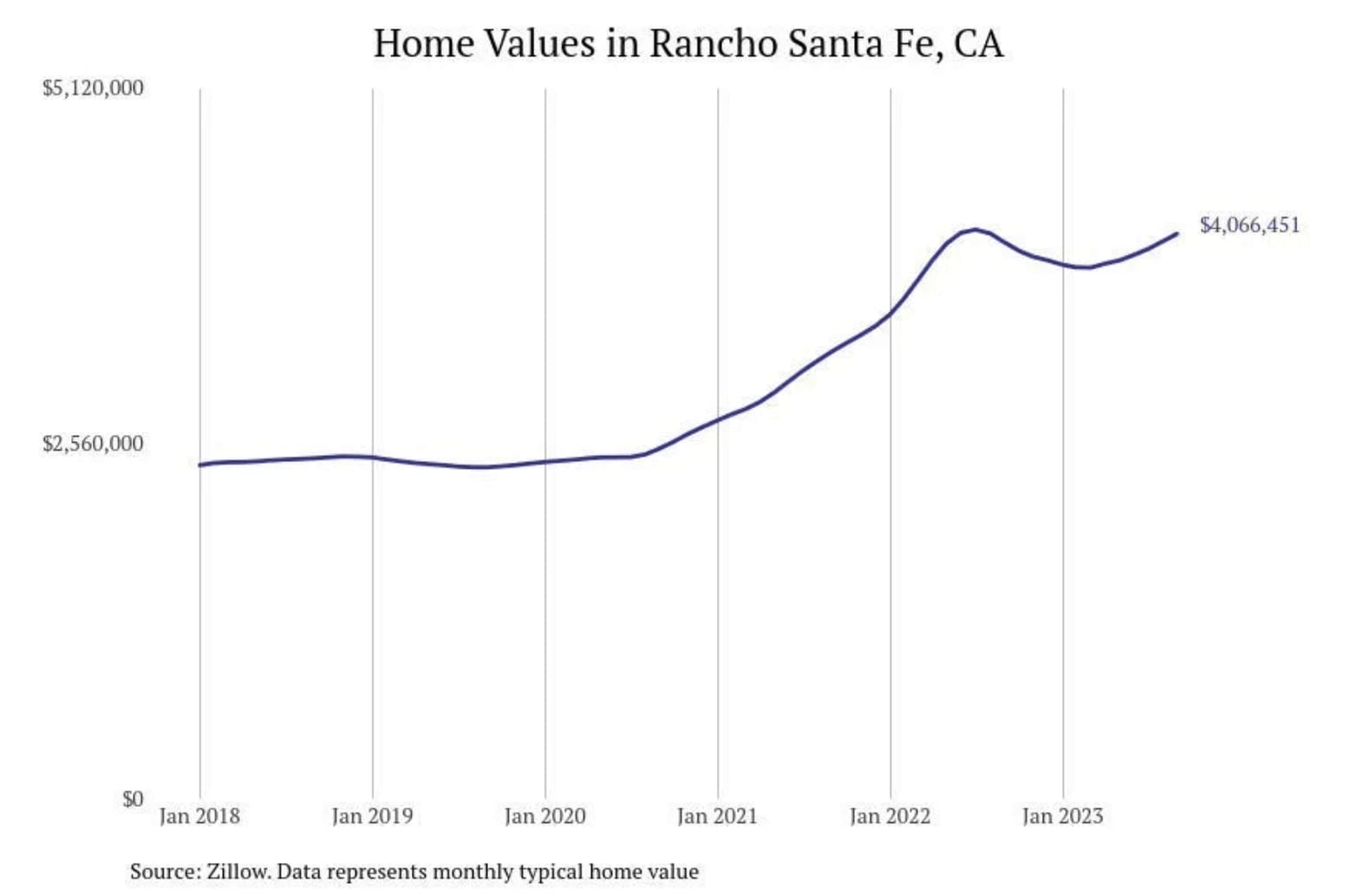 - Typical home value: $4,066,451
- 1-year price change: +1.5%
- 5-year price change: +65.9%
- Metro area: San Diego-Chula Vista-Carlsbad, CA
#7 Rolling Hills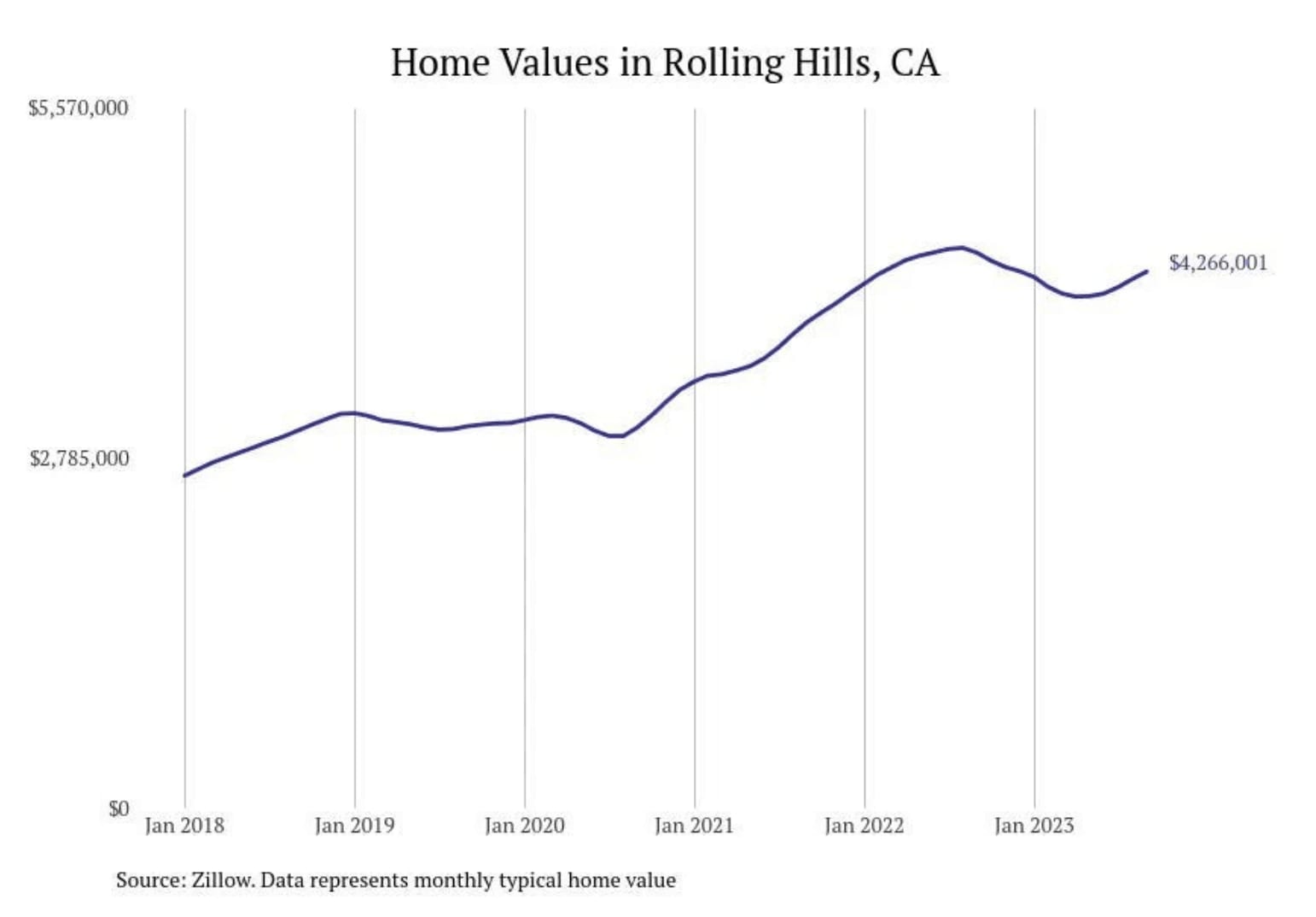 - Typical home value: $4,266,001
- 1-year price change: -3.4%
- 5-year price change: +42.2%
- Metro area: Los Angeles-Long Beach-Anaheim, CA
#6 Belvedere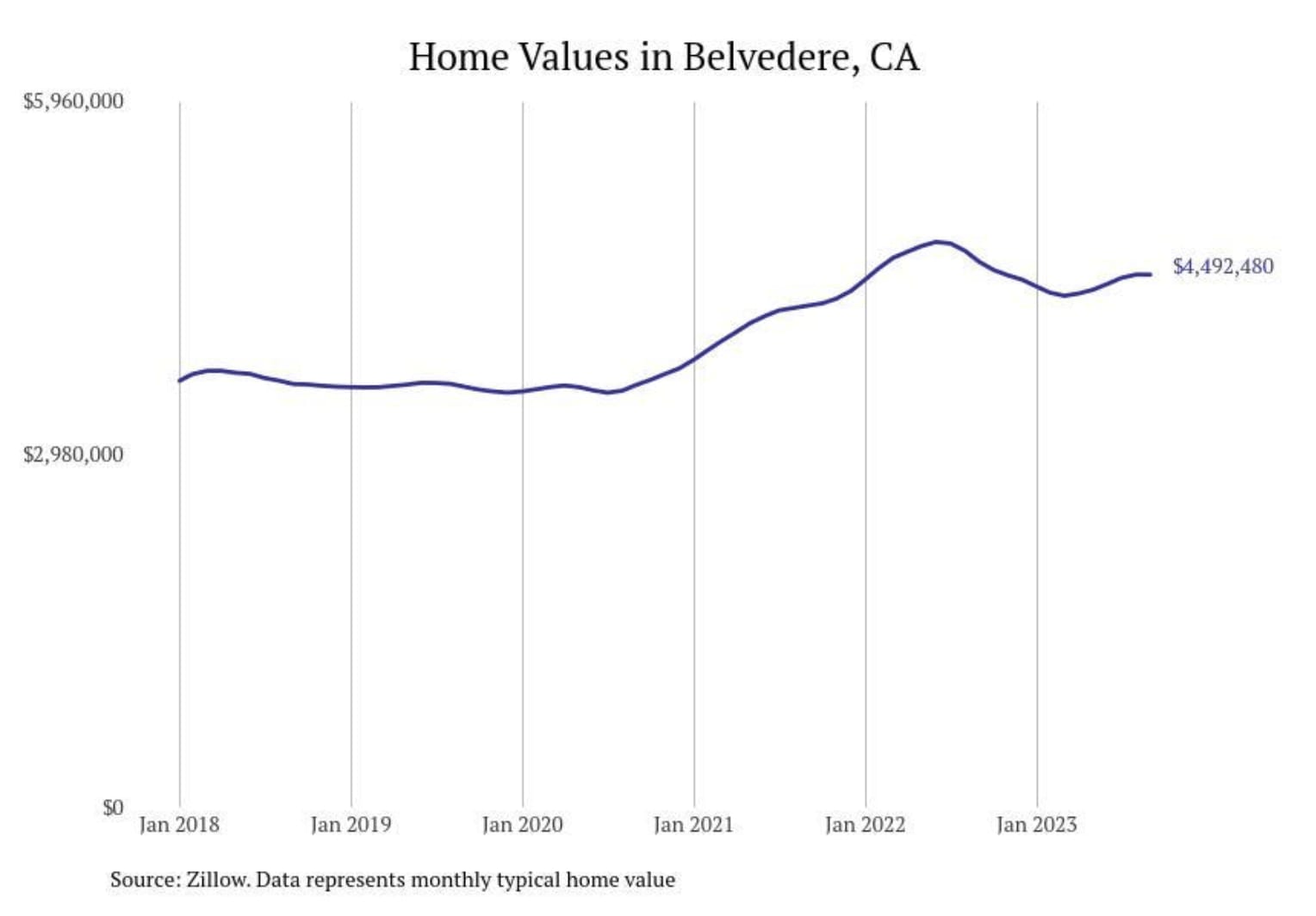 - Typical home value: $4,492,480
- 1-year price change: -2.4%
- 5-year price change: +25.8%
- Metro area: San Francisco-Oakland-Berkeley, CA
#5 Montecito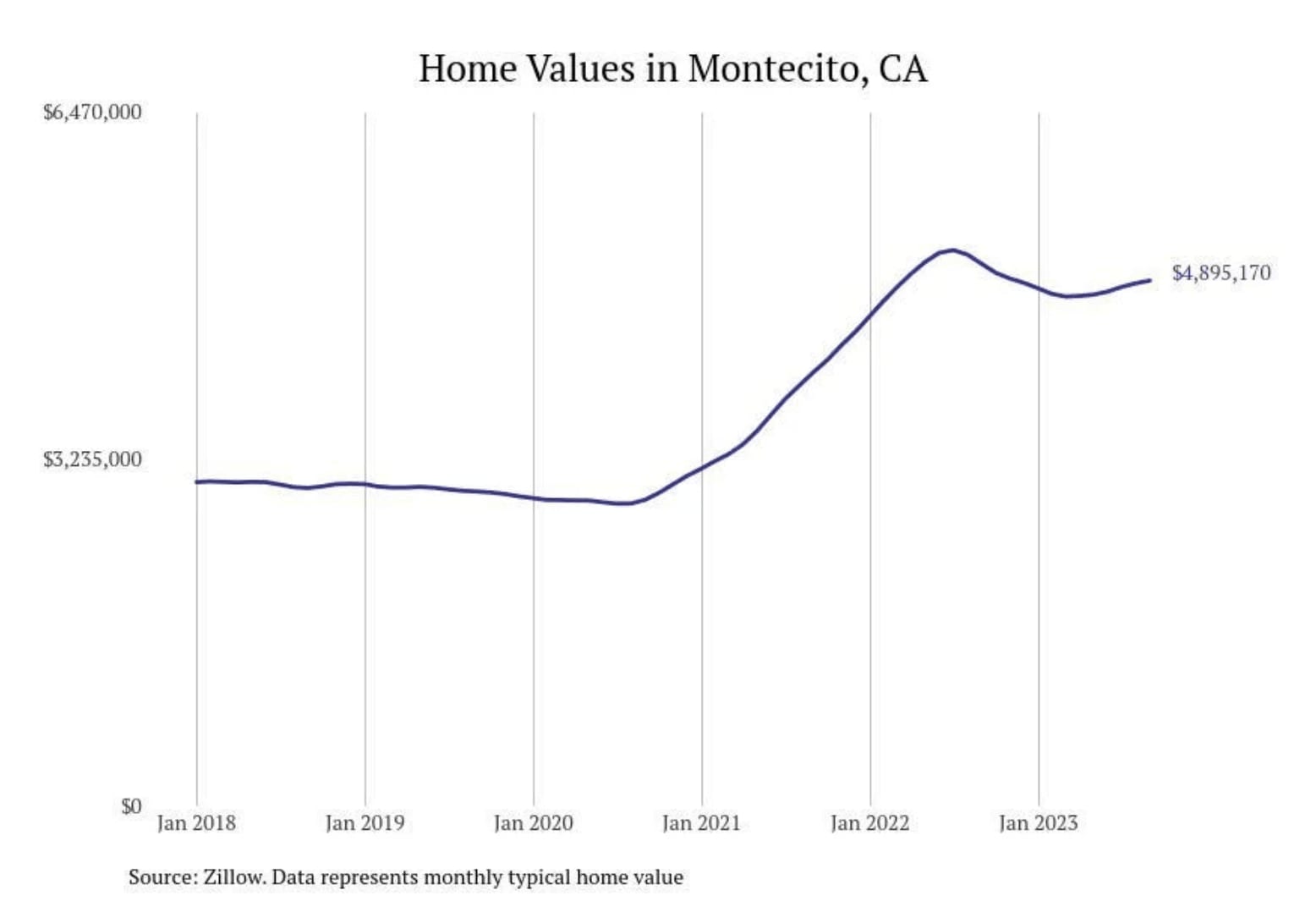 - Typical home value: $4,895,170
- 1-year price change: -3.1%
- 5-year price change: +65.2%
- Metro area: Santa Maria-Santa Barbara, CA
#4 Hidden Hills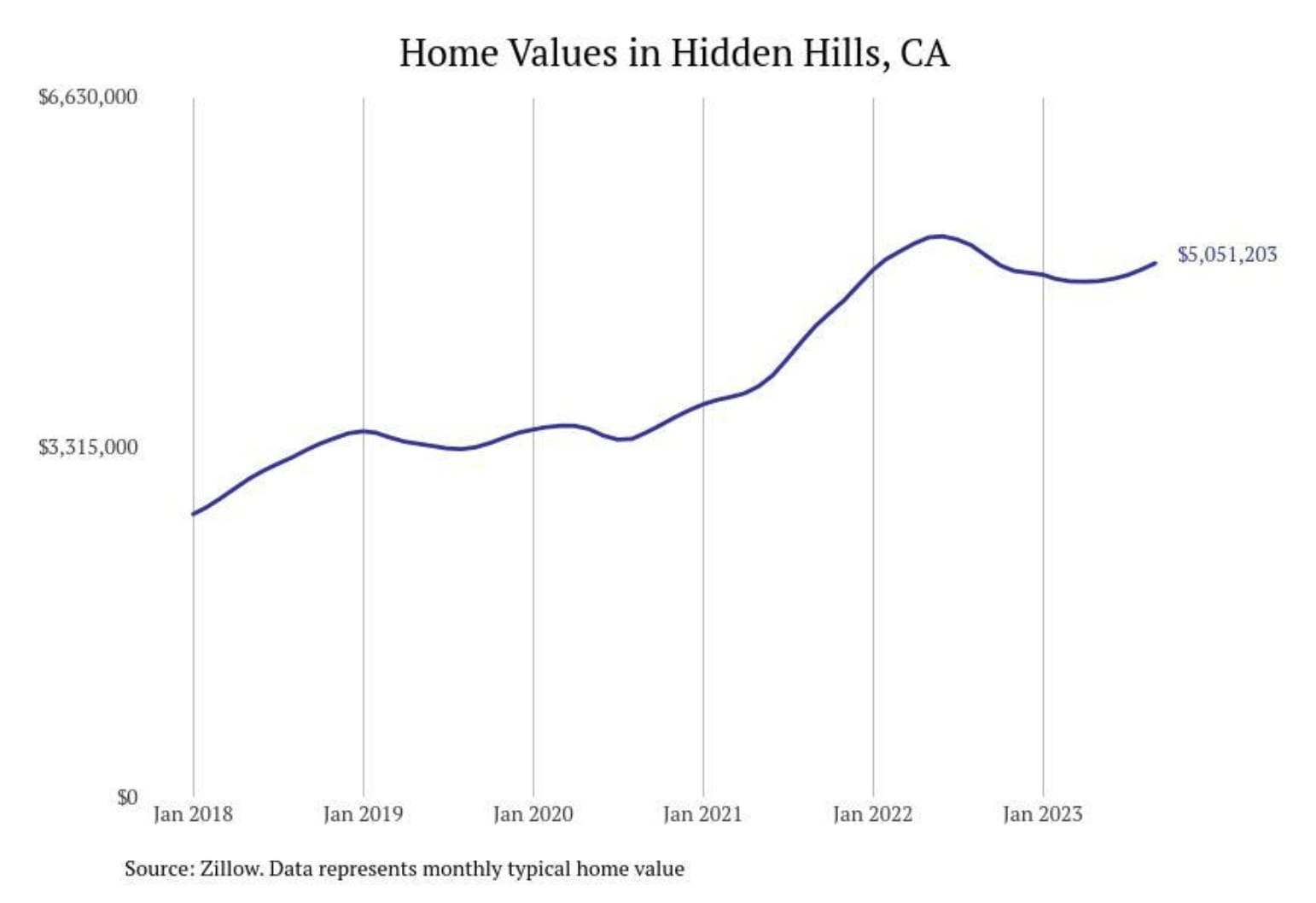 - Typical home value: $5,051,203
- 1-year price change: -1.5%
- 5-year price change: +54.0%
- Metro area: Los Angeles-Long Beach-Anaheim, CA
#3 Hillsborough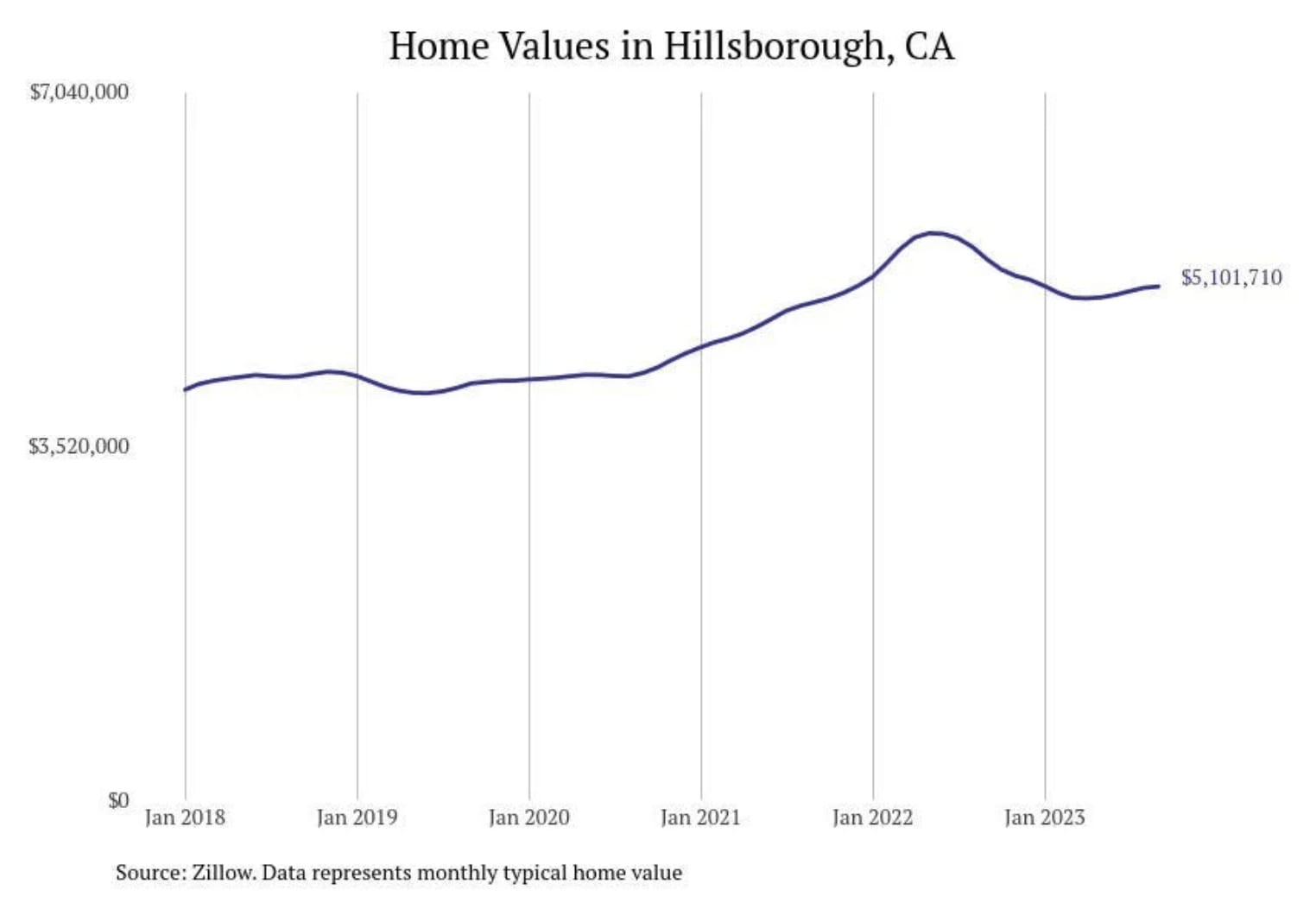 - Typical home value: $5,101,710
- 1-year price change: -5.1%
- 5-year price change: +21.2%
- Metro area: San Francisco-Oakland-Berkeley, CA
#2 Los Altos Hills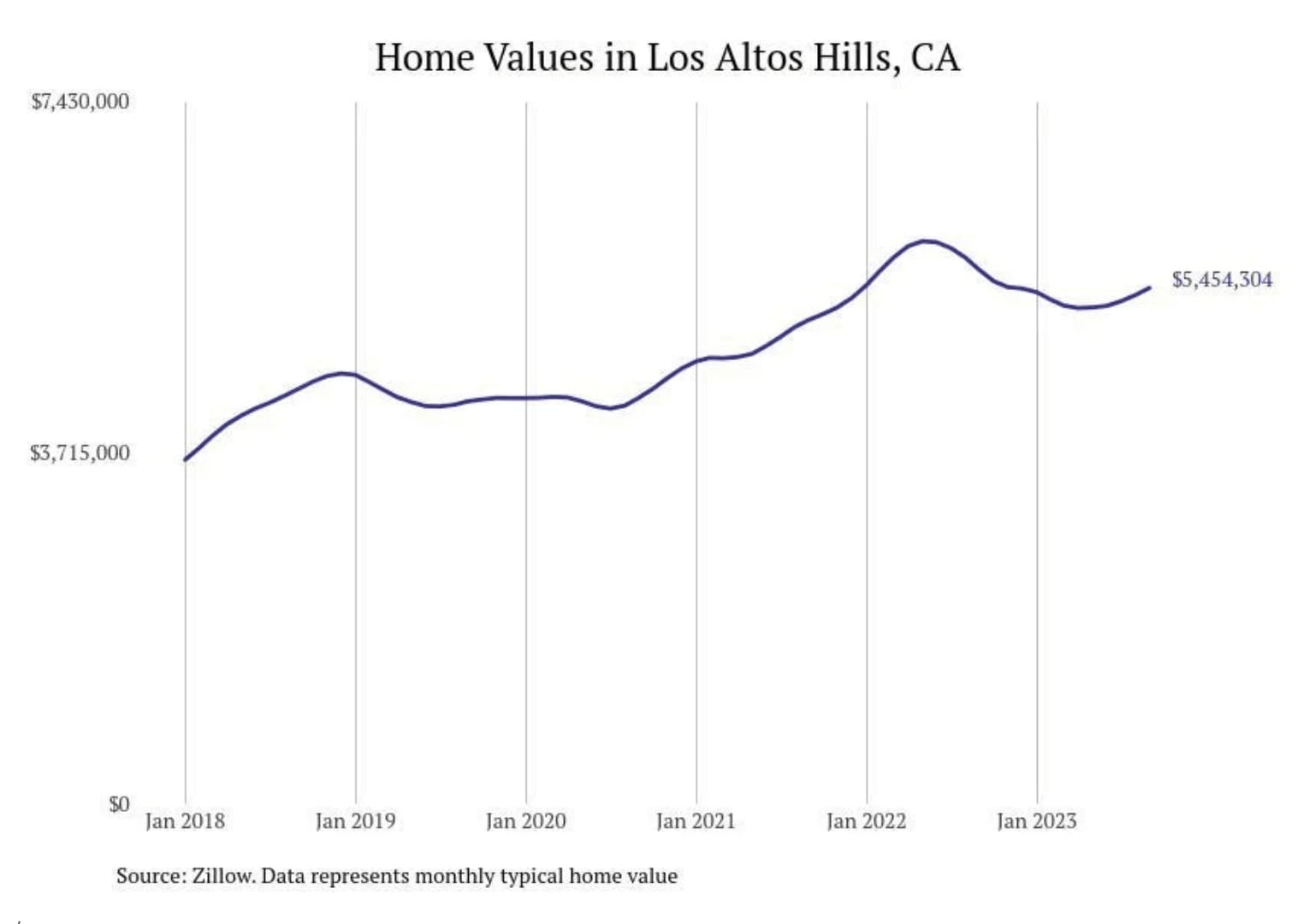 - Typical home value: $5,454,304
- 1-year price change: -3.4%
- 5-year price change: +24.4%
- Metro area: San Jose-Sunnyvale-Santa Clara, CA
#1 Atherton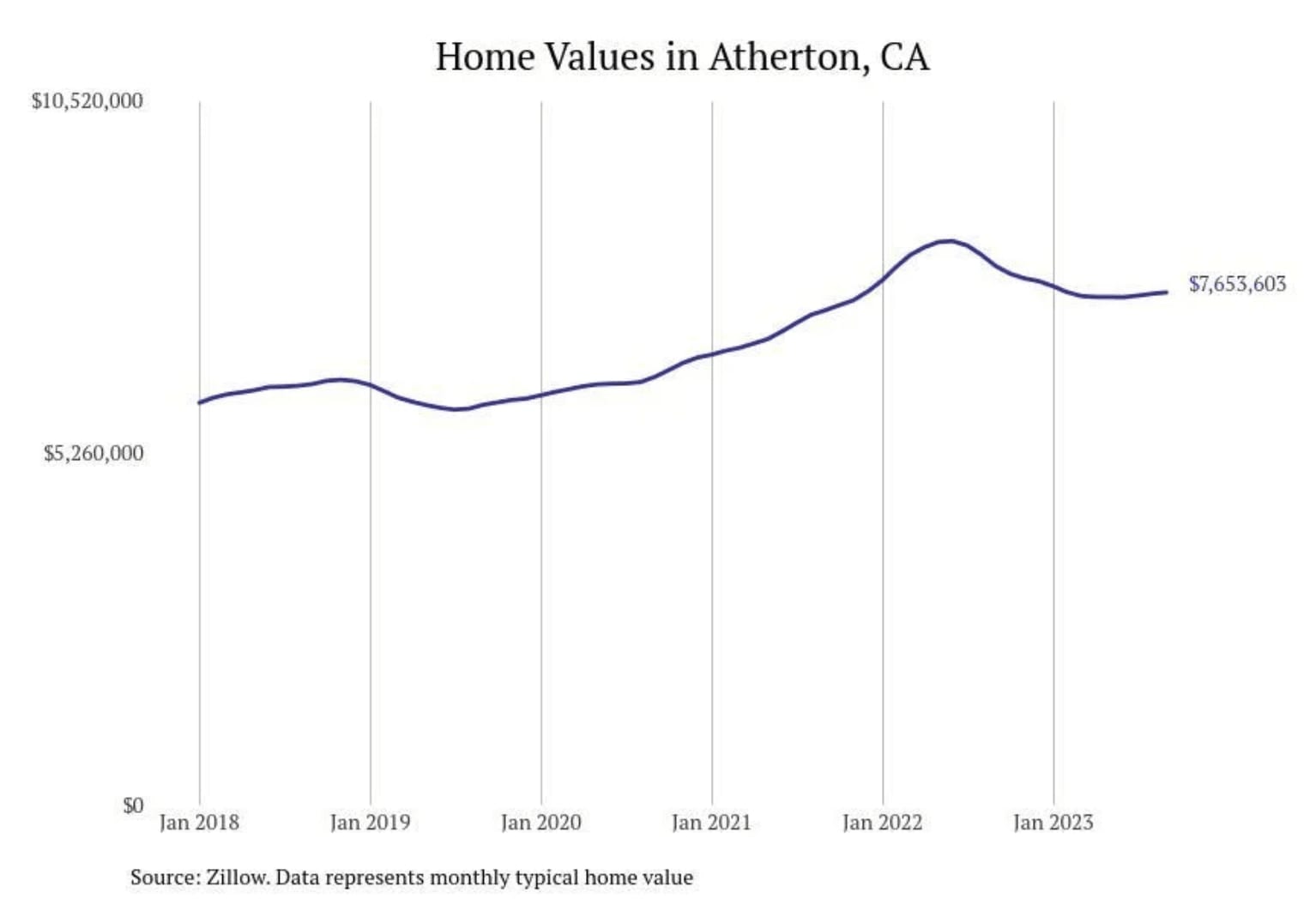 - Typical home value: $7,653,603
- 1-year price change: -4.9%
- 5-year price change: +21.8%
- Metro area: San Francisco-Oakland-Berkeley, CA
Article courtesy of The Press Democrat